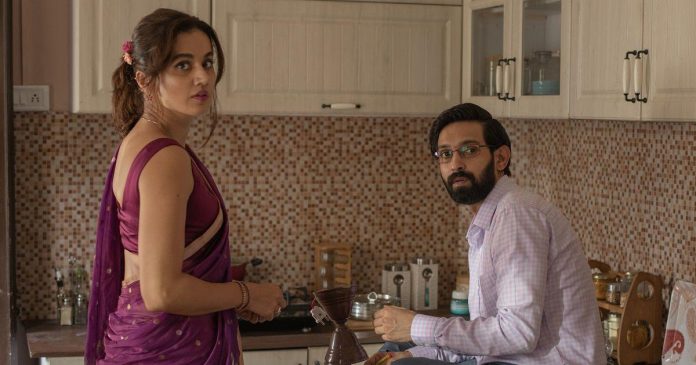 T-Series and Colour Yellow Productions Pvt. Ltd.'s Haseen Dillruba is the story of an engineer, Rishabh Saxena (Rishu for short; Vikrant Massey), who lives in a small town with his parents (Daya Shankar Pandey and Yamini Das). He goes in for an arranged marriage with Rani Kashyap (Taapsee Pannu) who comes with her own modern thoughts, much to the consternation of her mother-in-law. Rani refuses to enter the kitchen and instead wins over her father-in-law by exhibiting her beauty parlour skills on him. Even before the husband and wife can fall in love with each other, cracks develop in their marriage. Just around that time, Rishu's cousin, Neel Tripathi (Harshvardhan Rane), comes to spend some days with them. He is into river rafting. Before they know it, Rani and Neel have fallen in love with one another and also get intimate with each other. Of course, Rishu is oblivious to the developments. Neel's demands for non-vegetarian food sees Rani scurrying to the kitchen, an act which is seen by both, Rishu and his mother, as finally a change of heart by a doting wife and an ideal daughter-in-law.
However, Neel leaves the home and returns to Delhi without informing Rani, leaving her perplexed. On her part, Rani confesses to Rishu about her extra-marital affair, saying, she was sorry for what had happened. And then, one day, Rishu dies in an explosion in the kitchen. While the body is completely charred beyond recognition, his cut forearm with 'Rani' tattooed on it, and badly injured head (beyond recognition) are grim pointers to the possibility that he was brutally attacked before the explosion took place. Is Rani behind the murder? Or was Neel responsible for Rishu's death? Had both, Rani and Neel, eliminated Rishu to live together happily ever after? Investigating police officer Kishore Rawat (Aditya Srivastava) is at his wits' end while trying to investigate the case.
Kanika Dhillon has written a story and screenplay which do not have much masala to sustain the traditional audience's interest. But, at the same time, it does have novelty to offer to the viewers who look for newness in content. The first half abounds in talk of small-town etiquettes and difficulty for a modern married girl in adjusting in her more conservative marital home, something the audience has seen umpteen times and that too, presented in a much better way. Why, Colour Yellow Productions' own film, Tanu Weds Manu, tackled a similar problem so beautifully when hero Manu (R. Madhavan), with native values, marries heroine Tanu (Kangana Ranaut) who is unabashed about her modern beliefs. However, even despite that, these portions do bring a smile to the face. But having said that, the first half of the drama (till the point Neel arrives on the scene) is slow and boring, failing to wholly involve the traditional viewers. After Neel's entry, the pace definitely picks up. The unpredictability comes in once Rani confesses all to Rishu. However, the investigation into the case of Rishu's death by Kishore Rawat looks laboured and half-hearted. The audience wonders why, if Rawat is convinced that Rani and her lover were behind the 'murder', was the police officer not calling Neel to record his statement. Obviously, because if he did, the drama would come to a standstill. But that cannot be the reason for an investigating officer to not do the obvious. Merely stating that Neel is absconding is a very convenient twist. As the only important person whose version is being recorded by the police is Rani, the drama becomes one-sided and also boring, at times. Rani's family and Rishu's family almost disappear after Rishu's death, again making the audience wonder why the police did not question them too. The screenplay, therefore, appears one of convenience, something which gets underlined when the film gets over. That's not a very good feeling with which the viewer gets up once the film comes to an end. However, the good part of Kanika's story and screenplay, for the non-traditional audiences, are the portions between Rani and Neel, the aftermath of Neel's disappearance from Rani's marital home, and definitely the twist in the tale in the end. In short, Kanika Dhillon's story and screenplay are a mixed bag — they will be liked by the audience which wants novelty in content, but not by the audience which wants logic. Her dialogues, though, are quite real and do often bring a smile to the face.
Taapsee Pannu does a fine job of Rani's character. She makes Rani as believable as she can, given the weak script she is saddled with. Vikrant Massey is also very good in the role of Rishu, alternating between the helpless to the angry with conviction. Harshvardhan Rane looks handsome with his well-toned body and also acts ably in the role of Neel. Aditya Srivastava is quite nice as police inspector Kishore Rawat. Yamini Das is impressive as Rishu's mother. Daya Shankar Pandey lends decent support as Rishu's father. Ashish Verma stands out in a brief role as Rishu's friend, Afzar. Alka Kaushal (as Rani's mother), Puja Sarup (as Rani's maternal aunt), Atul Tiwari (as the senior police officer), Amit Singh Thakur (as Rani's father), and the others are adequate.
Vinil Mathew's direction is fair, given the dull and flawed script. Amit Trivedi's music has an earthy quality about it but it lacks popular appeal. Lyrics (Varun Grover, Kshitij Patwardhan and Sidhant Mago) are good. Amar Mangrulkar's background music is fair. Jayakrishna Gummadi's cinematography is quite nice. Production designing (by Swapnil Bhalerao and Madhur Madhavan) and art direction (Sheena Gola) are appropriate. Shweta Venkat's editing is fairly sharp.
On the whole, Haseen Dillruba is a fare which will not find too many takers among the traditional audience but it will be liked by connoisseurs of novel content. It will find favour with those who like murder mysteries.
Released on 2-7-'21 on Netflix.