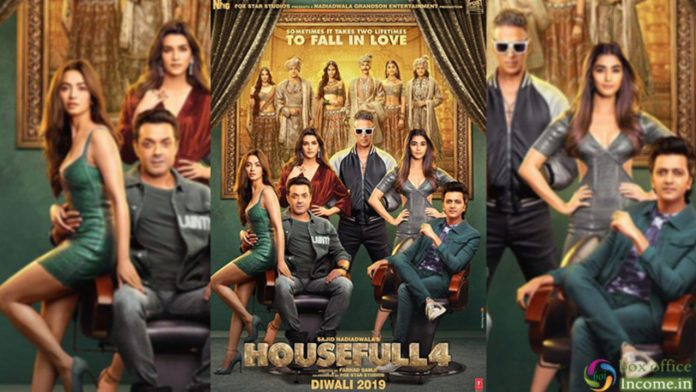 Fox Star Studios India Pvt. Ltd. and Nadiadwala Grandson Entertainment's Housefull 4 (UA) is a comedy, the fourth in the Housefull franchise. It is a love story and also a story about reincarnation.
Harry (Akshay Kumar), Roy (Ritesh Deshmukh) and Max (Bobby Deol) are brothers who run a hair-cutting salon, Hulk Cuts. They've lost money belonging to Big Bhai (Manoj Pahwa) because Harry suffers from a disease — he forgets everything when he hears a loud sound. Big Bhai is after them to return him his money. So the three brothers decide to marry three sisters as they are very rich. Harry wants to marry Pooja (Pooja Hegde). Roy is keen on marrying Neha (Kriti Kharbanda) while Max is desirous of marrying Kriti (Kriti Sanon). All the three marriages are to be solemnised on the same day at Sitamgarh.
Once they all reach Sitamgarh, Harry starts getting strange visions of the palace in which they stay and of many other things. Soon, Harry realises that the visions are from his past life in which he was Bala who had a bald pate. Roy was an effeminate dance teacher, Bangdu Maharaj. Max was Dharamputra then, a rough-and-tough bodyguard. Pooja, Neha and Kriti were sisters in their past lives too and even then — in year 1419, that is 600 years ago — the three sisters were to be married to these three boys. But the partners were different. In their past lives, Bala (Akshay Kumar) was to marry Madhu (Kriti Sanon) while Bangdu Maharaj (Ritesh Deshmukh) was to take Mala (Pooja Hegde) as his wife, and Dharamputra (Bobby Deol) was scheduled to wed Meena (Kriti Kharbanda). But the marriage rituals could not be completed.
Harry tries to convince Roy and Max about their past lives so that the three of them don't marry their current beloveds but rather marry the partners they were destined to marry in year 1419. Likewise, Harry also tries very hard to make Pooja, Kriti and Neha recall that they were Mala, Madhu and Meena respectively in their past lives.
What happens thereafter? Does Harry succeed in his mission? Do the three brothers marry the three sisters? If yes, are the marriages solemnised according to their current love affairs or as per the pairings of year 1419?
Sajid Nadiadwala and Sara Bodinar have written a story which is hotch-potch and confusing because it oscillates between two time zones and also because there are too many characters in the drama. The story is a comedy, no doubt, but its frivolity often irritates the audience because the madness has not even a semblance of method to it. Too many liberties have been taken. For instance, not only do the three young men meet the same three pretty girls after 600 years but the people around them in this life are also the same as the people around them in their past lives.
The screenplay and scenario have been penned by Aakash Kaushik and Madhur Sharma, with additional screenplay by Farhad Samji, Tushar Hiranandani, Sparsh Khetarpal and Tasha Bhambra. The screenplay does not flow seamlessly and that's its biggest drawback. Although several scenes do evoke laughter, there are hardly any which bring the house down. While the drama entertains reasonably well in the first half, it doesn't entertain equally well after interval. The part where Harry tries to convince the others about their past lives gets repetitive and boring after some time because there's hardly any variation in Harry explaining things to the different people.
Having said that, it must be mentioned that a few comic punches are indeed very funny. The track of Harry forgetting things and rolling his eyes whenever he hears a loud sound is entertaining. The 'Neil, Nitin, Mukesh' dialogue is also truly funny but it does get a bit too much when repeated ad nauseum. The track of uttering some lines of hit Bollywood songs and then mentioning (in year 1419) that a song should be made from these lines is rather funny. Harry getting knives jabbed on his buttocks is also visually hilarious.
All in all, while the screenplay is funny in parts, it is also boring and repetitive at places. The implausibility factor begins to get pronounced more and more because the comedy does not entertain the viewers with consistency. Farhad Samji's dialogues are very good at places but also below the mark at other places.
Akshay Kumar is the focal point in the drama and he does a very good job. He is natural as Harry as well as Bala. In comparison, the other actors don't have very substantive roles — and that's another weak point. Ritesh Deshmukh performs ably as Bangdu Maharaj as well as Roy, but he should have had more meaty scenes. Bobby Deol is fair as Max and Dharamputra. Kriti Sanon looks beautiful as both, Madhu and Kriti. Her acting is okay. Pooja Hegde hardly has a worthwhile role; she looks nice as Mala and Pooja. Kriti Kharbanda looks glamorous in the roles of Meena and Neha. She, too, gets limited scope. Nawazuddin Siddiqui has been hopelessly wasted as Ramsay Baba. Johny Lever is good as Rangeela and does evoke laughter. However, his comedy as Winston Churchgate is lost because his English dialogues are often incomprehensible. Chunkey Panday is just about funny as Aakhri Pasta and Pehla Pasta but the fun quotient is low. Rana Daggubati impresses as Gama and Pappu Rangeela. Sharad Kelkar is dignified as Suryabhan and Michael Bhai. Ranjeet (as the father of Kriti, Pooja and Neha) has his moments and leaves a mark. Parikshat Sahni is quite good as Bala's father. Manoj Pahwa (as Big Bhai), Jamie Lever (as Giggly), Saurabh Sachdeva (as Raazdaar) and Aakash Dabhade (as Harry's friend) provide average support.
Farhad Samji's direction is just about fair. He seems to have lost track somewhere because of the implausible and unwieldy script and also because of too many characters and different time zones. Music (by Sohail Sen; guest composers Farhad Samji, Sandeep Shirodkar and Panjabi Hit Squad (U.K.)) is hit. The 'Bala', 'Chhammo' and 'Ek chumma' songs are very appealing. Lyrics (by Sameer Anjaan and Farhad Samji) are in synch with the mood of the film. Choreography (by Farah Khan, Ganesh Acharya and Chinni Prakash) is very eye-filling. Julius Packiam's background music is impactful. Sudeep Chatterjee's cinematography is excellent. Whether it is the locations or the actors, they've all been beautifuly shot. Sham Kaushal's action scenes and stunts are quite thrilling. Production designing (by Amit Ray and Subrata Chakraborty) is of a high standard. Visual effects and computer graphics (by Prime Focus) are noteworthy. Rameshwar S. Bhagat's editing is sharp.
On the whole, Housefull 4 is not a very entertaining fare and has ordinary merits. On the one hand is the festival period which will work in its favour and on the other hand is the word of mouth which will work against its interests. Considering the huge investment in the film, it is a disappointment even if it manages to break even.
Released on 25-10-'19 at Regal (daily 3 shows) and other cinemas of Bombay by Fox Star Studios India Pvt. Ltd. Publicity: superb. Opening: excellent (in spite of the dull pre-Diwali day). …….Also released all over. Opening was excellent everywhere.