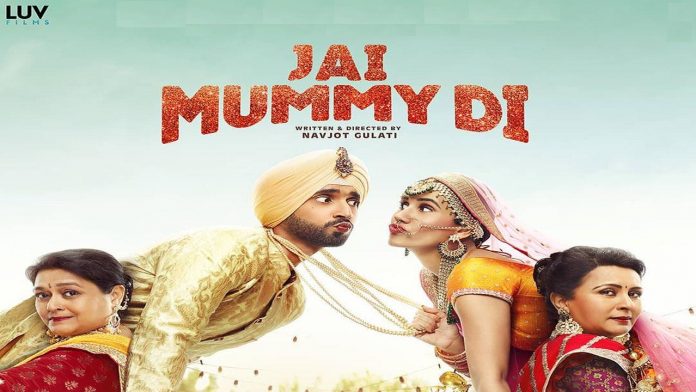 T-Series and Luv Films' Jai Mummy Di (UA) is a comedy love story and family drama.
Puneet Khanna (Sunny Singh) lives in Delhi with his mother, Laali Khanna (Supriya Pathak), father (Rajendra Sethi) and younger brother, Vineet (Veer Rajwant Singh). Staying opposite his house in Delhi is Saanjh Bhalla (Sonali Seygall) with her mother, Pinky Bhalla (Poonam Dhillon), and father (Danish Husain). Puneet and Saanjh love one another but they pretend to be at loggerheads because their mothers are sworn enemies. Nobody knows why Pinky and Laali can't see eye to eye, especially because they were best friends in college. But now, they can only run each other down and each of them is hunting for opportunities to prove herself superior.
Much as Puneet and Saanjh would like to marry one another, they can't do so because their mothers would never allow them to do so. Ultimately, they separate but they both soon realise that they can't live without each other.
However, Saanjh's parents fix her marriage with Dev (Bhuwan Arora). Jealous as hell, Laali is keen that son Puneet also gets married on the same day at the same venue. Puneet's marriage is fixed with Sakshi (Vasundhara Kaul). As the wedding date approaches, the two love birds try everything they can think of, to call off their impending marriages. But they still don't have the guts to explain to their mothers.
What happens on the wedding day?
Navjot Gulati has written a story and screenplay, both of which are childish to the core. The problems seem to be forced, and the hunt for solutions is not half as convincing as it ought to have been. Barely a few hours before their arranged marriages are due to be solemnised, Puneet and Saanjh are shown to be concerned about how they would marry one another as if they had a couple of months in hand! Why they cannot confront their mothers is never explained because, obviously, there is no solid reason the writer was able to think of. Much time is spent on knowing why Pinky and Laali are sworn enemies although the audience understands that the reason is inconsequential today. And when the reason is finally revealed, it seems to be so silly and so unbelievable that the viewers feel, it would've been better had it not been revealed at all! It is because of such poor scripting that the comedy hardly evokes laughter. Although the title is Jai Mummy Di, the roles of the two mothers is hardly important or significant. Rather than the two mothers doing anything concrete all that their enmity does is to prompt their children to do idiotic things like searching for the cause of their enmity etc. Navjot Gulati's dialogues are good at places but they are ordinary most of the times.
Sunny Singh does well as Puneet Khanna. Sonali Seygall looks glamorous and acts quite well as Saanjh Bhalla. As Pinky Bhalla, Poonam Dhillon gets scope to mainly make faces and look disapprovingly at Laali. She looks pretty but her character sketch is pathetic. It's sad to see an accomplished actress like Supriya Pathak being wasted in the role of Laali Khanna who also does precious little other than make faces, and insult her sworn enemy, Pinky. Rajendra Sethi lends routine support as Puneet's dad. Danish Husain is okay as Saanjh's father. Veer Rajwant Singh leaves a mark as Puneet's younger brother, Vineet. Alok Nath is wasted in the role of Sanjog Luthra. Bhuwan Arora makes a truly fine impression as Dev. Vasundhara Kaul is quite nice as Sakshi. Himika Bose makes her presence felt as Dev's sister. Babla Kochar and Madhu Sachdeva are adequate as Dev's parents. Naresh Gosain and Pinky Arora are so-so as Sakshi's parents. Rukhsar (as Sanjog Luthra's wife), Samarth Shandilya (as Puneet's friend) and Tina Bhatia (as maid Teji) are alright. Varun Sharma, Nushrat Bharucha and Ishita Raaj are fair in special appearances.
Navjot Gulati's direction is below the mark. Music (Meet Bros., Sukh-E-Muzical Doctorz, Tanishk Bagchi, Amartya Bobo Rahut, Parag Chhabra, Rishi Singh, Siddharth Amit Bhavsar, Gaurav Chatterji) is good but some of the songs sound too intense for the drama. Lyrics (Kumaar, Jaani, Siddhant Kaushal, Shellee, Gautam G. Sharma, Gurpreet Saini, Ginny Diwan) are good. Song picturisations (by Adil Shaikh, Sahaj Singh-Shreoshi, Akshay Jain) are alright. Hitesh Sonik's background music is fair. Sanket Shah's cinematography is quite alright. Tarpan Shrivastava's production designing is okay. Editing (by Dev Rao Jadhav and Chetan M. Solanki) is reasonably sharp.
On the whole, Jai Mummy Di is a comedy which lacks entertainment and it will, therefore, prove to be a flop with below-the-mark box-office collections.
Released on 17-1-'20 at Inox (daily 3 shows) and other cinemas of Bombay thru Yash Raj Film Distributors. Publicity: dull. Opening: very poor. …….Also released all over. Opening was pathetic everywhere.