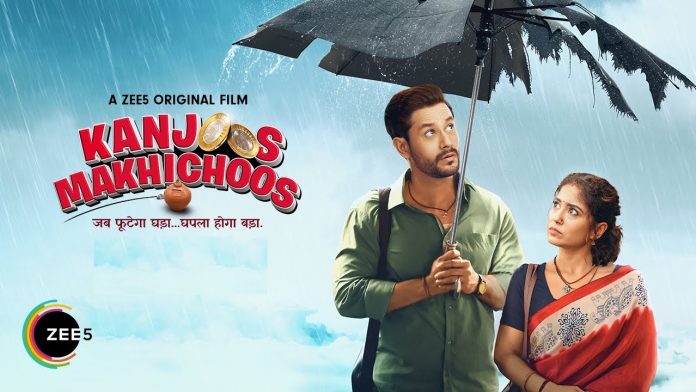 Soham Rockstar Entertainment and Thundersky Entertainment's Kanjoos Makhichoos is the story of a miser.
Jamna Prasad Pandey (Kunal Kemmu) is a miser and lives with his father (Piyush Mishra), mother (Alka Amin), wife, Madhuri (Shweta Tripathi Sharma), and little son, Krish (Alish Nathani). One day, he sends his parents on a pilgrimage. A lot of devotees die due to heavy rainfall at the pilgrim place. The government announces ex gratia payment of Rs. 7 lakh to the next of kin of the deceased. Jamna is entitled to Rs. 14 lakh when his parents are presumed dead. But government officer Chaturvedi (Rajiv Gupta) gives Jamna only Rs. 10 lakh while pocketing the balance. Of course, he takes Jamna's signature on a receipt of Rs. 14 lakh.
One day, Jamna's parents return to their home. What happens thereafter?
Vipul Mehta has written a story which does not offer too much entertainment to the viewers. Although Jamna Prasad Pandey is shown to be a miser, that thread has no bearing on the main drama. The aftermath of the return of Jamna's parents is not half as hilarious or entertaining as it should've been. In other words, Vipul Mehta's screenplay is quite weak. Frankly, the drama appears to be fit for one episode of a family drama TV serial. A couple of comedy scenes make the audience laugh while a couple of emotions touch the heart. But overall, the drama is weak. Abhinay Trivedi and Prarthi Dholakia's dialogues are ordinary.
Kunal Kemmu acts ably as Jamna Prasad Pandey. Shweta Tripathi Sharma is alright as Madhuri. Piyush Mishra leaves a fine mark as Jamna's father, Ganga Prasad Pandey. As Jamna's mother, Alka Amin lends good support. Rajiv Gupta makes his presence felt as Chaturvedi. Alish Nathani is adequate as Jamna's little son, Krish. Raju Srivastava is alright as Yadav. Hema Singh has her moments as Jhumri. Abhishek Giri (as Harish), Sachin Singh (as Birju), Prashant Tiwari (as Chhotu), Omendra Kumar (as Jagatnarayan) and Debasish Mishra (as the minister) lend routine support.
Vipul Mehta's direction is fairly good but the entertainment quotient is low. Sachin-Jigar's music is so-so. Lyrics (Vayu and Priya Saraiya) are alright. Ganesh Acharya's choreography is passable. Rachita Arora's background music could've been better. Camerawork (by Pratik Parmar) is okay. Jayant Deshmukh's production designing is fair. Bunty Nagi's editing is reasonably sharp.
On the whole, Kanjoos Makhichoos is too ordinary to make an impact on OTT.
Released on 24-3-'23 on Zee5.