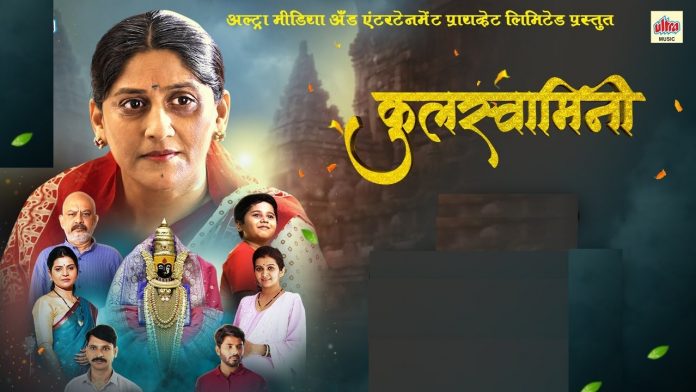 Ultra Media And Entertainment Pvt. Ltd.'s Kulswamini (Marathi) is a film about spirituality and faith. Kalyani (Chitra Deshmukh) has immense faith in Goddess Ambabai but later, she experiences a lot of difficulties in her life. Does that shake her belief and faith in the Goddess?
Abhijeet Joshi has written a story of the kind which has been seen in several earlier films. His screenplay consists of many clichéd scenes. Therefore, the drama doesn't quite engage the audiences. Abhijeet Joshi's dialogues are ordinary.
Chitra Deshmukh is okay. Dr. Vilas Ujawane does a fair job. Yogini Pophale is average. Abhijeet Joshi is so-so. Sagar Korade, Jageshwar Dhoble, Prasanna Kale and Shlok Nerkar provide routine support.
Jageshwar Dhoble's direction is below the mark. Abhijeet Joshi's music is routine. Lyrics (Prof. Vinod Devarkar and Abhijeet Joshi) are functional. Amit Gharat's choreography passes muster. Siddhant Karawde's background music is average. Camerawork (Ashutosh Apte) is functional. Narendra Haldankar's art direction is nothing to write home about. Jageshwar Dhoble's editing should've been crisper.
On the whole, Kulswamini is a poor show all the way.
Released on 11-11-'22 at Cinepolis Thane (daily 1 show) and other cinemas of Bombay thru Panorama Studios. Publicity & opening: weak.