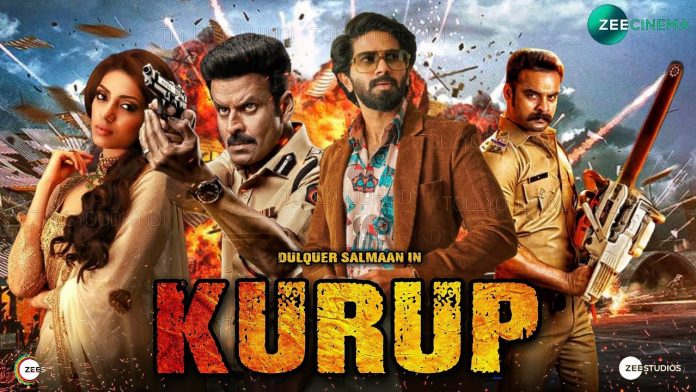 Wayfarer Films and M. Star Entertainments' Kurup (dubbed from the Malayalam film of the same name; UA) is a biographical crime thriller. It is based on Kerala's most elusive criminal, Sukumara Kurup, who has been on the run since the mid-1980s.
Jithin K. Jose's story is interesting in parts. However, it does not hold much appeal for the Hindi film-going audience as it is about a fugitive of Kerala. The screenplay, penned by K.S. Aravind and Daniell Sayooj Nair, engages the viewers but only partially. At times, the drama becomes repetitive and, therefore, a bit boring. Dialogues are okay.
Dulquer Salmaan shines in the title role. He exudes a lot of charm too. Sobhita Dhulipala impresses as Sharda Kurup. Indrajith Sukumaran is good as DYSP Krishnadas. Shine Tom Chacko has his moments as Bhasi Pillai. Tovino Thomas (as Chacko) makes his presence felt. Maya Menon is fair as Gomathi. Vijaykumar Prabhakaran is alright as Ponnapan. Vijayaraghavan (as Kurup's father), Surabhi Lakshmi, Walid Riachy (as The Prince Walid), Bharath Srinivasan (as Izaakh), Shivajith Padmanabhan (as Shahu), Sunny Wayne (as Peter), Saiju Kurup, Anand Bal, and the others lend reasonable support.
Srinath Rajendran's direction is fair. Music (Sushin Shyam and Sulaiman Kakkodan) is ordinary. Ishtiaq's lyrics are so-so. Song picturisations are alright. Background music (Sushin Shyam) is quite nice. Nimish Ravi's cinematography is good. Vivek Harshan's editing ought to have been crisper. Dubbing is quite good.
On the whole, Kurup is too ordinary to make a mark at the Hindi box-office.
Released on 12-11-'21 at Movie Time Goregaon (daily 1 show) and other cinemas of Bombay thru UFO Cine Media Network. Publicity & opening: poor. …….Also released all over.