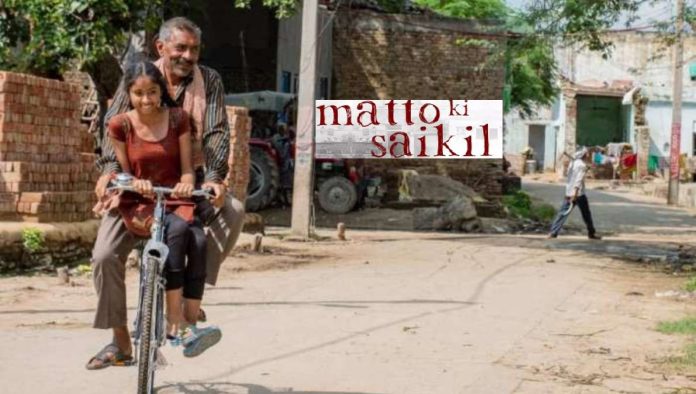 Shivdeva Films and PJP Films LLP's Matto Ki Saikil is the story of a poor construction worker and his 20-year-old cycle.
Matto (Prakash Jha) keeps his cycle running because it is his life line. A man of very limited means, he goes on his bicycle to his work place in the city. One day, a tractor damages his cycle so badly that it is beyond repair. Calamity befalls Matto because he is incomplete without his bicycle. Why, he can't even reach his work place daily now and hence he has to often skip work because of not having any means of transportation. Does Matto manage to buy a new bicycle?
M. Gani's story moves on a single track which gets boring after some time. Pulkit Philip's screenplay, no doubt, gives the audience a glimpse into what his cycle means to Matto, but there is precious little in the drama other than that. Even the emotions don't touch the heart so much that the viewers would cry for Matto when he loses his bicycle. Dialogues, penned by Pulkit Philip, are so-so.
Prakash Jha does well as Matto. He effectively portrays the hardships faced by a labourer. Anita Chaudhary is fair as Matto's ailing wife, Devki. Aarohi Sharma lends nice support as Matto's older daughter, Neeraj. Idika Roy is average as Matto's younger daughter, Limca. Dimpy Mishra is okay as Kallu, owner of the cycle repair workshop. Chandraprakash Sharma (as Sikandar Fauji), Bobina (as Sikandar Fauji's wife) and Ayaan Madaar (as Matto's neighbour, Mormukut) provide routine support.
M. Gani's direction is of the kind which would appeal to the festival circuit audiences only. Wayne Sharpe's music is average. Lyrics are functional. Chandan Kowli's camerawork is quite alright. Udai Prakash Singh's production designing is good. Kamesh Karna's editing is quite sharp.
On the whole, Matto Ki Saikil is for the film festivals and it will, therefore, flop at the box-office.
Released on 16-9-'22 at Metro Inox (daily 1 show) and other cinemas of Bombay thru PVR Pictures Ltd. Publicity & opening: poor. …….Also released all over.