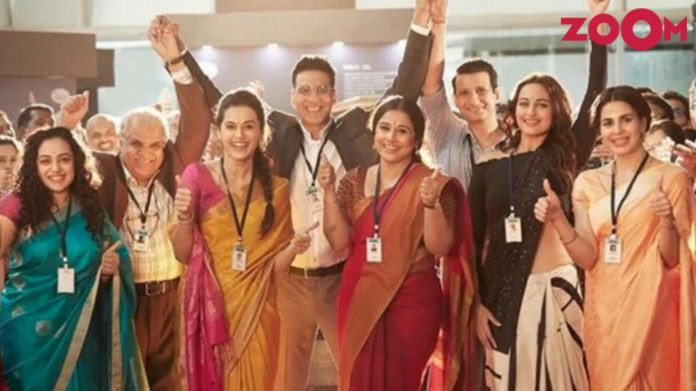 Fox Star Studios, Cape Of Good Films and Hope Productions' Mission Mangal is based on the Mangalyaan mission of India which became a possibility on 24th September, 2014, due to the unimaginable efforts of a group of scientists of the Indian Space Research Organisation (ISRO). The mission seemed an impossibility but it finally happened despite financial and time constraints because of the untiring efforts of the core team comprising the head, a few male members and several women who, believe it or not, applied techniques used in daily household chores, to the mammoth scientific experiment.
Rakesh Dhawan (Akshay Kumar) is a brilliant scientist who works in ISRO. He launches a satellite to be sent in space but one mistake by Tara Shinde (Vidya Balan), who works in his team, costs them dear as the mission has to be aborted. Tara is distraught but Rakesh is not too disturbed as he takes the failure in his stride and even takes responsibility for it. Consequently, another scientist, Rupert Desai (Dalip Tahhil), is called in to relaunch the mission left incomplete by Rakesh. To Rakesh's horror, he is transferred to the Mars mission which effectively means that he has been sidetracked despite his brilliance. While Rupert is enamoured of NASA, Rakesh has immense faith in India and the Indian scientists.
One day, Tara gives Rakesh an idea to launch the mission to send a satellite to Mars with minimal fuel consumption. Rakesh and Tara present their theory to the ISRO director (Vikram Gokhale) who approves of it but Rupert Desai mocks at them and their home-grown idea. However, the ISRO director gives Rakesh the go-ahead to start the mission. Rakesh's demand for some senior and experienced scientists to work on the mission is met by Rupert Desai who gives them scientists who are, comparatively speaking, either new and inexperienced or too old. In this way, a core team of Rakesh Dhawan, Tara Shinde, Kritika Agarwal (Taapsee Pannu), Eka Gandhi (Sonakshi Sinha), Neha Siddiqui (Kirti Kulhari Sehgal), Varsha Pillai (Nithya Menen), Parmeshwar Joshi (Sharman Joshi) and Anant Iyengar (H.G. Dattatreya) is formed. The team starts working under seemingly impossible conditions but the mission is soon aborted by the government. However, another satellite mission has to be put on hold for some technical reason and so the Mars mission is revived soon, but with a lower budget this time. The team, therefore, has to work under very trying circumstances — financial and time constraints. How Rakesh Dhawan makes the impossible mission possible with his core team forms the crux of the story.
The film is based on a story idea by Jagan Shakti. The idea is quite novel and since it is based on true-life incidents, it inherently has patriotism written all over it. The story is very engaging and heartfelt. Yes, it is technical and, therefore, has a lot of technical jargon but the writer has simplified it for lay persons to understand. Despite that, it remains a story more for the class and literate audience or, in other words, the city audience but the viewers of smaller towns would understand the drama in reference to the context even if they may not understand the nitty-gritties. The screenplay, penned by R. Balki, is brilliant despite being technical. It is fast-paced and has a number of twists and turns because of which it doesn't allow the audience's thoughts to stray even for a moment. So much unfolds on the screen in terms of the screenplay that the viewers find it impossible to get their eyes off the screen for even a moment. The tension-ridden moments are the best because they excite the audiences to the extent that they skip a heartbeat or two. The excellent part of the screenplay is that despite the subject being so technical and about a scientific experiment, the writer has not let it become boring but has rather laced it with humour, comedy, emotions and, of course, a lot of patriotic fervour. The feeling of patriotism runs through the film and gives the viewers reason to exult at several points. Dialogues, written by R. Balki, are superb. However, many dialogues are in English and that would, to an extent, restrict the film's appeal. The writer should have used English minimally but he has probably kept authenticity more in mind than commercial considerations.
Akshay Kumar does a splendid job as Rakesh Dhawan. He acts with effortless ease and goes through the role with aplomb. Although it is an ensemble cast film and hence Akshay is not the focal character always, he does an extremely fine job as the ISRO scientist. Vidya Balan is outstanding as Tara Shinde. Her expressive eyes, her body language, her mannerisms are all to die for. Taapsee Pannu is excellent as Kritika Agarwal. Although she gets limited scope, she leaves her mark. Sonakshi Sinha springs a lovely surprise as Eka Gandhi. She does the fullest justice to her role. Kirti Kulhari Sehgal is very good as Neha Siddiqui. She acts with supreme confidence. Nithya Menen stands her own as Varsha Pillai. She makes an impressive debut on the Hindi screen. Sharman Joshi is terrific as Parmeshwar Joshi. He is very entertaining and his expressions are delightful. H.G. Dattatreya endears himself completely to the audience with his cute acting. Vikram Gokhale shines as the ISRO director. Dalip Tahhil is outstanding as Rupert Desai. His frustration will be thoroughly enjoyed by the viewers. Sanjay Kapoor lends excellent support as the cribbing father of his and Tara's two children. Purab Kohli makes his mark as Varsha's caring husband. Mohammed Zeeshan Ayyub lends tremendous support in a brief role as Kritika's husband. Rohan Joshi, as the son of Tara and Sunil, is remarkable. Kashmira Paradeshi provides lovely support as the daughter of Tara and Sunil. Pramathesh Mehta (as Tara's father-in-law), Mohan Kapur (as Swami), Avijit Dutt (as the director of Space Commission), Vishnu Vats (as Nilesh), Manohar Desai (as Suresh), Jhuma Biswas (as Varsha's mother-in-law), Saurabh Sharma (as the priest), Shah Khan (as the minister), Dharmendra Jaiswal (as the ISRO peon), Mustan Tumbawala (as the landlord), Abrar Zahoor (as Eka Gandhi's boyfriend), Krishna Bhatt (as Kritika's driving instructor), Rohit Tiwari (as Komal Baba), Anandi Joshi (as Anant Iyengar's wife) and the rest of the artistes lend tremendous support.
Jagan Shakti's direction is first-rate. All credit to him for converting a very technical subject into an entertaining film and with the right doses of patriotism, humour and emotions. Music (Amit Trivedi) and lyrics (Amitabh Bhattacharya) may not have great stand-alone appeal but the songs are enjoyable in the film and in the context in which they come. Brinda Vijay Ganguly's choreography is fair. S. Ravi Varman's cinematography is lovely. Sham Kaushal's action and thrills are exciting. Sandeep Sharad Ravade's production designing is proper. Chandan Arora's editing is super-sharp. Visual effects and computer graphics deserve special mention.
On the whole, Mission Mangal is mission accomplished — and accomplished beautifully! It is a surefire hit and this in spite of being a class-appealing film. It will join the Rs. 100-crore club in a matter of four or five days. It shouldn't be a surprise if this film turns out to be Akshay Kumar's highest-grossing solo starrer to-date. Yes, the film has the potential of crossing the Rs. 150-crore mark and even touching the Rs. 200-crore mark. Ladies and family audiences, besides the youth, will patronise the film in a big way.
Released on 15-8-'19 at Regal (daily 2 shows) and other cinemas of Bombay thru Shringar Films Pvt. Ltd. Publicity: excellent. Opening: mind-blowing (due to holiday for Independence Day and Raksha Bandhan). …….Also released all over. Opening was bumper everywhere.