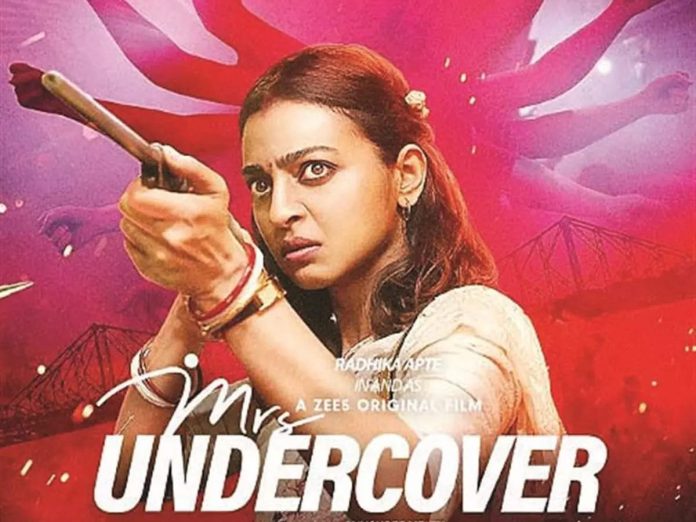 B4U Motion Pictures, Jaadugar Films and Knight Sky Movies' Mrs. Undercover is the story of an undercover agent who had quit the scene some years ago but now enters the scene to nab a serial killer.
Common Man alias Ajay (Sumeet Vyas) lives in Calcutta and is a serial killer. Special force chief Rangeela (Rajesh Sharma) summons erstwhile agent Durga (Radhika Apte) for the job of nabbing the killer who is hard to get. At first reluctant, Durga finally relents. Durga lives with her husband, Deb (Shaheb Chattopadhyay), whom she had married as part of a secret mission and is still in that marriage. Also living with them are their son and Deb's parents. How Durga succeeds in nabbing Common Man forms the crux of the drama.
Anushree Mehta has written a story which is not just very ordinary but it is also contrived. Her screenplay, with additional screenplay by Abir Sengupta, is not half as exciting as it should've been. The drama has several convenient twists and turns. Also, several questions crop up in the viewer's mind but the writers have not bothered to address them. Anushree Mehta and Abir Sengupta's dialogues are okay.
Radhika Apte acts ably as agent Durga. Sumeet Vyas is okay as Common Man (Ajay). Rajesh Sharma is effective as Special Force chief Rangeela. Shaheb Chattopadhyay lends average support as Durga's husband, Deb. Roshni Bhattacharya does a fair job as Durga's neighbour, Aisha. Laboni Sarkar (as Durga's mother-in-law), Biswajeet Chakraborty (as Durga's father-in-law), Aman Mehra (as Durga's son, Joy), Indrasish Roy (as Adi), Angana Roy (as Kajal) and Amrita Chattopadhyay (in a special appearance) provide routine support.
Anushree Mehta's direction is average. Music (by Abhinav Shekhar, Amit Sawant and Ankit Shah) is alright. Lyrics (Shloke Lal and Abhinav Shekhar) are ordinary. Kshitij Tarey's background music could've been better. Cinematography (by Abhimanyu Sengupta) is fair. Ajay Thakur Pithania's action and stunt scenes are not very thrilling. Sandeep Kurup's editing is okay.
On the whole, Mrs. Undercover is too ordinary a fare to really make a mark.
Released on 14-4-'23 on Zee5.