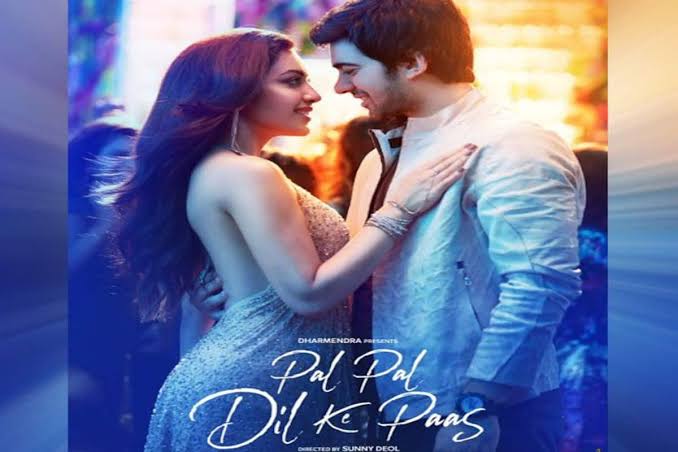 Zee Studios, Sunny Super Sounds Pvt. Ltd. and Vijayta Films' Pal Pal Dil Ke Paas (UA) is a love story.
Karan Sehgal (Karan Deol) is an orphan who runs an adventure company in the mountainous region. The company takes customers on adventure trips of mountain climbing and the like. Saher Sethi (Sahher Bambba) lives in Delhi with her parents, younger sister, uncle, aunt and grandmother. She is a vlogger, and her video blogs are very popular in the digital space.
She decides to experience the adventures offered by Karan's company and then post a video blog about how expensive his charges are because she is convinced that Karan fleeces people. However, her opinion changes when she experiences first-hand the adventure trip in the company of Karan. Her initial dislike for Karan soon changes into fondness and then love. Karan also starts to like her but by his very nature, he is scared of attachment.
Saher returns to Delhi, and gives a lovely review to Karan and his company. Circumstances now bring Karan to Delhi to witness Saher's stage performance. In Delhi, Saher has had a break-up with her boyfriend, Viren Narang (Aakash Ahuja). However, the evil Viren uses the connections of his political family to teach Saher a lesson when jealousy takes the better of him once he sees Saher with Karan. Both, Saher and Viren's families get involved in the ugly fight that follows between Saher and Viren. Obviously, Karan also gets sucked into the fight which leads to some terrible consequences. What happens finally?
Jasvinder Singh Bath and Ravi Shankar have written a clichéd story without even a hint of novelty. The only fresh angle is the adventure company which Karan runs. Other than that, it is the run-of-the-mill story of a boy meeting a girl, initially quarrelling, then softening their attitudes, then falling in love, then fighting the opposition. The duo's screenplay is as hackneyed as the story. Nothing, repeat, nothing is new or fresh. Rather, the oft-repeated drama actually tests the audience's patience. The romantic track is not of the kind which will have the audience rooting for the lovers because the viewers don't feel empathy towards them. In that sense, the romance is not heartwarming. Humour and comedy are almost completely missing. Emotions fail to touch the heart. The climax is not at all exciting. Before the climax, Karan barges into Viren's home and makes Viren do something which hardly addresses the problem Saher's family has gotten into. So the audience wonders what purpose is served by Karan's action. Jasvinder Singh Bath and Ravi Shankar's dialogues are routine and lack punch.
Karan Deol makes an ordinary debut. He seems to have not prepared himself well enough — his acting is average, and even his physique is not of the kind which today's youth wants to see (four/six packs, well-toned body etc.). He needs to work very hard on his acting, dialogue delivery and physique in future. However, he shows promise in action and stunt scenes. Sahher Bambba makes a lovely debut as Saher. She is a very natural performer and shines in romantic, light, dramatic as well as emotional scenes. She looks presentable too. Aakash Ahuja makes a fine debut as Viren Narang. Simone Singh and Sachin Khedekar lend lovely support as Saher's parents. As Saher's grandmother, Kamini Khanna is average. Rishi Singh and Bhawna Aneja have tiny roles as Saher's uncle and aunt; they are okay. Suhani Sethi leaves a mark as Saher's little sister in the scene in which she comes crying from school. Meghna Malik stands her own as Viren's politician-mother, Ratna Narang. Aakash Dhar makes his presence felt as Viren's elder brother, Sushant. Rueben Israel is okay as Viren's father. Ritika Thakur is quite good as Karan's friend, Aditi. Kapil Negi lends fair support as Aditi's father. Nupur Nagpal is good as Saher's friend, Natasha. Kallirroi Tziafeta (as Karan's mother), Suresh Sur (as Karan's father), master Swarit Sur (as young Karan), Diksha Bahl (as Saher's boss), Arsh Wahi (as Rohan), Ravi Dudeja (as Natasha's father) and the others are adequate.
Sunny Deol's direction is not upto the mark. While he is in command in action and adventure scenes, his handling of the romantic and other scenes is not modern enough for today's audience. Musically, the title song (composed by Sachet-Parampara) is very appealing. A couple of other songs (Sachet-Parampara, Rishi Rich and Tanishk Bagchi) are also good but overall, one expects super-hit music in a romantic film introducing two newcomers, one of who is a star-kid. That is definitely missing. Siddharth-Garima's lyrics are appropriate. Song picturisations in a love story with a new lead pair are always a scoring point with the audience but the choreography (Ganesh Acharya, Caesar Gonsalves, Adil Shaikh, Raju Khan and Shampa Gopi Krishna) in the film is nothing to shout about. Raju Singh's background music is so-so. Cinematography (by Himman Dhamija and Ragul Dharuman) is excellent. The outdoor locales, including the rocky as well as snow-capped mountains, are eye-filling. Vikram Dahiya's action and stunt scenes are exciting and thrilling. Production designing (by Amardeep Behl and Tina Dharamsey) is quite nice. Devendra Murdeshwar's editing is okay but could've been sharper.
On the whole, Pal Pal Dil Ke Paas will flop at the turnstiles because it lacks the fire of a fresh romantic tale.
Released on 20-9-'19 at Regal (daily 1 show) and other cinemas of Bombay by Zee Studios. Publicity: so-so. Opening: poor. …….Also released all over. Opening was weak everywhere.