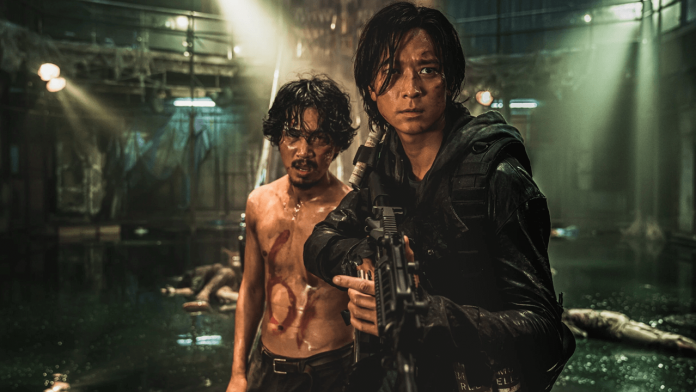 Next Entertainment World and RedPeter Film's Peninsula (dubbed from the Korean film of the same name) is an action-horror stand-alone sequel to Train To Busan (2016).
Jung-seok (Gang Dong-won), a former South Korean military sergeant, is guilty of not having saved the lives of his elder sister (Jang So-yeon) and nephew, Dong-hwan (Moon Woo-jin), while escaping from the zombie outbreak in South Korea. While driving his sister, nephew and brother-in-law, Chul-min (Kim Do-yoon), to probable safety, he had met a family which had pleaded with him to save it. But Jung-seok had ignored the family's pleas and had moved ahead, only to then lose his sister and nephew.
Four years later, Chinese gangsters approach Jung-seok to return to the peninsula and retrieve a truckload of abandoned cash. While doing the difficult job, he encounters villains galore, prominent among them being sergeant Hwang (Kim Min-jae), captain Seo (Koo Kyo-hwan) and Private Kim (Kim Kyu-baek). At a very crucial juncture, Jung-seok's life is saved by two sisters — Joon (Lee Re) and Yu-Jin (Lee Ye-won). Joon drives Jung-seok to a hideout where the sisters live with their mother, Min-Jung (Lee Jung-hyun), and grandfather, Elder Kim (Kwan Hae-hyo). Jung-seok recognises Min-Jung as the lady who had begged of him to save her family four years ago. How Min-Jung's family becomes instrumental in ensuring Jung-seok's escape forms the crux of the story.
Park Joo-Suk, Ryu Yong-jae and Yeon Sang-ho have written a story and screenplay which are clichéd and absolutely predictable. They, therefore, offer precious little by way of novelty. The action affords thrill but since the content is very routine, even the thrills provided by the stunts don't matter much.
Gang Dong-won does a fine job as Jung-seok. Lee Jung-hyun is very good in the role of Min-Jung. Lee Re steals the show as Joon. Kim Do-yoon is quite effective as Chul-min. Kwan Hae-hyo performs ably as Elder Kim. Kim Min-jae (as sergeant Hwang), Koo Kyo-hwan (as captain Seo), Kim Kyu-baek (as Private Kim) and Lee Ye-won (as Yu-Jin) are fairly nice. Jang So-yeon (as Jung-seok's elder sister) and Moon Woo-jin (as Jung-seok's nephew, Dong-hwan) provide okay support. Others are so-so.
Yeon Sang-ho's direction is adequate. Mowg's background music is functional. Lee Hyung-deok's camerawork deserves mention. Lee Mok-won's production designing is of a fair standard. Yang Jin-mo's editing should've been crisper.
On the whole, Peninsula does not have the merits to do well at the ticket windows.
Released on 27-11-'20 at Gossip and other cinemas of Bombay thru Zee Studios and Kross Pictures. Publicity & opening: dull. …..Also released all over. Opening was weak everywhere.