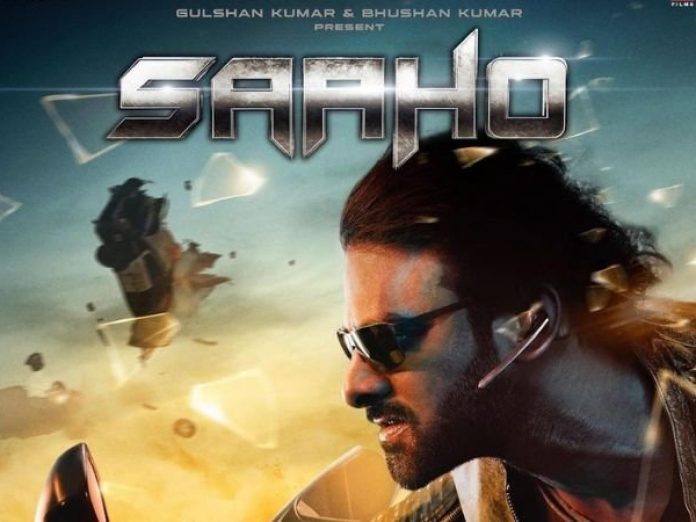 UV Creations and T-Series' Saaho (UA) is an action suspense thriller.
Roy (Jackie Shroff) runs an underworld empire from Waaji city outside of India. He has India's minister, Ramaswamy (Tanikella Bharani), kidnapped in India to get his signature on papers which will allow him to start a hydro electric power plant in India. Soon, Roy is killed by Devraj (Chunkey Panday), son of Prithviraj (Tinnu Anand), although his death is made to look like a fatal road accident in Bombay. Devraj has had an axe to grind with Roy because his dad, Prithviraj, had let Roy take over the underworld empire from him (Prithviraj) instead of bequeathing it to Devraj.
Devraj is sure, he will now be the uncrowned don but soon, Vishwank (Arun Vijay) appears before the board of directors of the Roy group of companies and stakes claim on the chair left vacant by his father.
In a parallel track, the police in Bombay is intrigued by two major robberies – and then a third one. To solve the difficult robbery cases, police officer Shinde (Prakash Belawadi) is asked by his seniors to bring in undercover cop Ashok Chakravarthy (Prabhas) to lead the investigation team. It soon emerges that Shadow (Neil Nitin Mukesh) may be the thief. Amrita Nair (Shraddha Kapoor) works in the police force and is now working with Ashok Chakravarthy. The two also fall in love.
Vishwank and Ibrahim (Lal) who was Roy's trusted lieutenant, tell their team member, Kalki (Mandira Bedi), about a black box kept in a safe place. The black box is key to reach Roy's hidden wealth. Kalki comes to Bombay from Waaji city, takes the black box and keeps it in a safe deposit locker of Royal Bank as she is being attacked by unknown people in Bombay. Soon, police officer David (Murali Sharma) steals the black box from the locker. But is David acting on behalf of Ashok Chakravarthy or Shadow? What then happens to the black box? What is the wealth that the black box takes one to?
It is also revealed that before murdering Roy, Devraj had removed all the gold from Roy's ship and then set it on fire. Does Roy's son get the gold? If so, how? Does Roy's son avenge his father's murder? If so, how? Does Devraj get the throne or does it continue to be occupied by Roy's son?
Sujeeth's story is terribly complicated and moves on too many tracks. There are many twists and turns – in fact, so many that the audience loses track of them and keeps getting more and more confused. Sujeeth's screenplay, written jointly with associates Anil Kumar Upadyaula and Ashwin Madasu, is terrible. It is an exercise in confusing the audience. Without revealing much, it can be said that the screenplay is replete with instances of impersonation, instances of betrayal, instances of greed for money and power – and the worst part is that seniors and their juniors in the police force indulge in the same type of crimes just as seniors and their juniors in Roy's board indulge. Clearly, the intention of the writers was to impress the audience with the many twists, whether they make sense or not. The screenplay is replete with larger-than-life sequences which often fail to impress because the basic plot is too clichéd. Also, the many tracks in the screenplay serve more to irritate the audience than engage them. A lot of things are unexplained by the writers, leaving them for the viewers to interpret. Some of the action sequences, integral to the screenplay, are so outlandish that they become unintentionally hilarious. Even over-the-top action scenes would have been fine had the script been fresh, novel and plausible. But the script in this case is neither. The screenplay is so mindlessly written that the viewers get the feeling that they are being taken for granted. For instance, in one scene, much after countless bullets have been fired on Kalki's car, the conversation in Amrita's car, standing nearby, is to the effect that something terrible seems to be happening. Seems? It is already happening – and the audience can see it. So what is so 'seems' about it?
Viewed differently, the romantic track in the film looks forced; there is no comedy or humour; and emotions are conspicuous by their absence.
Abbas Dalal and Hussain Dalal's dialogues are rather bad and don't create any impact.
Prabhas looks handsome and fills the screen with his presence, such is his physique. But probably because he doesn't know Hindi, his acting seems to be without feeling. His dialogue delivery is below the mark. He is awkward in dances. He shines in action scenes. His costumes could've been far better. Shraddha Kapoor plays Amrita Nair without much fire. She gets limited scope and her acting is also so-so. Jackie Shroff is alright in a brief role as Roy. Neil Nitin Mukesh is routine as Shadow. In the first half, he can't stand up to Prabhas. In the second half too, the impact of his performance is missing. Chunkey Panday is sincere as Devraj. Arun Vijay is okay in the role of Vishwank. Mahesh Manjrekar lends routine support as Prince. Prakash Belawadi is alright as Shinde. Murali Sharma is okay as David. Tinnu Anand makes his presence just about felt in the role of Prithviraj. Mandira Bedi is quite nice as Kalki but does not stand out. Lal is okay as Ibrahim, a close associate of Roy. Vennela Kishore provides average support in the role of Goswamy. Tanikella Bharani (as minister Ramaswamy), Supreeth Reddy (as Alex), Evelyn Sharma (as Aisha), Devan (as IG of police), Sharath Lohitashwa (as Mani), Ravi Sharma (as Ajay), and Duvvasi Mohan (as Ajay's assistant) are alright. Jacqueline Fernandez lends star value in a song-dance number. Others are ordinary.
Sujeeth's direction, like the script, leaves a lot to be desired. He knows the technical craft of direction but not the art of telling a story effectively. Sujeeth has not been able to adopt a narrative style which can engage the viewers. Besides, the drama is so long that it seems to be going on endlessly, boring the audiences to the hilt. Shankar-Ehsaan-Loy, Guru Randhawa, Badshah and Tanishk Bagchi's music is good but the absence of hit songs in a film of this canvas is sorely felt. Lyrics (Manoj Yadav, Guru Randhawa, Tanishk Bagchi and Badshah) are commonplace. Raju Sundaram and Vaibhavi Merchant do a fine job of the choreography. Ghibran's background music is good but should've been far more impactful. Madhie's camerawork is extraordinary. Action and stunt scenes (by Kenny Bates, Peng Zhang, Bob Brown, Stefan Richter, Dilip Shubbarayan, Ram Lakshman, Stunt Silva, Parvez Shaikh and Stunt Jashwa) are thrilling and will be loved by the masses and front-benchers. But some of the stunts (Parachute, Prabhas in yellow suit) are so unrealistic that they will irritate the audience, mainly because of the poor script. Sabu Cyril's production designing and A. Vadivelan's art direction are of a fantastic standard. A. Sreekar Prasad's editing is nice. But the film still gets boring in many parts. Production values are superb.
On the whole, Saaho is a soulless film which bores more than it entertains. It has superb action but also a boring and confusing script. It will, therefore, not find appreciation commensurate with its investment and canvas. It will go down in history as a film which had a huge budget but, perhaps, none for the script. After a fantastic opening day and, therefore, a fairly good first weekend, its collections will come crashing down so badly from Tuesday (after Ganesh Chaturthi holiday on Monday) that it will soon be forgotten as a dismal fare.
Released on 30-8-'19 at Regal (daily 4 shows) and other cinemas of Bombay thru AA Films. Publicity: excellent. Opening: bumper. …….Also released all over. Opening was extraordinary at most of the places.