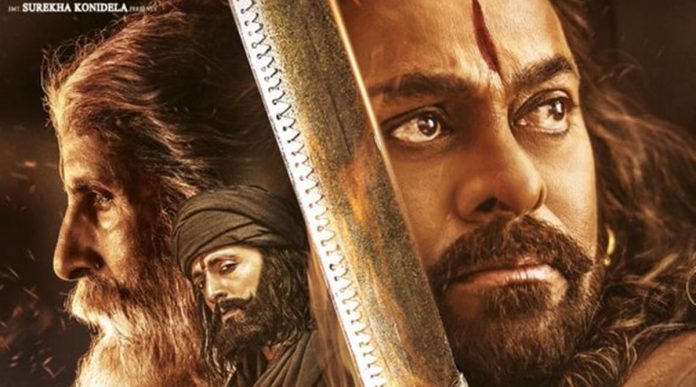 Konidela Production Company's Syeraa Narasimha Reddy (dubbed from the Telugu film of the same name; UA) is a historical. It is the story of one of the first freedom fighters of India.
The film is set 10 years before India's first war of independence was fought. Uyyalawada Narasimha Reddy (Chiranjeevi) is an emperor of the Rayalaseema region of Andhra Pradesh. Right from childhood, he has hated exploitation of any nature. He is so disturbed by the atrocities perpetrated on the people of India by the British East India Company that he abdicates his throne, and leaves his wife, Siddhamma (Nayanthara), mother (Lakshmy Gopalaswamy), and little son to fight the Britishers. He seeks the support of the emperors of other regions but when they are reluctant to join him, he musters the support of the public. Ultimately, the other emperors of nearby regions also join him in his fight for freedom.
The story, written by Paruchuri Brothers, is based on a chapter of Indian history. Of course, it has been fictionalised. The story may lack freshness as films based on the freedom struggle of India have been made in the past too, but yet, the patriotic flavour of the story does engage the audience. The screenplay, written by Surender Reddy, with additional screenplay by Bhupathi Raja, and additional writing by D.S. Kannan, Madhusudan and Srinivas Tagore, is quite engrossing and interesting. Yes, it is predictable but having said that, it must be added that the patriotic thread that runs through the drama keeps the viewers involved throughout. The audience likes it whenever Narasimha Reddy comes to the rescue of the downtrodden and the helpless. His helping hand will elicit claps and whistles at several places, more so in the case of the original Telugu version. The climax is very exciting and will draw rounds of applause too. Dialogues, penned by Manoj Muntashir and Devika Bahudhanam, are good but ought to have had more fire. The patriotic dialogues, of course, are very effective.
Chiranjeevi lives the role of Narasimha Reddy. He acts with effortless ease and breathes fire in the action scenes. In one word, he plays to the gallery with aplomb and will have the audience eating out of his palm, especially down South. Amitabh Bachchan is suitably restrained and lends the character of Guruji respectability, with his lovely performance. Sudeep makes his mark in the role of Raju. Vijay Sethupathi shines as Raja Pandi. Ravi Kishan is impactful as Basi Reddy. However, making someone else dub his dialogues in Hindi is a wrong decision as the Hindi film-going audience is fond of his rich voice. Jagapathi Babu shines in the role of Veera Reddy. Nayanthara looks beautiful and also acts very well in the role of Siddhamma. Tamannaah Bhatia looks pretty and performs very ably as Lakshmi. Lakshmi Gopalaswamy has her moments as Narasimha Reddy's mother. Nassar, Mukesh Rishi, Thanikella Bharani and Anushka Shetty (in a special appearance as Lakshmi Bai of Jhansi) provide excellent support. Matthew Stirling (as Daniel), Henry, Oscar, Mark, Niharika, Brahmaji, Brahmanandam and Raghu Babu lend very good support.
Surender Reddy's direction is excellent. He has adopted a narrative style which will appeal to audiences of all age groups and classes. Music (Amit Trivedi) is quite nice and melodious. The Hindi songs are not very popular, though. Swanand Kirkire's lyrics are appropriate. Prem Rakshit's choreography is eye-filling. The dances are graceful. Julius Packiam's background music is commendable. The 'Syeraa Narasimha Reddy' background refrain (by Amit Trivedi) is also very good. Ratnavelu's cinematography is superb. Action scenes and stunts, choreographed by Lee Whittaker, Greg Powell, Ram-Laxman and A. Vijay, are extraordinary. Production designing (by Rajeevan) and art direction (by S. Jayachandran, D.Y. Satyanarayana, Narahari Varma and S. Ramprasad) are fabulous. Sreekar Prasad's editing is crisp. Dubbing is very good.
On the whole, Syeraa Narasimha Reddy is a fair entertainer, its patriotic fervour, action scenes and Chiranjeevi being its biggest plus points. Although the dubbed Hindi version will do fair business, the original Telugu version has the trappings of a hit film.
Released on 2-10-'19 at Inox (daily 3 shows) and other cinemas of Bombay thru AA Films. Publicity: excellent. Opening: very good in single-screen cinemas and so-so in multiplexes (due to very limited shows, and opposition of War). …….Also released all over. Opening was good in single-screen cinemas and ordinary in multiplexes. …….Opening of the Telugu version in South India was phenomenal.