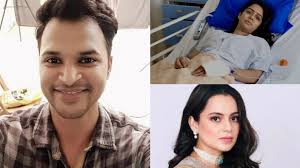 Television actress Malvi Malhotra was stabbed thrice yesterday (27th October) around 9 p.m. on a busy road at Versova in Bombay by a producer, Yogesh Kumar Singh. She was rushed to Kokilaben Dhirubhai Ambani Hospital where her condition is reported to be stable. It is allegedly a case of spurned love. Malvi has acted in TV serial Udaan and a film, Hotel Milan. She has also acted in some Malayalam and Telugu films. Singh wanted Malvi to marry him and had been stalking her for months.
Yogesh (26) also tried to slash the 29-year-old actress' face. According to the police, Yogesh accosted Malvi while she was walking home after a work meeting, and asked her to get into his car. When she refused, he threatened to kill her and also end his own life. He pulled out a knife from his pocket and stabbed her. He tried to slash her face but she shielded it due to which she suffered injuries on her hands. Yogesh fled after stabbing Malvi. She had just the previous day returned from a photo shooting in Dubai.
Malvi met Yogesh on social media last year. Yogesh had introduced himself as a producer after she accepted his friend request. She met him in January this year to discuss a music video, he said, he was producing. He later proposed marriage. Malvi rejected his proposal. He used to wait outside Malvi's building for hours after she stopped talking to him and blocked him on social media.
A case has been registered against Yogesh Kumar Singh. A search has been launched to trace him.