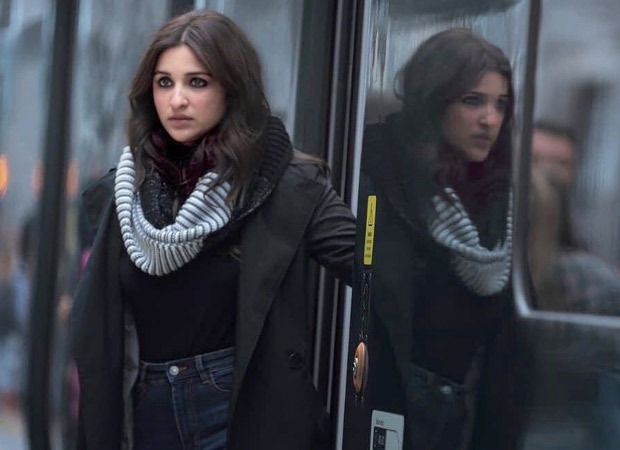 Reliance Entertainment, Amblin Entertainment and Netflix's The Girl On The Train (16+; Hindi-English) is a crime thriller based on British author Paula Hawkins' novel of the same name. It is the story of an alcoholic lawyer, Mira Kapoor (Parineeti Chopra), who is divorced from her philandering husband, Shekhar (Avinash Tiwary). She gets embroiled in a murder investigation. Nusrat John (Aditi Rao Hydari) is found murdered in the Greenwich jungle in London. Around the time of Nusrat's murder, Mira was also in close vicinity and, therefore, investigating officer Dalbir Kaur (Kirti Kulhari) feels, she is the murderer. The problem in solving the murder case is that Mira Kapoor suffers from amnesia. She can't recall recent incidents.
Did Mira Kapoor know Nusrat? Did she murder Nusrat? If so, why? If not, who murdered Nusrat and why?
Ribhu Dasgupta has written the story and it is excruciatingly slow, moving at a snail's pace. The adapted screenplay, penned by Ribhu Dasgupta and Viddesh Malandkar, tests the audience's patience. Although the film is a murder mystery, there is hardly any thrill. The first half is extremely boring and fails to hold the viewers' attention. The pace picks up a bit after interval but even then, the audience's engagement hardly increases. Frankly, the screenplay is so written that the viewer doesn't care who has murdered Nusrat. Because of this care-a-damn attitude, the guessing game which the audience should be involved in while watching the film, hardly happens. At some points, the turns and twists are so convenient that one wonders if much thought went into writing the screenplay. The climax appears convoluted and makes the viewers feel cheated. Dialogues (by Gaurav Shukla and Abhijeet Khuman) are as routine as routine can be.
Parineeti Chopra is impressive in the initial reels as her expressions convey a lot. But as the drama becomes insipid, even her acting does not really hold the audience's attention. Aditi Rao Hydari gets limited scope to act; she is alright in the role of Nusrat John. Kirti Kulhari is okay as investigating officer Dalbir Kaur. Avinash Tiwary does a fair job as Shekhar. Tota Roy Chowdhury lend average support as Dr. Hamid. Shamaun Ahmed is ordinary as Nusrat's husband, Anand. Richie Lawrie (as Walter), Natasha Benton (as Anjali, second wife of Shekhar), Nisha Aaliya (as Piya, friend of Mira), Monisha Hassen (as Zehra, boss of Shekhar), Vaunisha Kapoor (as Komal), Vishakh Vadgama (as officer Kunal), Diljohn Singh (as Rajiv), Suresh Sippy (as Mira's doctor) and the others lend decent support.
Ribhu Dasgupta's direction is dull. The narration fails to engage or involve the audience, which is bad for a murder mystery. Songs (composed by Sunny and Inder Bawra and Vipin Patwa) are well-tuned but the lyrics (Kumaar) are not easy on the lips although they are weighty. None of the songs is popular. Vijay Ganguly's choreography is ordinary. Background music (Gilad Benamram) is commonplace. Tribhuvan Babu Sadineni's cinematography is quite nice. Stunts (Kevin Smith) lack thrill. Sunil Nigvekar's production designing is alright. Sangeeth Varghese's editing is loose.
On the whole, The Girl On The Train is a flop show.
Released on 26-2-'21 on Netflix.