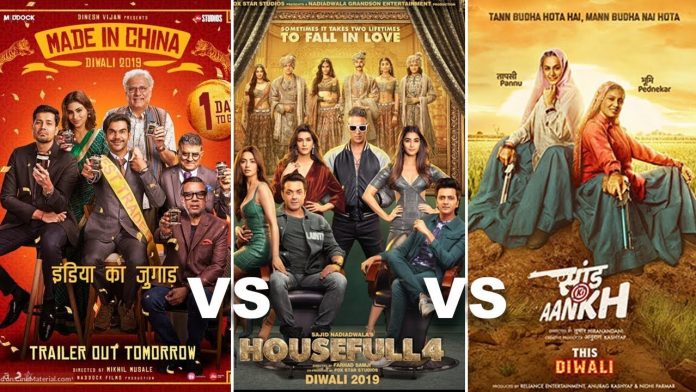 By Surendra Bhatia
This is the age in Bollywood when all kinds of well-made films, with stories not necessarily commercial, go as smoothly with audiences as a hot knife through butter. People relish movies that look different, feel different and have the content to intrigue them. Article 15, Chhichhore, Badhaai Ho are prime examples of projects that wouldn't have been thought of 15 years back but find ready and happy audiences in this age and time. Of course, all such films thrive on word-of-mouth… that is, audiences for the initial shows broadcast their positive verdict and the rest come on board, like bees to a sweet flower.
Saand Ki Aankh, too, seemed a subject that would have audiences aglow with expectations. Based on the true story of two village women who, repressed all their lives, finally break free when they are grandmothers, and become the country's foremost sharpshooters, the film had epic proportions, and it had the potential to be another sleeper hit.
Saand Ki Aankh had the potential but it was not able to adequately exploit it either in its content or release strategy. What should have been an exhilarating triumph of the two grandmothers got mired somewhere between "thheek hai" and "nice", but not an exhilarating one it should have been. Even more strongly, it made little sense releasing it on Diwali in the face of a big one like Housefull 4 and an awaited Made In China.
Saand Ki Aankh started poorly with collections of about Rs. 90 lakh on its opening day but then even the opening of Housefull 4 was less than hoped for because of pre-Diwali. On Monday, New Year holiday, the collections of Saand… shot up to Rs. 2 crore, which seems an amazing revival but was it really so? For a film that had spent almost Rs. 10 crore on promotions, collection of Rs. 2 crore on the fourth day means little. If it had opened with Rs. 2 crore on Friday (instead of Rs. 90 lakh) and then shot to Rs. 4-5 crore on New Year, it would have been notable. Its jump from Rs. 90 lakh to Rs. 2 crore may be more than 200% but that's like a roadside idli maker selling three idlis the first day and seven the next day. The growth might seem substantial in percentage terms but it doesn't make the business viable.
Films like Saand Ki Aankh ought to release when competition in cinemas is negligible, giving it the maximum exposure to reach audiences. As a Diwali release, Saand Ki Aankh, even if superbly made, was the third choice for audiences. Yet, on a lonely Friday somewhere else, when other filmmakers stayed away, it might have had a better chance at grabbing audiences.
It is not for nothing that producers work so hard on release strategies. A more pragmatic producer would have let the Diwali week go by and would have sought a Friday that didn't offer much contest. Saand Ki Aankhsuffered because of its release strategy. It may or may not have done strikingly better on other Fridays but as a Diwali release, it created for itself hurdles it did not have the capacity to overcome.