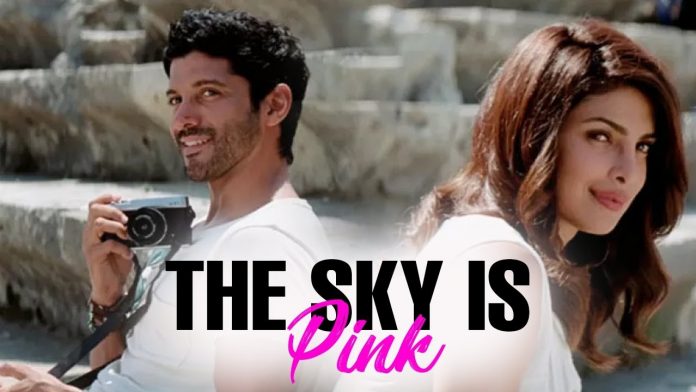 RSVP, Roy Kapur Films, SK Global and Purple Pebble Pictures' The Sky Is Pink (UA) is the story of a couple which has lost its daughter.
Aditi Chaudhary (Priyanka Chopra Jonas) and Niren Chaudhary (Farhan Akhtar) have been married and have a little son, Ishaan. They live in Delhi. One day, Aditi announces that she's pregnant. Despite Niren asking her to abort the child, Aditi doesn't do so as she has adopted Christianity as her religion, and abortion is not permitted in Christianity.
A baby girl is born to the couple but within no time, she is detected with a life-threatening disease by a doctor in London. Only an emergency surgery can save the life of little Aisha Chaudhary. Hard-pressed for money for the costly medical care, the Chaudharys somehow manage to collect money for it. Aisha's life is saved but her immunity is so low that Aditi has to stay back in London with Aisha for more than 10 years. Niren, meanwhile, is in India with Ishaan.
Finally, after many years, Aditi returns to India with Aisha (Zaira Wasim). Aditi's life revolves around Aisha as she tries to give her daughter everything she desires — and even what she doesn't want. But one day, Aisha dies. The Chaudharys are shattered. Time flies.
Niren now gets a superb job offer in London and is looking forward to shifting there. But Aditi doesn't agree to go with him. Why?
What happens thereafter? Does Niren stay back in India? Or does Aditi come around? What is the stand taken by Ishaan (Rohit Suresh Saraf)?
The story of Aditi and Niren is shown through the eyes of their deceased daughter, Aisha. Although this is a cinematic liberty taken by the story writers Shonali Bose and Nilesh Maniyar, it may not appeal to a majority of the audience simply because they may find it difficult to even understand that it's merely a liberty taken. They will wonder how a dead girl can be a narrator.
The story is quite novel, based as it is on a true-life story. But having said that, it must be added that one has seen earlier films in which the person dying or/and his/her family/friends know this, much in advance and, therefore, try to make the most of the person's time on Earth. By its very nature, the feeling is depressing because the audience knows that death is certain. Of course, the story in this case has several emotional moments but alongside those, there are depressing moments too. The screenplay, penned by the duo, is engaging but it is also very class-appealing. There are a couple of drawbacks in the screenplay. For one, the writers have not shown what Aditi's life was before she had to make London her base for more than a decade, thereby not underlining the kind of sacrifices she was making. Also, Aditi is always so well dressed and made-up that it takes away from the misery she is going through. These may be very minor points but they are so important that they can actually prevent the audience from feeling empathy for the sufferers. There's one scene in the women's washroom of a hotel, in which Niren and Aditi have a massive argument. Aditi's logic is so twisted that rather than feeling sympathy for her, the masses would actually object to her behaviour. Aditi chides Niren for underlining what all he had done for the family — and rightly so — but the very next moment, she does exactly what she has objected to Niren doing. Yes, the viewer understands that Aditi is distraught because her daughter has died but, at the same time, she doesn't appear to have lost her mental balance. Rather, she is dressed up glamorously and seems to be so in control of herself that the audience finds it difficult to digest that a smart person like her could talk so irrationally. In other words, while part of her conversation with Niren in that scene is rational, the other part is completely irrational. The masses will find Aditi's behaviour unacceptable because she is the heroine of the story. Yes, the elite and class audience or the evolved viewers may empathise with her but that's not universal acceptance.
Even the climax does not have the heart-wrenching impact it ought to have had, because extremely private moments of the Chaudhary family are revealed at a get-together where not just family members but friends and colleagues are present!
Overall, the screenplay is engaging and interesting, even emotional at places, but it holds appeal for a section of the audience only. Juhi Chaturvedi and Nilesh Maniyar's dialogues are heartfelt. The relevance of the English title will not be understood by many. In fact, the English title is a minus point.
Priyanka Chopra Jonas does an extraordinary job as Aditi Chaudhary. She lives the character and is exceptional in emotional and dramatic scenes. She could be nominated for awards and may even pick up one or two for the best actress. Farhan Akhtar performs well, especially when he has aged. In the initial few reels, he has not looked very good. Zaira Wasim is fantastic as Aisha. She is so natural that one doesn't even feel that she's acting. She also should win nominations and, maybe, even a couple of awards for her portrayal of the super-lively Aisha who has death staring her in the face. Rohit Suresh Saraf is quite alright as Ishaan. He makes a fine impact in a couple of scenes. Gurpal Singh is lovely as RJ Arjun Gill. Hrudaya Sondhkar (as baby Aisha), Vidhaan Sharma (as little Ishaan), Phoebe D'souza (as little Aisha), Manas Mittal (as Anshu Tandon), Rajshri Deshpande (as Anita Tandon), Lushin Dubey (as Mrs. Tandon), Sunil Chitkara (as Mr. Chaudhary), Nirupama Verma (as Mrs. Chaudhary), Puja Sarup (as Mohini), Sheena Khalid (as Rita), Ishan Jotshi (as Karan), Sudhanva Deshpande (as Dr. Nirvick Gulati), Manisha Chudasama (as Santoshi), Paras Rattan Sharda (as Jeet), Virchi (as baby Tanya), Raabia Marici (as Ishaan's girlfriend), Surajit Nundy (as Niren's friend), Sanjay Chopra (as Niren's uncle), Neelam Sharma (as Niren's aunt), Aprajita Dey (as Tina Tandon), Anish Trivedi (as Mr. Tandon), Dhananjay Kapoor (as Mohini's husband), Anuradha Vyas (as Chaudharys' house help), and the others lend routine support.
Shonali Bose's direction is sensitive but also very class-appealing. There's a thin line between an emotional and a depressing drama, but she has not been able to separate one from the other. Pritam's music is appealing in the film. Gulzar's lyrics are weighty. Song picturisations (by Brinda and Caesar) are okay. Mikey McCleary's background music is wonderful. It heightens the impact of the drama. Cinematography (by Kartik Vijay and Nick Cooke) is very nice. Aradhana Seth's production designing and Devika Dave's art direction are of a fine order. Manas Mittal's editing is sharp.
On the whole, The Sky Is Pink is a film for the classes only. It will do well in premium multiplexes of some big cities only. It will get more critical acclaim than box-office success.
Released on 11-10-'19 at Inox (daily 6 shows) and other cinemas of Bombay by Unilazer Ventures Pvt. Ltd. Publicity: so-so. Opening: dull. …….Also released all over. Opening was so-so in some multiplexes only; otherwise, it was below the mark.