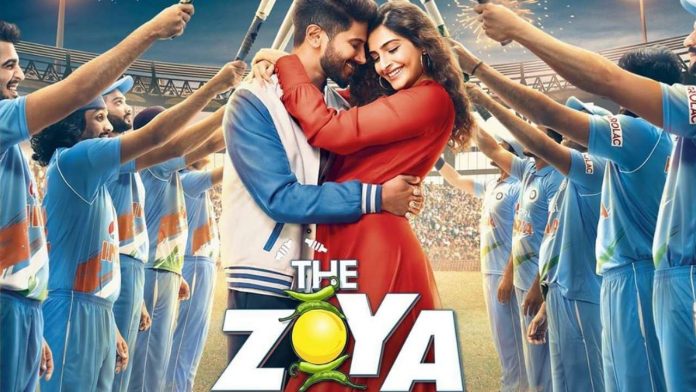 Ad-labs Films Pvt. Ltd.'s The Zoya Factor is a romcom. A girl, unlucky in her love life and her professional life, gets lucky when she meets the Indian cricket captain.
Zoya Solanki (Sonam Kapoor Ahuja) lives with her dad (Sanjay Kapoor) and armyman brother, Zorawar (Sikandar Kher). Her father believes that she is very lucky as right when she was born, the Indian cricket team, under the captaincy of Kapil Dev, had won the cricket World Cup in 1983. However lucky Zoya may be for the world, she feels, she is unlucky in her love as well as professional lives. For, even ordinary guys don't want to marry her, while her boss, Monita (Koel Purie), in whose advertising agency she works, hates her.
Zoya accompanies her two colleagues to shoot an advertisement film with the Indian cricket team. She meets the captain, Nikhil Khoda (Dulquer Salman), and the rest of the team which has been underperforming. While several team members believe in the luck factor, Nikhil feels, hard work and talent are the only factors that work in the game of cricket. Soon, the team starts winning match after match, and the credit for this goes to Zoya because the wins are attributed to her having breakfast with the team members before the matches. While most of the Indian players start believing in the power of Zoya's luck, Nikhil is livid when he realises that his team's performance is being undermined by giving Zoya's luck factor all the credit.
However, it is also a fact that Nikhil takes a liking for Zoya and soon falls in love with her. Zoya is, of course, unaware that while Nikhil is in love with her, he is so against all the talk about her luck factor. A senior team member, Robin (Angad Bedi), hates Nikhil and wants to replace him as the captain even if that means losing a match to spite him. His uncle, Jogpal (Manu Rishi Chadha), is the team manager who supports Robin in his evil designs.
Jogpal convinces the other cricket Board members to sign Zoya as the team's mascot. He convinces them that she could spell luck for the Indian cricket team. Does Zoya accept the lucrative offer of Rs. 1 crore for being the Indian cricket team's mascot?
Soon, Zoya is once again sent to shoot ad films with the Indian cricket team. Zoya and Nikhil's romance blossoms. But even as Nikhil's team members start to give all the credit for their winning spree to Zoya's presence and her luck factor, Nikhil gets hassled by Zoya's presence as he feels, the credit for the team's win should go completely to their hard work and talent. On her part, Zoya also learns of things about Nikhil, which don't sit well with her. Cracks develop in their relationship.
What happens thereafter? Do Zoya and Nikhil patch up? Does Robin succeed in his evil designs? Does the Indian team win the cricket World Cup?
The film is based on a novel of the same name written by Anuja Chauhan. The story is not just interesting and engaging but it is also novel as one has not seen this kind of a story on the Hindi screen. Besides, since it is laced with a lot of humour, it is also very entertaining. The screenplay, penned by Pradhuman Singh Mall and Neha Sharma, with additional screenplay by Anuja Chauhan, is extremely entertaining. There are a lot of twists and turns in the drama, which keep the viewers thoroughly engaged. The comedy and humour are such strong points of the screenplay that they keep the audience completely entertained. The romantic portions are equally enjoyable. There are also a couple of heartfelt scenes which touch the heart. For instance, the viewers experience a lump in their throats when Nikhil helps Kaushik (Yogendra Tiku), a friend of Zoya's father, express his feelings to the woman he loves. Likewise, the climax sequence has the same heartfelt quality about it. While the scenes mentioned above as well as the romance give the drama a certain maturity, the comedy often keeps the audience in splits.
Dialogues deserve full marks. Pradhuman Singh Mall and Anuja Chauhan have written simply remarkable dialogues which create so much comedy that they will be met with loud rounds of applause. The dialogues in the cricket commentary (by Anant Singh) are absolute gems and will often be met with huge rounds of laughter. For instance, the Bahubali and the Aadhaar Card dialogues are supremely funny.
Sonam Kapoor Ahuja springs a surprise with a wonderful performance. She sinks into the character of Zoya and comes out with flying colours. The audience's heart actually goes out to her. She looks pretty and ultra-glamorous. Dulquer Salman is truly outstanding. He is such a wonderful actor that he could give any Hindi film actor a run for his money. He is extraordinary in romantic, dramatic, emotional and comic scenes alike. He looks so fetching and endearing that women will go bonkers over him. Even the menfolk will go crazy over his looks and physique. Sanjay Kapoor is very good as Zoya's father. Sikandar Kher does a truly fine job as Zoya's brother, Zorawar. Angad Bedi leaves a fine mark as Robin. Manu Rishi Chadha makes his presence felt as Jogpal. Koel Purie shines in the role of Zoya's boss, Monita. Pooja Bhamrah has her moments as the TV anchor. Sahil Vaid and Anant Singh deserve full marks for their voice acting as the cricket commentators. Anil Kapoor is fabulous in a special appearance. Shah Rukh Khan's commentary in the film adds tremendous value. Abhilash Chaudhary (as Shivi) and Gandharv Dewan (as Harry) are first-rate. Manoj Goyal stands out as Lokey. Udit Arora (as Ketan), Sachin Deshpande (as Lakhi), Abhishek Madrecha (as Zahid), Sunny Singh Dulgach (as Bala), Jashan Singh Kohli (as Navneet), Rahul Sharma (as Rahul), Aakash Luthra (as Rana) and Neeraj Rana (as Luthra) are effective as the other cricketers of the Indian team. Alistar Bennis (as Neelo), Vikas Mandaliya (as Vishal), Arvinder Singh Gill (as Jimmy), Yogendra Tiku (as Kaushik), Himanshu Gokani (as Mehra), Rishi Hapawat (as the dentist), Ajay Mehra and Ajoy Chakraborty (both as cricket Board members), Richard Alan Klein (as the Indian team coach), and the others provide lovely support.
Abhishek Sharma's direction deserves distinction marks. He has used a racy style to narrate the drama and has managed to not just extract wonderful work from his artistes but also keep the audience entertained all through the film. Music (Shankar-Ehsaan-Loy) is good; the 'Maheroo' song and a couple of others are appealing but the absence of hit numbers is felt. Lyrics (Amitabh Bhattacharya) goes perfectly well with the mood of the film. Song picturisations (by Vishal Punjabi, Tushar Kaliya, Shampa Sonthalia and Adil Shaikh) are appropriate. Background music (by Indrajit Sharma and Parikshit Sharma) and additional background music (by Kingshuk Chakravarty) are superb and complement the comedy beautifully. Manoj Lobo's cinematography is of a fine standard. Rajat Poddar's production designing is appropriate. Utsav Bhagat's editing is sharp.
On the whole, The Zoya Factor is a lovely entertainer all the way. Its script, comedy, dialogues, performances and direction are its plus points. The film has enough merits and, therefore, deserves to work at the box-office, especially in the cities and the multiplexes. However, too many releases this week will definitely prevent the film from realising its full potential or rather even making its presence felt everywhere. In fact, it is because of the multiple releases this week that the film has taken a very poor opening. Collections will pick up due to extremely positive word of mouth but it may be too late by then.
Released on 20-9-'19 at Regal (daily 1 show) and other cinemas of Bombay by Fox Star Studios. Publicity: below the mark. Opening: dull. …….Also released all over. Opening was weak everywhere.