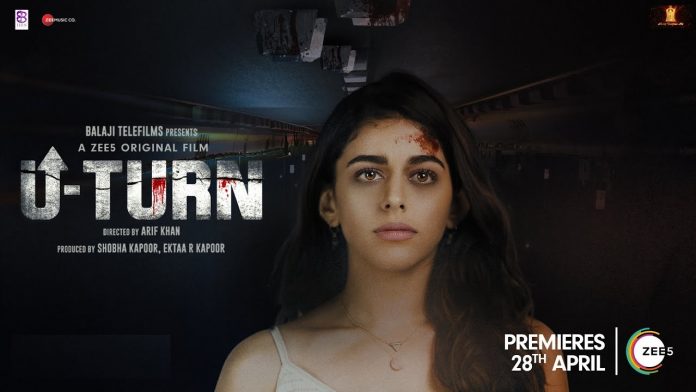 Balaji Telefilms Ltd. and Pawan Kumar Studios' U-Turn is a suspense thriller. It is the remake of the Kannada film of the same name.
Radhika Bakshi (Alaya F), a journalist, is working on a story of the frequent road accidents on a flyover. Her colleague, Aditya Iyer (Ashim Gulati), is assisting her. While investigating, Radhika realises that the frequent accidents are caused due to the carelessness of those people who shift some blocks on the flyover to take a U-turn and don't keep the blocks back in their place, because of which car drivers crash against those blocks and die. Even while Radhika solves this mystery, she is shocked to find that of late, all those people who illegally take the U-turn, commit suicide soon thereafter. Radhika and police officer Arjun Sinha (Priyanshu Painyuli) set out to solve the mystery of the suicides. Are they really suicides or are they murders? Why is one accident in particular — in which a lady and her daughter had died on the flyover — significant?
Pawan Kumar has written the story which does not hold much interest for the audience. Radhika's job is over once she concludes that the accidents on the flyover are caused due to shifting of blocks. The entire drama of Radhika and Arjun Sinha solving the mystery of the suicides is a different story altogether. Parvez Sheikh and Radhika Anand's screenplay is not half as engaging as it ought to have been. Even the revelation of the suspense doesn't give the viewers a high because they couldn't care less about the reason behind the suicides/murders. Radhika Anand's dialogues are ordinary.
Alaya F does a fine job as investigative journalist Radhika Bakshi. Priyanshu Painyuli is good as police officer Arjun Sinha. Manu Rishi Chadha leaves a mark in the role of Inderjeet Singh Dhillon. Aashim Gulati is okay as Radhika's colleague, Aditya Iyer. Rajesh Sharma lends decent support as police inspector Saxena. Shreedhar Dubey is okay as Surinder Singh Yadav. Tasveer Kamil (as Sunita Singh), Surinder Arora (as Harry), Priyanka Arya (as Divya Kohli), Pankaj Jha (as Deepak Kumar), Dimple Sharma (as Shikha Kumar), Ashu Sharma (as Siddhant Sachdeva), Dev Dembla (as Radhika's brother, Raghav Bakshi) and Grusha Kapoor (as Radhika's mother) provide fair support.
Arif Khan's direction is ordinary. The film has no songs. Ketan Sodha's background music is pretty effective. Anubhav Bansal's camerawork is nice. Action scenes (by Moses Fernandes) are alright. Somanwita Bhattacharya and Protique Majoomdar's production designing is fair. Editing (by Rohit Ajit Makwana) could've been sharper.
On the whole, U-Turn is too dull to make much of an impact.
Released on 28-4-'23 on Zee5.