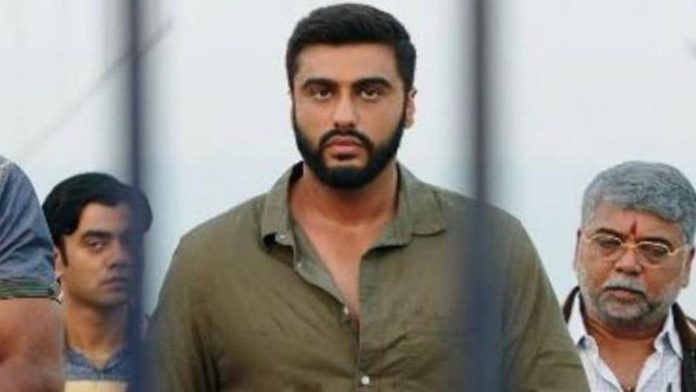 Fox Star Studios and Raapchik Films' India's Most Wanted (UA) is a thriller.
Prabhat (Arjun Kapoor), who works for the Intelligence Bureau (IB), and his group of like-minded colleagues – Manish (Pravin Singh Sisodia), Bittu (Aasif Khan), Javed (Devendra Mishra) and Pillai (Prasanth Philip Alexander) – pool in their own money and go to Nepal to nab a dreaded terrorist, Yusuf (Sudev Nair), who has been responsible for several serial bomb blasts in India. The IB is unwilling to fund the operation because there's no concrete evidence that Yusuf is in Nepal. In fact, the IB, RAW and other intelligence agencies are convinced, Yusuf and the other terrorists are in Pakistan or Dubai. Prabhat's immediate superior, Rajesh Singh (Rajesh Sharma), is the only one who has cent per cent faith in Prabhat's capabilities because of his track record. Although Rajesh Singh can't give Prabhat formal permission to go to Nepal because the IB has declined permission, he, nevertheless, gives him an informal go-ahead.
Prabhat and his four friends join forces with four more cops – Ravi (Bajrang Bali Singh), Amit (Gaurav Mishra), Dheeraj (Sandeep Dhabale) and Santosh (Ashish Khare). The nine-member team reaches Nepal and the members put up in three different hotels so as to not attract attention towards themselves. An informer (Gurpreet Bhullar) gives them vital information about Yusuf, which helps the team to lay a trap to nab Yusuf. Just as Prabhat feels, they are very close to capturing Yusuf, he sends a request to his superior for manpower. This is also because the ISI from Pakistan has got to know about Prabhat and his team being in Nepal and it is hot on the trail of Prabhat and his team mates. Does Prabhat get help from the IB easily? Is he able to successfully nab Yusuf?
Raj Kumar Gupta has based the film on a real-life story of a group of IB officers who risked their lives to capture a dreaded terrorist. The story is interesting but the way it has been written is simply terrible. The story of the film does not make it half as exciting as it should've been. The biggest blunder is that after calling the film India's Most Wanted, the story writer has given terrorist Yusuf (who is, in the film, India's most wanted) barely five minutes of screen time!! Nothing could be more idiotic than this. With the antagonist being, therefore, merely referred to in dialogues, the hatred towards him and fear of him are not created in the minds of the audiences. What the viewers get to see on screen are mere sounds of explosion followed by dead bodies and damaged properties to indicate that Yusuf was behind the serial bomb blasts. And those are also stock shots. Similarly, Prabhat and his men seemingly do absolutely nothing while they are in Nepal except tracking down people, keeping a watch, taking information from an informer and generally preparing for another day of doing nothing. Probably because there's nothing in the story for Prabhat and his team to do, the writer tries to show them serious about their job by making them walk and talk at above-average speed. What's even more idiotic is how the ISI people seem to be more worried about catching Prabhat and his men than saving their own person, Yusuf, from being arrested.
Raj Kumar Gupta's screenplay is equally stupid and seems to have been written without application of mind. Firstly, the pace of the drama is not at all what the pace of a thriller should be. The drama seems to move at a leisurely pace because nothing at all happens except in the last few minutes. So much importance has been given to the waiting-for-the-right-moment environment that the screenplay bores the viewers at many places. Moments of heroism are absolutely missing. Even though Prabhat and his team mates stay in three different hotels to avoid being noticed, Prabhat and his colleagues often plan their moves in the hotel's corridor instead of their room/s. Why would any IB sleuth be so foolish? Again, the way several of the nine members walk on the streets or talk on the cell phone or generally stand strategically to keep tabs on someone or something, even a blind man would suspect that they aren't ordinary humans but are on some mission or the other. Further, although there's precious little which the nine-member team is doing constructively, Prabhat, at one point, gives them a two-line brief and asks his team mates if they had any questions! Questions? After a two-line brief? The viewers soon understand, there's not much concrete work being done but only an impression being created about work happening. Another example of how shallow the script is, is this: Prabhat's team member, Pillai, hears Yusuf's voice and concludes that he is from South India. So what?!? How does it ever help Prabhat and his men to know that Yusuf hailed from South India? Again, there's a scene in which Prabhat comes into the hotel, panting for breath. It is revealed by him to his friends that he was being followed by two or three persons. So?!? Would an IB sleuth get so flustered on being followed – that too, by tiny young men? Prabhat keeps reminding his men that they were doing what they were doing for the love of their coun­try. If they are working for the IB, where is the need to drill this into their heads? Don't they know that whatever they have to do in the call of duty is for the country. There's also a point in the screenplay when Yusuf's men want to track down the two cars in which the nine-member team has arrived in Nepal. Just to create that aura of urgency and importance, the instructions are given to a lady who, in turn, instructs her boys to do the job very urgently. And what happens thereafter? The boys move on the streets in groups of four and five to track two cars (!!!!). Did they think that they needed to be prepared in the eventuality that the cars attacked them? For God's sake, they are cars which they are tracking, not human beings, so where was the need to move in groups of three and four, especially considering that the job was urgent. Looking to the urgency of the job, common sense should have prompted them to move individually rather than in groups because all they needed to do was to track the two cars. Such blunders in the screenplay rob the thriller of the thrill element. Even the climax is tame and shows zero heroism on the part of Prabhat and his team members.
The film completely lacks in emotions. Why, even the patriotic flavour is so weak that it fails to swell one's chest with pride. Comedy is dull. Romance, of course, is completely missing. In other words, the ingredients of a commercial entertainer are either missing or not pronounced enough.
Arjun Kapoor does not impress as Prabhat. He has one fixed expression plastered on his face throughout the drama. He seems to be ill at ease while enacting the role. This is also because there is actually nothing in the drama for him to do. Rajesh Sharma is earnest but there's only that much he can do, given the script. Sudev Nair hardly gets scope to make his presence felt although he plays the title role of Yusuf, India's most wanted, in the film. Gurpreet Bhullar is irritating as the informer. Pravin Singh Sisodia (as Manish), Aasif Khan (as Bittu), Devendra Mishra (as Javed) and Prasanth Phil­ip Alexander (as Pillai) hardly get scope to perform. Bajrang Bali Singh (as Ravi Raj), Gaurav Mishra (as Amit), Sandeep Dhabale (as Dheeraj) and Ashish Khare (as Santosh) also get very limited scopes. Ankita Dubey (as Javed's wife), Divya Unny (as Pillai's wife), Mona Ray (as Manish's wife), Shivani Singh (as Rajesh Singh's wife), Sangeeta Raman (as Bittu's mother) and baby Anjali Sharma (as Manish's daughter) are okay in bit roles. Rajendra Gupta (as Sudhir Yadav), Santilal Mukherjee (as Shaumik Biswas), Jitendra Shastri (as friend), Resh Lamba (as Haddi), Deepankar Shar­ma (as Sudhir Yadav's assistant), Amit Jerath (as senior ISI officer in Pakistan), Gurpreet Singh (as ISI man 2), Namit (as ISI Major General in Pakistan), Pankaj Raina (as ISI Senior General in Pakistan), Sanjay Bhatia (as home minister) and the rest lend routine support.
Raj Kumar Gupta's direction is terribly weak. He has neither written a good script nor has he been able to make a thrilling film which can keep the viewers engaged or entertained. Amit Trivedi's music and Amitabh Bhattacharya's lyrics are functional. Amit Trivedi's background score is fairly nice. Dudley's camerawork is very good. Parvez Shaikh's action and stunts are well-choreographed. Production designing (by Rita Ghosh) and art direction (by Madhumita Sen and Rajesh Choudhary) are quite nice. Bodhaditya Banerjee's editing should've been crisper.
On the whole, India's Most Wanted is a very badly scripted and poorly made film with weak performances. It will face complete rejection at the box-office – and deservedly so.
Released on 24-5-'19 at Inox (daily 5 shows) and other cinemas of Bombay thru Shringar Films Pvt. Ltd. Publicity: ordinary. Opening: dull. …….Also released all over. Opening was poor at most of the places.