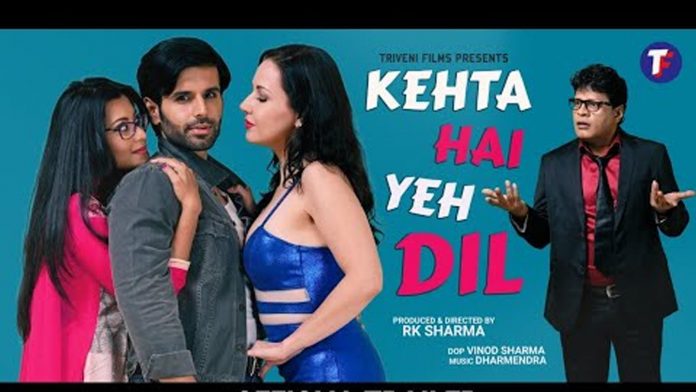 Triveni Films' Kehta Hai Yeh Dil (UA) is the story of a rich college boy who is best friends with one girl but loves another girl.
Aryan (Ranveeir Kalsi) is the arrogant and quarrelsome son of a rich doctor. He studies in a college. His best friend is Rita (Elena) but Aryan falls in love with Aarohi (Sharvani Sahay), the daughter of the college principal. Of course, the principal opposes the relationship. What happens thereafter?
The film has a childish story by Harish Kotian and a weak screenplay, also by Harish Kotian. Both fail to involve or engage the audience. Even the dialogues are dull.
Ranveeir Kalsi is weak in the role of Aryan. Sharvani Sahay hardly impresses in the role of Aarohi. Elena is so-so as Rita. Matin Khan (as the college principal) and Akash Singh lend weak support.
R.K. Sharma's direction is terribly poor. Dharmender Bhaduria's music is commonplace. Lyrics are below the mark. Priya Singh and Vinay Singh's background music is terrible. Camerawork (by Vinod Sharma and Anshumaan) is below the mark. Other technical aspects, including editing (by Prakash Jha), are dull.
On the whole, Kehta Hai Yeh Dil is a poor fare and will go largely unnoticed at the box-office.
Released on 28-2-'20 at Movie Star (daily 1 show) and other cinemas of Bombay thru Pioneer Enterprises. Publicity & opening: dull. …….Also released all over. Opening was weak everywhere.