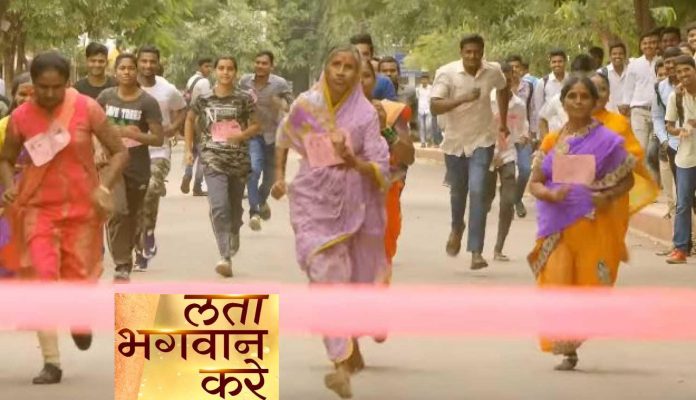 Paramjyothi Films Creations' Lata Bhagwan Kare (Marathi) is the story of marathon runner Lata Bhagwan Kare who stood first in the marathon despite being 65 years old. It is a true-life story with the real-life characters playing themselves.
Lata Kare (Lata Bhagwan Kare) lives with her husband, Bhagwan Kare (Bhagwan Kare), and son, Sunil (Sunil Kare). They are very poor. It falls upon Lata to support her family as Bhagwan is very ill while Sunil is a drunkard who spends all his time in drinking. Sunil's wife is Radha (Radha Chavan).
Sunil's friend, Bankar (Ajay Shinde), is also an alcoholic. His wife, Gauri (Rekha Gaikwad), works hard by pasting posters of elections and marathon runs on the walls. Bankar and Gauri have a daughter, Apu (baby Sakshi).
One day, Gauri tells the 65-year-old Lata to run the marathon as it can fetch her money if she wins it. That money, she adds, can be used for Bhagwan Kare's medical cure. Lata practises wholeheartedly. Gauri also helps her. But Lata's own son is not in favour of her participating in the marathon. How Lata fights all odds, runs the marathon and comes first is the crux of the story. It underlines that perseverance, passion and devotion can move mountains and that age is a mere number.
Naveen Deshaboina's story is inspired by the true-life story. It is good and heartwarming as well as inspirational. However, his screenplay is so boring that it becomes evident that the writer is a novice. The excitement and adrenaline rush one needs to experience in a drama of this kind are almost absent. Naveen Deshaboina's dialogues are ordinary.
Lata Kare fails to inspire or act in her debut role as herself. Bhagwan Kare is also dull as himself becaues he is ill at ease in front of the camera. Sunil Kare is alright as himself. Ajay Shinde plays Bankar with a bit of conviction. Radha Chavan is okay as Radha, wife of Sunil. Rekha Gaikwad does a fair job as Bankar's wife, Gauri. Baby Sakshi lends routine support as Apu.
Naveen Deshaboina's direction is poor. Prasanth Mahamuni's music and lyrics are average. Sameer Kannu's background music ought to have been far more impactful. Camerawork (by Aditya Sangare and Kamalesh Sangare) is okay. Boddu Shivakumar's editing is loose.
On the whole, Lata Bhagwan Kare is a dull fare.
Released on 17-1-'20 at Bharatmata (daily 1 show) and other cinemas of Bombay thru Sunshine Studios. Publicity & opening: poor.