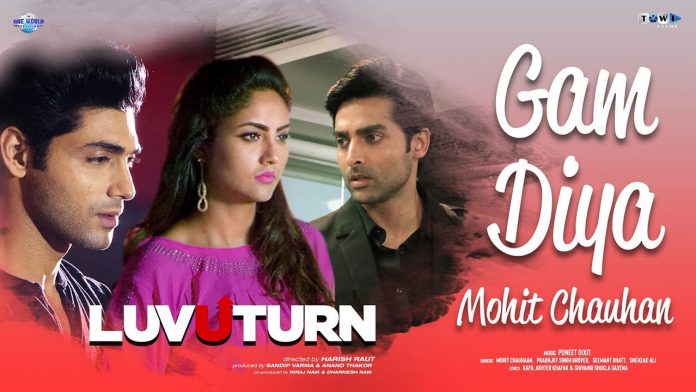 The One World International Films' Luv U Turn (UA) is the story of love, lust and betrayal.
Ishika (Purva Rana) and Sahej (Adhvik Mahajan) are married but they don't get to spend much time together as Sahej keeps very busy with his work. Sahej and Ishika love each other a lot. To spend time together, Sahej takes Ishika alongwith him on a business trip to Thailand. However, Sahej becomes very busy in Thailand too.
In Thailand, Ishika reconnects with Ronik (Ruslaan Mumtaz), her first love from college. Ishika learns that Ronik and her friend (Ruhi Chaturvedi) are dating one another. Sparks fly between Ishika and Roink. And the two have a rollicking affair. What happens thereafter?
The story of love and lust offers nothing new. It is clichéd and seems to have been selected to show intimate scenes. Archana Sharma's screenplay is replete with scenes of intimacy, kissing and love-making. The drama is weak and off-repeated. Even Archana Sharma's dialogues are commonplace to the crore.
Adhvik Mahajan is so-so as Sahej.  Purva Rana is okay in the role of Ishika. Ruslaan Mumtaz does an average job as Ronik. In the role of Ishika's friend, Ruhi Chaturvedi lends routine support. Others are ordinary.
Harish Raut's direction is below the mark. Music (by Hitesh Modak, Prem Anand and Puneet Dixit) is functional. Lyrics (Arun Kumar, Sunil Sirvaiya, Abhendra Kumar Upadhyay, Shelle, A.M. Turaz, Kafil Akhter Khafak and Shivangi Shukla Saxena) are routine. Song picturisations (by D.C. David) are very ordinary. Nilotpal Bora's background music hardly adds to the drama. Mohan Varma's camerawork is quite good. D.K. Dharam's sets are alright. Hardik Singh Reeen's editing leaves a lot to be desired.
On the whole, Luv U Turn has just titillation on offer, that too, devoid of freshness. As such, it will not find favour with the paying public. A non-starter.
Released on 29-11-'19 at Gem (daily 1 show) and other cinemas of Bombay thru August Entertainment. Publicity & opening: very poor. …….Also released all over. Opening was weak everywhere.