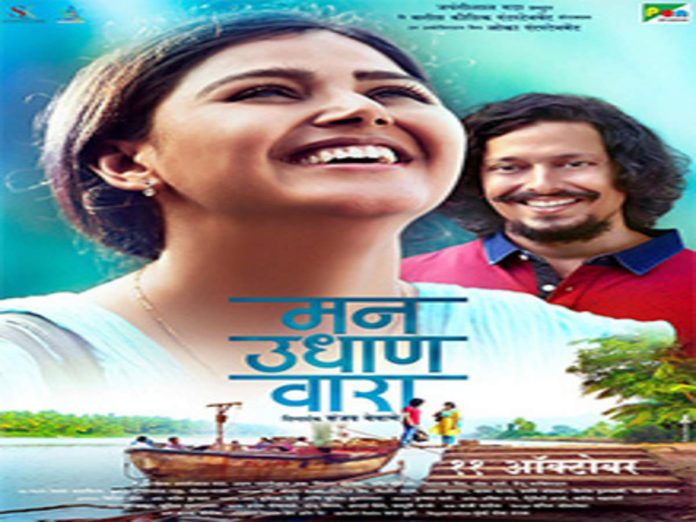 PEN Studios, The Satish Kaushik Entertainment and Lokaa Entertainment's Man Udhaan Vara (Marathi; UA; meaning 'The mind flies in the air') is the story of a rape victim.
Sarita (Monal Gajjar) lives with her parents (Vinod Kulkarni and Bharti Patil) in Bombay. She works as a nurse in a hospital. One day, she is raped by three men. She and her family file a police complaint. The guilty are punished but Sarita is still undergoing trauma.
Her parents send her away to the village so that she may get over her traumatic past. In the village, she meets Binda (Rutwij Vaidya) who is a noble person. Binda professes his love for her but Sarita tells him about her rape incident. Even after that, Binda wants to marry her. This agitates Sarita so much that she returns to her parents in the city.
Once back, Sarita is unable to forget Binda and so she soon returns to the village. Finally, Binda and Sarita unite in matrimony.
Pradip Kurbah's story is routine and offers no novelty. The point of Sarita getting angry with Binda seems weird. The screenplay, written by Sumitra Bhave and Sunil Sukthankar, is quite hackneyed. There are very few heartwarming scenes. A couple of emotional scenes do not succeed in negating the overall dull impact of the drama. The duo's dialogues are ordinary.
Debutante Monal Gajjar is alright as Sarita. Newfind Rutwij Vaidya does a fair job as Binda. Both the newcomers make reasonably good debuts. Kishor Kadam is alright as Sarita's uncle in the village. Sagar Karande (as Vishnu) and Sharvari Lohakare (as Vishnu's wife) lend average support. Vinod Kulkarni (as Sarita's father), Bharti Patil (as Sarita's mother), Uttara Baokar (as Binda's grandmother) and Julia Mone (as Sarita's sister) are adequate.
Sanjay Memane's direction is alright. Music (by Amit Raj, Trinity Brothers, Satish Chakravorty and Harsh Karan) is just about okay. Lyrics (Guru Thakur and Sunil Sukthankar) are functional. Milind Jog's camerawork is good. Baji Patil's art direction is of a fine standard. Krushnat Gharge's editing is not very sharp.
On the whole, Man Udhaan Vara is a flop show.
Released on 11-10-'19 at Bharatmata (daily 1 show) and other cinemas of Bombay thru PEN Marudhar Cine Entertainment. Publicity & opening: dull.