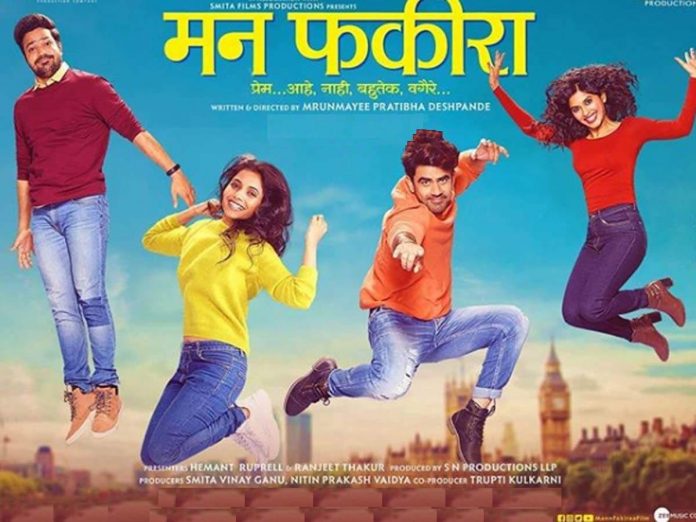 Frames Production Company, Smita Film Production and SN Productions LLP's Mann Fakiraa (Marathi; UA; meaning 'Without a worry') is the story of a married couple.
Bhushan (Suvrat Joshi) has just gotten married to Riya (Sayali Sanjeev). Theirs is an arranged marriage. Just four days after the wedding, the two have a heart-to-heart talk. Bhushan reveals that before marriage, he had had an affair with Mahi (Anjali Patil) in the USA. Riya also admits to an earlier affair with Nachiket (Ankit Mohan). She adds that Nachiket was now in the USA.
Bhushan and Riya go to the USA for their honeymoon. While Bhushan hooks up with Mahi, Riya returns to Nachiket. What happens thereafter? Does the marriage survive? Or does Bhushan live happily ever after with Mahi? Do Riya and Nachiket spend the rest of their lives together?
Mrunmayee Pratibha Deshpande has written a story and screenplay of convenience. Both, Bhushan and Riya, were in relationships before their marriage, both their ex-partners are in the USA, the couple goes to the USA for honeymoon — all this is too much of a coincidence. While the comic portions are somewhat interesting, the main story is so implausible that it doesn't appeal much. The drama deteriorates so much after interval that the second half becomes dull and boring. Mrunmayee Pratibha Deshpande's dialogues are ordinary.
Suvrat Joshi is average as Bhushan. Sayali Sanjeev does quite well in the role of Riya. Anjali Patil acts ably as Mahi. Ankit Mohan is ordinary as Nachiket. Renuka Daftardar lends routine support as Bhushan's mother. Others pass muster.
Mrunmayee Pratibha Deshpande's direction is commonplace as she is unable to camouflage the shortcomings of the script. Music (Soumil Shringarpure and Siddharth Mahadevan) and lyrics (Vaibhav Joshi, Kshitij Patwardhan and Tanishk Nabar) are okay. Song picturisations are nothing to shout about. Background music (Aditya Redkar and Soumil-Siddharth) is functional. Abhijit D. Abde's camerawork is quite alright. Gayatri Shinde's art direction is appropriate. Pravin Jahagirdar's editing ought to have been sharper.
On the whole, Mann Fakiraa is a flop fare.
Released on 6-3-'20 at Glamour (daily 1 show) and other cinemas of Bombay thru PVR Pictures Ltd. Publicity: fair. Opening: dull.