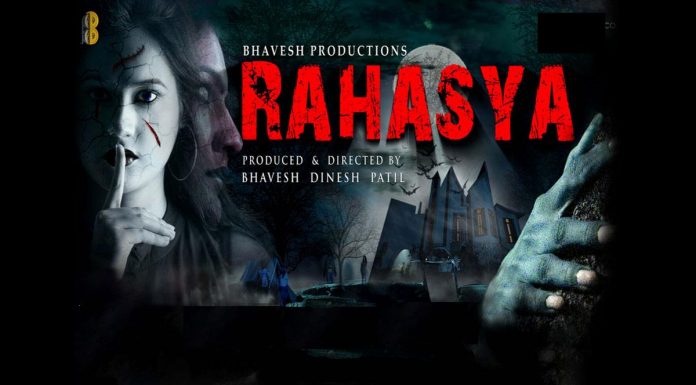 Bhavesh Productions' Rahasya (Marathi; UA; meaning 'Secret') is a horror film.
Lucky, Raghu, Nisha, Kirti and Zoya go on a picnic and pass through a jungle where they make a halt. Zoya falls into the well. After searching for her, the four friends leave the jungle and reach Lucky's farm house where they stay. They register a complaint about Zoya's disappearance, with the police station.
Soon, Zoya, who has become a ghost, comes to the farm house and kills Raghu and watchman Tukaram. Lucky, Nisha and Kirti run towards the jungle to save their lives. They realise that one Ragini's ghost had possessed Zoya. Before they know it, Zoya kills Nisha. What happens to Lucky and Kirti? Do they also die or do they manage to survive?
Bhavesh Patil's story is so routine that one wonders how anyone could make a film based on a done-to-death story. His screenplay is as clichéd as his story. There is not a single scene which has even a hint of novelty. Resultantly, the drama unfolds in the most predictable manner with hardly any high points. Bhavesh Patil's dialogues are pedestrian.
Lucky Badgujar is dull. Swati Shukla fails to impress. Rutuja Sonar is barely passable. Swati Patil is weak. Rakesh Bagul's performance is below the mark. Sima Sharma hardly passes muster.
Bhavesh Dinesh Patil's direction is pathetic. Premnath Kotwal's music is functional. Lyrics (Sameer Nerlekar, Ramkrushana Dhangar and Premnath Kotwal) are not of standard. Song picturisations (by Naresh Pandit and Mandar Pandit) are unimpressive. Background music (by Narendra Bhide and Tanmay Bhide) is ordinary. Jitendra Achrekar's camerawork is average. Sets (Poonam Mevada and Ruby Thakkar) are so-so. Editing is loose.
On the whole, Rahasya is a poor fare.
Released on 7-2-'20 at Bharatmata (daily 1 show) and other cinemas of Bombay thru A.P. Communications. Publicity & opening: weak.