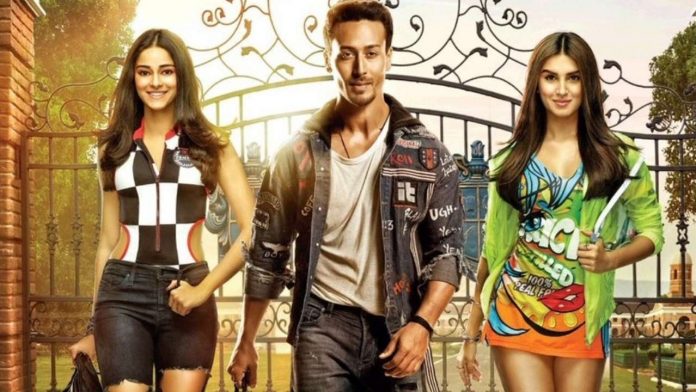 Fox Star Studios and Dharma Productions' Student Of The Year 2 (UA) is the sequel of Student Of The Year. It is yet another campus film – this time about one boy and two girls who fall in love with him. The first part was about one girl and two boys.
Rohan (Tiger Shroff) studies in Pishorilal School but is very keen to get admission into Saint Teresa school because that's where his girlfriend, Mia alias Mridula (Tara Sutaria), studies. The school is very posh and only the rich can afford it. Rohan isn't rich but he gets lucky when he gets admission due to scholarship.
In Saint Teresa school, Rohan realises that Mia has changed but he is too madly in love with her to notice that she is crazy about rich people and is, therefore, angling for a rich boy, Manav (Aditya Seal), in the school. On the first day in the new school, Rohan meets Shreya (Ananya Pan­dey) who is arrogant to the core be­cause her father (Chetan Pandit) is the school's trustee. Soon, Rohan learns that Shreya and Manav are sib­lings. Manav has invariably been the student of the year at Saint Tere­sa. But Rohan is now tough competition for Manav. As for Shreya, she taunts Rohan at the slightest opportunity.
Mia wants to win the college dance competition – and Rohan makes it his mission to ensure that his lady love's dream is fulfilled. Even as Rohan and Mia are all set to win, a blunder in the final stage of the dance costs Mia the trophy. She is devastated and so is Rohan. The winners are Manav and sister Shreya. Mia seems to be unforgiving towards Rohan.
As if losing the dance competition was not bad enough, Rohan faces another terrible setback. And yet an­other setback when he is rusticated from college. Not just that, Manav humiliates Rohan and beats him up mercilessly on his last day at Saint Teresa.
Rohan joins Pishorilal school once again. He soon realises that it's important to have an aim in life. He starts life afresh in his old school. Soon, Shreya approaches him to be her partner in a dance competition. He's sceptical in the beginning but relents soon.
Even as Rohan and Shreya interact, Shreya starts to fall in love with him. But soon, Mia re-enters Rohan's life. Rohan is now torn between Mia and Shreya. Or is he?
Days pass. It's now time for the inter-school Dignity Cup competition in which Rohan will be pitted against Manav.
Will Rohan avenge his humiliation at Manav's hands, in the Dignity Cup competition? What was the first set­back Rohan had faced in Saint Tere­sa? Why was he rusticated from school? Does Rohan get Mia back? Or does he reciprocate Shreya's love? Why does Shreya have a change of heart towards Rohan?
Arshad Syed's story, with additional story by Paulomi Dutta, is not very substantive. There are a couple of really good twists and turns but over­all, the drama doesn't engage the viewers too much because it often seems frivolous and even inconsequential in the overall scheme of things. Characterisations are not very clearly etched out. As a result, the audience often gets confused about whether Manav is a good human being or evil. Mia's money-mindedness is crystal clear to the audience but when Rohan can't see through her, it seems strange.
Arshad Syed's screenplay is good in parts only. He has simply not both­ered to establish important things like why Mia returns to Rohan, or why Shreya's dad is so against sending her abroad for further studies and why he has such a quick change of mind and heart. Again, Shreya's change of heart is also unexplained. Nothing has changed vis-à-vis her relationship with anybody to warrant a change in her attitude. All in all, Ar­shad Syed's screenplay is a classic case of lazy writing – leaving so many things unsaid, expecting the audience to form their own opinions.
The first half is a bit slow and al­though it is interesting, it seems to be set in a template – and that's the big­gest minus point. The pace picks up after interval but again, the drama never really touches the heart so deeply that it would move the audience. Frankly, the aim of Rohan in life is not clear even after he decides to set an aim in life. Is it to excel in sports? Or to excel in dance? Or to win Mia over again? Or to help Shreya in life? Or to avenge his humiliation by Manav?
Of course, the screenplay has its plus points too. The best part of the screenplay is that there are some truly cute and fun moments and there are some good twists and turns. Hav­ing said that, it must be added that the drama is more for the big cities and multiplex audiences and less for audi­ences of single-screen cinemas and small centres.
Dialogues (by Arshad Syed) are so-so.
Tiger Shroff excels in action scen­es, stunts and dances. His agility is delightful and it is indeed a pleasure to see him dance and do action. His acting is reasonably good. Tara Suta­ria makes a fair debut as Mia. She looks good and her acting is quite nice. Ananya Pandey is good in her debut role. She looks pretty (but her make-up is below the mark in some scenes) and has a good flair for act­ing. Aditya Seal does well but he can't match up to Tiger Shroff. Samir Soni tries to be funny but succeeds only sometimes. Manoj Pahwa is alright as the sports coach of Pishorilal school. Ayesha Raza hardly gets scope as the school principal. Chetan Pandit is average as the father of Shreya and Manav. Rajesh Kumar and Mansi Joshi Roy are alright in their limited roles. Gul Panag makes her presence felt in a role that's not very conseq­uential. Abhishek Bajaj is good as Abhishek Sharma. Harsh Beniwal has his moments as Puggi. Daljeet Singh leaves a mark as Abdullah Wahab. Manjot Singh and Sahil Anand are alright as the commentators. But their commentary seems to have been shot separately rather than during the sports. Alia Bhatt has been wasted in the song-dance in the end rolling titles. For, although she adds tremendous star value, the song is not hit enough to match her star status. Hollywood star Will Smith adds star value in a tiny appearance. Farah Khan, Vishal Dadlani and Shekhar Ravjiani are good as the judges for the dance competition. Others lend average support. A word here about the sup­porting cast – some of the actors are not upto the mark and, in the few cases where they are, their scope is very limited.
Punit Malhotra's direction is okay. He has not been able to make an ex­citing youthful film. Vishal-Shekhar's music is a big letdown. Despite it being a young, romantic film, not a single song is a chartbuster. Frankly, each song in the film should've been a hit or super-hit. The 'Yeh jawaani hai deewani' remixed song is the best number. Lyrics (Anvita Dutt, Kumaar, Vayu) are okay. Song picturisations (by Remo D'Souza, Adil Shaikh and Farah Khan) are excellent. Salim-Sul­aiman's background music is impactful. Ravi K. Chandran's cinematography is marvellous. Sham Kaushal's action and stunt choreography is fabulous. Sumayya Shaikh's production de­signing is of a superb standard. Ritesh Soni's editing is quite sharp.
On the whole, Student Of The Year 2 is not a worthy sequel to SOTY. Yet, it will do fair business at the box-office due to great action, some interesting twists in the plot, and lovely dances. Because of fantastic recoveries from sale of satellite, digital and music rights, its overall report card will be positive.
Released on 10-5-'19 at Regal (daily 4 shows) and other cinemas of Bombay thru Shringar Films Pvt. Ltd. Publicity: excellent. Opening: good in multiplexes but below the mark in sin­gle-screen cinemas. …….Also releas­ed all over. Opening was mixed every­where.