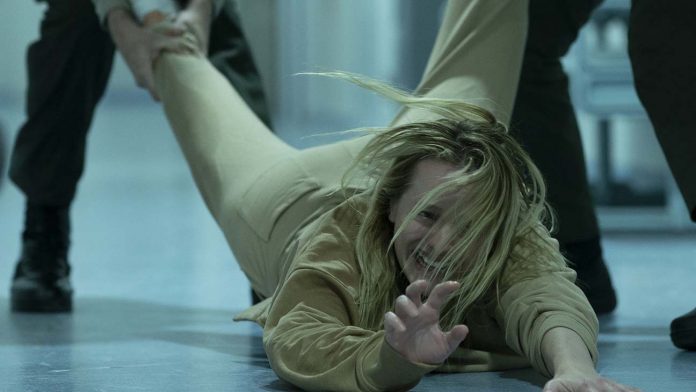 Universal Pictures' The Invisible Man (dubbed from the Hollywood film of the same name; A) is a reboot of 'The Invisible Man' series and is based on H.G. Wells' sci-fi novel.
Cecilia Kass (Elisabeth Moss) is sick and tired of her abusive husband, scientist Adrian (Oliver Jackson-Cohen), and decides to run away from her home that has hi-tech security designed by him. She manages to escape with the help of her sister, Emily (Harriet Dyer), and lives with their childhood friend, James (Aldis Hodge), and his teenage daughter, Sydney (Storm Reid).
Soon, Cecilia gets the news that Adrian has committed suicide and that his vast property will now come to her from Adrian's brother (Michael Dorman), a lawyer who is managing his estate. But Cecilia feels, Adrian is still present around her and is indulging in violence. Strangely, because no one can see Adrian and nobody will believe Cecilia when she says that he is present, all the violence and murders that happen are attributed to Cecilia. The lady pleads in vain before the police that it is Adrian who is creating trouble and killing those she is accused of murdering. What happens finally?
Leigh Whannell has penned an interesting story based on H.G. Wells' novel but it does get boring at times because it moves on a single track. Leigh Whannell's screenplay is quite engaging but for the same reason, it does get monotonous and repetitive after a point of time.
Elisabeth Moss does a superb job as Cecilia Kass. Oliver Jackson-Cohen is quite good as Adrian. Harriet Dyer lends able support as Emily. Aldis Hodge is very natural in the role of James. Storm Reid makes her presence felt as Sydney. Michael Dorman leaves a mark as Adrian's lawyer-brother. Others lend fair support.
Leigh Whannell's direction is effective. Benjamin Wallfisch's background music is impactful. Stefan Duscio's cinematography is of a fine standard. Alex Holmes' production designing, and Alice Lanagan's art direction are nice. Andy Canny's editing should've been a bit sharper. Dubbing is good.
On the whole, The Invisible Man will not find much favour with the Hindi film-going audience as it moves on a single track, that too, tension-ridden.
Released on 28-2-'20 at Maratha Mandir (daily 1 show) and other cinemas of Bombay thru NBC Universal Media Distribution Services Pvt. Ltd. Publicity & opening: dull. …….Also released all over. Opening was weak everywhere. ……The original English version has released simultaneously but it is also not expected to perform too well.