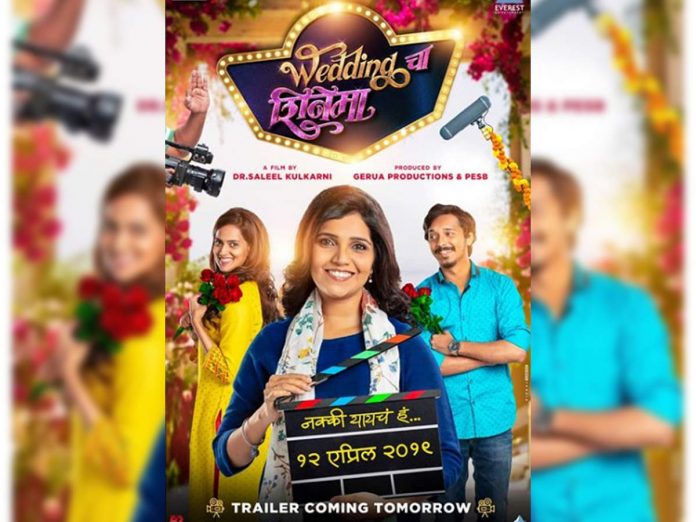 Everest Entertainment, Gerua Productions and PESB's Wedding Cha Shinema (Marathi; meaning 'Shooting of wedding celebrations') is, as the title suggests, about wedding celebrations captured on camera.
Urvi (Mukta Barve) comes to a small town, with cameraman Madan Bhal (Bhalchandra Kadam), to cover the wedding of Prakash Sahane (Shivraj Waichal) and Dr. Pari Inamdar (Rucha Inamdar). Urvi begins by asking them about their love story. The two recount how they met, became friends and gradually fell in love with one another.
Prakash and Dr. Pari then go to Bombay to meet her doctor-parents, Dr. Anagha Inamdar (Ashwini Kalsekar) and Dr. Samir Inamdar (Sunil Barve). They also meet Pari's maternal uncle (Vinod Satav). They then return to the village and prepare for the wedding. The marriage is solemnised. Urvi captures all that transpires, on camera. In the process of shooting the wedding, Urvi gets close to the two families and learns a lot about small-town living.
Dr. Salil Kulkarni has written a story which is novel for the Marathi-speaking audiences. He has laced the entire drama with a lot of comedy which is funny and entertaining. A dash of emotions serves to bring a lump in the throat. Dr. Salil Kulkarni and Nihar Shantanu Bhave's screenplay is fast-paced and keeps the audiences hooked. But the fact remains that the viewers are kept wondering what, after all, the writers were trying to convey through the film. The duo's dialogues are interesting and humorous.
Mukta Barve does a truly good job as Urvi. Shivraj Waichal does not look like a hero but he acts quite well in the role of Prakash Sahane. Rucha Inamdar does not have the looks of a heroine; her acting is good. Bhalchandra Kadam entertains a great deal as cameraman Madan Bhal. Pravin Vitthal Tarde's acting is good; he plays Prakash's friend, Mac. Shivaji Satam and Alka Kubal Athalye's comedy is engaging. Ashwini Kalsekar's comedy is also funny. Sunil Barve performs well. Sankarshan Karhade (as Prakash's elder brother, Dilip), Yogini Pofale (as Prakash's sister-in-law) and Prajakta Hanamghar (as Prakash's sister, Kalpana) impress with their respective comedies. Pranit Kulkarni is so-so as Kalpana's husband. Sunil Abhyankar (as Raja), Sandeep Khare (as the painter), Vinod Satav (as Dr. Pari's maternal uncle), Tyagraj Khadilkar (as Jumbo), Rukmini Sutar (as Aaji), Poornima Ahire (as cameraman Madan Bhal's wife) and Adesh Aware (as Dhagya) lend decent support.
Dr. Salil Kulkarni's direction is nice. His music comprises two appealing songs and others which are okay. Sandeep Khare's lyrics are good. Choreography (by Phulwa Khamkar, Yash and Sapan) is eye-filling. Saurabh Bhalerao's background music is effective. Abhijit D. Abde's cinematography is of a good standard. Bajirao Patil's sets are appropriate. Abhijeet Deshpande's editing is sharp.
On the whole, Wedding Cha Shinema is an ordinary entertainer which will do well in a few pockets only.
Released on 12-4-'19 at Plaza (daily 4 shows) and other cinemas of Bombay thru Eros International. Publicity: fair. Opening: dull.