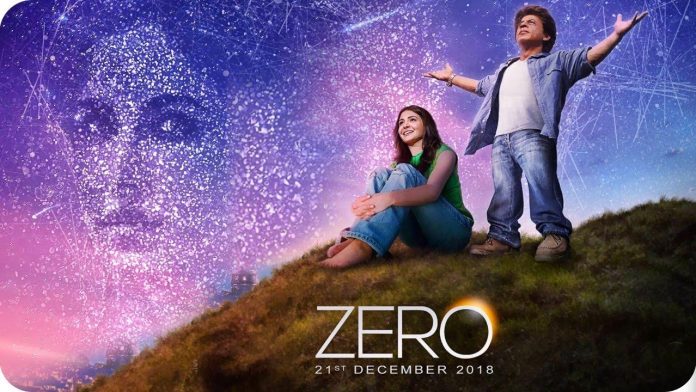 Red Chillies Entertainment and Colour Yellow Productions' Zero (UA) is a unique love story of a vertically-challenged man and a scientist who suffers from cerebral palsy and is, therefore, wheelchair-bound.
Bauua (Shah Rukh Khan) is vertically challenged and lives with his family in U.P. He is approaching 40 but is still unmarried because of his height. He simply can't get along with his father (Tigmanshu Dhulia) who loses no opportunity to taunt him. Bauua has registered his name with a matrimonial bureau and one day, spots the close-up picture of a pretty girl whom he decides to meet. The girl, Aafia (Anushka Sharma), turns out to be wheelchair-bound because she suffers from cerebral palsy. She can barely walk and she also talks in a very awkward manner. However, she is a celebrated scientist.
Bauua idolises top Bollywood actress Babita Kumari (Katrina Kaif) who, incidentally, is going through rough times because boyfriend Aditya Kapoor (Abhay Deol) and she have had a break-up.
By the by, Bauua and Aafia develop a bond of friendship and then they fall in love with each other. Their romance one day results in a night of passion where they get physical with one another. Bauua has not thought of marriage but when his father gets a hint that Bauua is in a relationship with a girl whom he may ditch, he loses no time in announcing their marriage because he thinks, Aafia is a good enough match for Bauua.
Anyway, before the marriage is solemnised, Bauua has a chance encounter with Babita Kumari whose car he chases. Babita is sloshed out of her mind because of her heartbreak and, in her drunken stupor, smooches Bauua. On the day of the wedding, Bauua gets a letter informing him that he has been selected for a dance competition in which the winning contestant would be entitled to a dinner date with Babita Kumari. That does it! Bauua calls off his marriage before it can be solemnised, and runs away from his own wedding, leaving a heartbroken Aafia in tears.
Bauua wins the dance competition and gets a chance to meet his idol, Babita Kumari, once again. He manages to come so close to her that she hires him as her personal boy. Deep down in his heart, Bauua secretly loves Babita and wishes, she would marry him. Jealousy gets the better of him one day at Babita's party when he sees ex-boyfriend Aditya Kapoor trying to get close to Babita who, in any case, has not been able to get over her love affair with Aditya even months later. Bauua insults Aditya in front of everybody in the party, due to which Babita throws him out of the party and her life for good. Babita knows Bauua's love story with Aafia, and the good human being that she (Babita) is, she is also keen that Bauua returns to his first love, Aafia. Babita is aware that he would go back to Aafia if she threw him out of her own life.
Since during this time period, Bauua has realised that he had been unfair to Aafia, he goes back to her. He realises that Aafia has delivered their love child, a baby girl, who is a few months old. He asks for Aafia's forgiveness but the latter is so angry and hurt that she asks him to get out of her life and even take their daughter away if he so desires. Bauua soon learns two things: that Aafia is trying to send a rocket to planet Mars with a chimpanzee in it, and that Aafia is soon to get married to another scientist, Srini (R. Madhavan). In a bid to atone for his sin of deserting her, Bauua volunteers to become the guinea pig in place of the chimpanzee. During his training, he realises that Aafia is also slowly but surely developing feelings for him. He also tells Aafia, he is training to be a part of her mission and go to Mars so that she would find it easier to marry Srini.
What happens thereafter? Does Bauua go to Mars? Does Aafia marry Srini? Does she forgive Bauua? Does Bauua return to Earth? What about Babita Kumari?
Himanshu Sharma has written a story which is too fantastical for the audience to digest. Even this may have not been a very negative point if the viewers would've felt the conviction of the writer but that doesn't happen. No doubt, Sharma may have penned the story and screenplay with a lot of conviction but that conviction never really comes across on the screen. That's why the hearts of the audiences neither bleed when Bauua and Aafia separate nor do they dance with joy when Bauua returns to Aafia to seek her forgiveness – and this can be catastrophic for a love story!
Himanshu Sharma's screenplay is scattered and, therefore, the drama does not flow seamlessly. It looks episodic at times, with the believability factor being low. While the love story between Bauua and Aafia is still believable, that of Bauua and Babita Kumari looks too far-fetched for obvious reasons. Why, even Babita's behaviour in front of her fans – she comes in drunken stupor, consumes alcohol right in front of them, shows them the middle finger, etc. – is something which the audience will find difficult to fathom, if only because the public in real life idolises Bollywood stars.
The humour in the screenplay is minimal. Yes, the audience does laugh at places, mostly in the first half, but considering Bauua's character, the humour quotient should've been ten times more than what it is. Frankly, the character of Bauua never becomes one which tugs at the audience's heart-strings. That may be because of his arrogance or his street-smartness or his irreverence. Whatever the reason, Bauua not endearing himself to the viewers is a minus point.
The writer has not been able to give a solid reason for Bauua to call off his marriage. To cancel his marriage because he expects to win the dance competition and thereby go on a dinner date with Babita Kumari seems to be a truly ridiculous reason. After all, the winner would get to dine with Babita, not marry her. Why did Bauua feel that he wouldn't be able to participate in the dance competition if he'd marry Aafia? Why did he feel that he wouldn't be able to go on a dinner date with Babita Kumari if he'd win the dance competition? In all probability, Aafia would be very happy for Bauua if such a thing happened. And if Bauua thought that since Babita had already kissed him and so, he would enchant her to marry him, well, there's no solid basis for his irrational thinking. One may argue that, in any case, Bauua was not in favour of marrying Aafia, but this argument will also not hold because his immediate reason for running away from his own wedding was the letter of his selection in the dance competition. And frankly, why is it not even established that he had applied for the dance competiton or even that he is a great dancer? This gives the impression that the writer has indulged in scattered writing rather than presenting a seamless script.
Bauua calling off his marriage simply in the hope that he would win a dinner date with Babita Kumari is only one aspect of the fantastical writing. The other hard-to-believe aspect of the screenplay is the entire Mars mission and the absolutely last part of the drama (not being revealed here). In short, Himanshu Sharma is unable to make the viewers take the leap of faith with him – and that's the biggest undoing of the film. Besides, all three principal characters seem to have been dealt terrible blows by Fate and so are either very unhappy or unlucky in life – and that sort of depresses the audience. Had the three characters endeared themselves to the viewers, they would not have remained depressing, but that does not happen.
The drama is so long-drawn that it often bores the audience. This could have been camouflaged by adding lots of comedy and entertainment but the drama has a shortfall of both. Even the emotional quotient, so necessary in a love story of the kind the film is, is missing almost completely.
Himanshu Sharma's dialogues are good at places only. For the rest, even the dialogues don't really touch the heart.
Shah Rukh Khan does extremely well as the vertically-challenged Bauua. He acts with effortless ease and never goes out of character. However, the script does not allow him to become a lovable character. Anushka Sharma plays the wheelchair-bound Aafia with all the conviction at her command. Her body movements and her dialog­ue delivery deserve special mention. Katrina Kaif does a very fine job as top Bollywood actress Babita Kumari. She sheds her inhibitions to get into the character, and comes out a winner. But the fact remains, the public will not be able to empathise with her character because they associate A-list film stars with a lot of class and balance of mind. Mohd. Zeeshan Ayyub is natural as Guddu but the scope he gets is not much. R. Madhavan lends the required dignity to his character (Srini) in a special appearance. Abhay Deol, in a special appearance, makes his presence amply felt in the role of Aditya Kapoor. Tigmanshu Dhulia has his moments as Bauua's father. Sheeba Chaddha is good but hardly gets scope as Bau­ua's mother. Jaipreet Singh (as Aafia's father) leaves a mark. Mudasir Khan is so-so as Aafia's mother. Brijendra Kala has his moments as the match-maker. Salman Khan adds a lot of star value with his charming presence in a song-dance number. Sridevi, Juhi Chawla, Kajol, Rani Mukerji, Karisma Kapoor, Deepika Padukone and Alia Bhatt also increase the glamour quotient with their presence in a sequen­ce. Ganesh Acharya and Remo D'Souza stand out in a song-dance number. But for all the top names in tiny guest roles, the audience would wonder what purpose was being served by taking such big names in an inconsequential drama. Mallika Dua and the rest are adequate.
Aanand L. Rai's direction is good but, like the script, his narration is also unable to make the drama very believable. Ajay-Atul's music comprises a couple of well-tuned songs ('Issaqbaazi and 'Woh rang bhi') but the absence of super-hit songs is sorely felt in a film of such a big canvas. Other songs, including Tanishk Bagchi's compositions, are okay. Irshad Kamil's lyrics are meaningful. Song picturisations (by Remo D'Souza and Bosco-Caesar) are colourful and eye-pleasing. Ajay-Atul's background music is appropriate. Manu Anand's cinematography is wonderful. Wasiq Khan's production designing is of a good standard. Visual effects (by Red Chillies, supervised by Harry Hingorani) are very nice. Hemal Kothari's editing is sharp.
On the whole, Zero is too fantastical and hence very difficult for the audience to digest. It's a soulless love story which doesn't touch the heart and will, therefore, face rejection at the box-office after the initial euphoria dies down.
Released on 21-12-'18 at Regal (daily 4 shows) and other cinemas of Bombay thru August Entertainment. Publicity: extraordinary. Opening: excellent. …….Also released all over. Opening was superb everywhere.