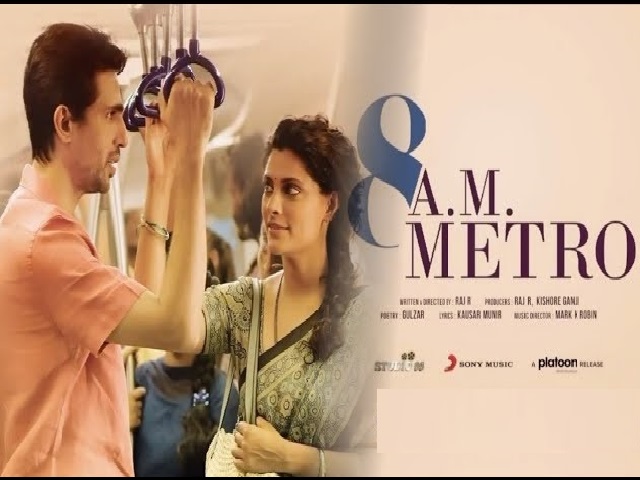 Studio 99's 8 A.M. Metro is the story of the friendship between a married man and a married woman.
Iravati (Saiyami Kher) is married to Umesh (Umesh Kamat) and they have two little children. Iravati has to travel to another city to be by her hospitalised sister's side. Iravati's sister, Riya (Nimisha Nair), is due to deliver her first baby and there have been pregnancy complications because of which she has had to be hospitalised.
Iravati meets Pritam (Gulshan Devaiah) in the 8 a.m. metro train she travels daily from home to the hospital. Pritam and she start spending time together. Iravati gets a shock when Riya reveals something to her just a couple of days before her delivery. Iravati gets another shock when she visits Pritam's house.
What are the two shocks?
Raj R. has written a mature story but it is also quite convenient. The screenplay, written by Raj R., Shruti Bhatnagar, Lakshmi Priyanka, Vijay and Priyanka Nidumolu, Pul Parmar, Safi Quadri and Maitri Shekar, is long-drawn and sometimes contrived too. Why Riya reveals what she reveals, so late in the day is not explained. Similarly, since the exact nature of friendship between Pritam and Iravati is not underlined, Riya's constant warnings to Iravati seem a bit contrived, more so because Iravati never clarifies. After all, what would it take Iravati to clear the air about the nature of her relationship? It remains a mystery why Iravati can't come clean on the point. Agreed, she may be feeling awkward but frankly, the awkwardness ought to have been addressed — at least from the audience's viewpoint. The twist when Iravati goes to Pritam's house is a bit unsettling, no doubt. Raj R., Peddinti Ashok Kumar, Anuradha Umarji and Asad Hussain's dialogues are nice.
Gulshan Devaiah is natural to the core in a difficult role. As Pritam, he gives a good account of himself. He shakes the viewer in the breakdown scene in the crematorium. Saiyami Kher is quite good as Iravati. Umesh Kamat lends lovely support as Umesh. Nimisha Nair is very nice in the role of Riya. Kalpika Ganesh provides fair support as Mridula. Dheer Charan Srivastav is so-so as Iqbal. Rajeev Aneja (as the writer), P. Mahendra (as Ramesh), Moin Jaan (as Iravati's father), Madhu Swaminath (as Iravati's maternal aunt), Mayanand Thakar (as Pritam's publisher), Khushi (as little Iravati), Aahil (as Pritam's son), Lasya (as Pritam's daughter), Shivansh (as Iravati's son), Khushi (as Iravati's daughter) and the others are okay.
Raj R.'s direction is fairly nice. Mark K. Robin's music is of a good standard. Lyrics (Kausar Munir, Manoj Kumar Jullori and Shahbaaz Khan) are nice. Gulzar's poetry is rich. Satya's choreography is functional. Background music ought to have been more impactful. Sunny Kurrapati's cinematography, with additional cinematography by Sada Sabbati, and aerial cinematography by Njstej, is good. Suresh Bheemagani's art direction and Laxman Aelay's production designing are alright. Anil Aalayam's editing is loose and could've been sharper.
On the whole, 8 A.M. Metro has some shock value but that's such a small part of the otherwise long-drawn film that its box-office chances are very bleak.
Released on 19-5-'23 at Metro Inox (daily 1 show) and other cinemas of Bombay thru Platoon Distribution. Publicity & opening: poor. …….Also released all over.