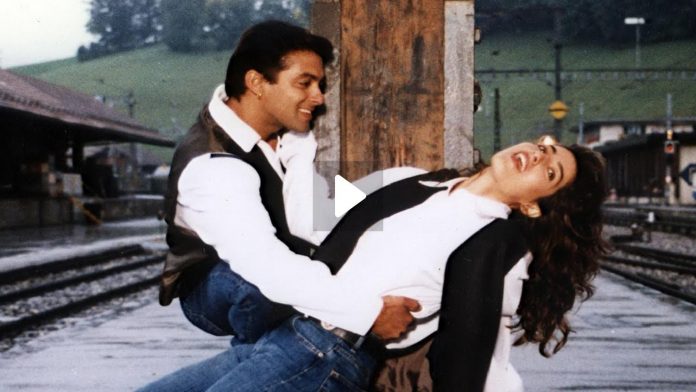 JAB PYAAR KISISE HOTA HAI
Tips Films (P.) Ltd.'s Jab Pyaar Kisise Hota Hai is a love story but with a difference — here, the lover boy, who is a Casanova, is already the father of a child although he hadn't married the child's mother who has since died. The story reminds of Shekhar Kapur's Masoom but the sensitive handling of the drama, as in Masoom, is missing.
The first half is light and has several comedy scenes which entertain a lot and make the audience laugh. The real drama begins after interval and it is this drama which should have been tear-jerking but which remains superficial and even appears farcical at times. There are several reasons for this, all concerning the scripting (Honey Irani). For one, the concept of a bastard child is treated too lightly, and the portion of the child's mother romancing with the hero is shown only in flashback, thereby adding to the lack of seriousness. Secondly, the child comes across as an over-smart and ultra-confident kid, thereby not winning the viewer's sympathy. He should have been shown as a lovable but scared and timid child to drive home the point of his loneliness. Thirdly, the interaction between the hero and his child is not heart-warming. Fourthly, the end is too simplistic and convenient to be true. The ending drama is also a bit absurd when the heroine's father asks the hero to choose between his daughter and the bastard child. The problem point is not so much about the child staying with the hero as about the hero having fathered a child before marriage and that too, from another girl.
As a result, the story-based film appeals more for the frivolous incidents and less for its story. The pace is quite slow. Climax, as mentioned above, is ordinary. Dialogues are good and natural.
Salman Khan looks very handsome and does a splendid job, both, in light as well as dramatic scenes. Twinkle Khanna looks pretty but her acting is ordinary. She needs to improve in emoting and voice modulation. Johny Lever is marvellous and provides a number of comic moments. Master Aditya Narayan acts very confidently but this very confidence was what was not required. Anupam Kher is good. Farida Jalal, Saeed Jaffrey and Himani Shivpuri lend able support. In a special appearance, Namrata Shirodkar has been wasted. The others are okay.
Director Deepak Sareen falters in the handling of the drama although he shows a flair for visual beauty and is good with comedy scenes. Jatin Lalit's music is refreshing and melodious. The best number is 'O jaana na jaana'. But there isn't any racy song for youngsters and masses who form the major clientele of Salman-starrers. Song picturisations are not as good as the music although the locations on which they've been shot are beautiful. The picturisation of 'Chal pyar karegi' has family appeal. Camerawork (Manmohan Singh) is excellent. Production and technical values are very good.
On the whole, Jab Pyaar Kisise Hota Hai has not taken a very good start and it doesn't have the substance or novelty to pick up phenomenally. Even otherwise, it has more appeal for the balcony-class audience as masses (which constitute a large part of Salman's fans) may not quite appreciate seeing Salman Khan as a father in the post-interval portion. An average fare, it may even find the going tough where its opening is dull.
Released on 22-5-'98 at New Excelsior and 15 other cinemas of Bombay by Tips Films (P.) Ltd. thru R.G. International. Publicity: very good. Opening: quite good. …….Also released all over. Opening was below the mark at many places.
MARD
Roopvati Pictures' Mard (A) is a routine story of good versus evil, the former being represented by an upright and honest police officer, and the latter, by a corrupt chief minister and a gang of a don and his henchmen. The police officer is often transferred from one place to another, under pressure from the underworld. But finally, the new chief minister, who is an honest man, gives the police officer a free hand to wipe out all evil from society. Shortly thereafter, the chief minister is killed and the officer finds himself alone once again. He is even framed for a crime he hasn't committed, but he manages to get his act together and avenges all the wrongs by finishing the villains one by one.
The story is oft-repeated and the screenplay, at several places, is one of convenience. Although the comedy track has no relevance to the main story, the director has sensibly put in comedy scenes at regular intervals, and they sometimes come as fairly entertaining diversions. Dialogues are alright.
Mithun Chakraborty looks quite fresh and does well. Ravali is average. Kader Khan disappoints with a disinterested approach to his performance. Shakti Kapoor is average. Gulshan Grover is alright. Pramod Moutho does an ordinary job. Raza Murad is fair. Johny Lever is quite nice. Vishwajeet Pradhan, Ashwin Kaushal, Adi Irani and Jack Gaud lend the required support. Altaf Raja and Pinky Chinoy are fair in a solitary dance number.
Direction is routine. Music is not up to the mark. Except for the Altaf Raja song (which is reasonably alright), the other numbers just about fit the bill. Action scenes lack novelty. In fact, if Rambo Rajkumar does not change his repetitive stunts in film after film, he is in for trouble. Camerawork is fair. Technically, it leaves something to be desired.
On the whole, Mard is a dull fare, for 'B' and 'C' class centres only.
Released on 22-5-'98 at Dreamland and 19 other cinemas of Bombay thru A.B.C. Pictures Pvt. Ltd. Publicity & opening: fair. …….Also released all over.
LATEST POSITION
Collections are generally dull all over.
Jeans (dubbed) is a disaster. 1st week Bombay 20,20,247 (69.43%) from 4 cinemas (3 on F.H.); Ahmedabad 1,70,720, full, Baroda 1,42,869; Pune 3,04,058, Solapur (14 shows) 1,43,928; Delhi 7,28,752 (61.53%) from 2 cinemas; Kanpur 70,941, Lucknow 1,53,452, Allahabad 55,800, Varanasi 55,221, Meerut 1,01,225, Dehradun 60,000; Amritsar 51,500; Calcutta 2,32,335 from 1 cinema (collections of other cinemas were very poor); Nagpur 3,09,670 from 2 cinemas, Akola 1,13,000; Indore 1,23,000 (1 on F.H.); Jaipur 2,85,250, Jodhpur 1,75,000, Udaipur 1,75,000; Vijayawada (Telugu) 4 weeks' total 12,81,168, Machilipatnam 4 weeks' total 3,37,012.
Hitler is dull. 1st week Bombay 18,08,108 (44.45%) from 14 cinemas (5 on F.H.); Pune 3,45,800 from 4 cinemas; Delhi 13,73,669 (31.70%) from 10 cinemas (1 on F.H.); Lucknow 41,482, Allahabad 56,100, Varanasi 94,062; Calcutta 12,74,756 from 24 cinemas; Nagpur 2,72,357 from 4 cinemas, Jabalpur (6 days) 50,834, Akola 70,714, Jalgaon (6 days) 61,752, Yavatmal 62,988; Bhopal (6 days) 86,053 from 2 cinemas; Jaipur 2,85,667 from 3 cinemas, Udaipur 98,840; Hyderabad 8,04,345 from 9 cinemas (2 in noon).
……….
Duplicate has dropped considerably in its 2nd week. 2nd week Bombay 35,19,315 (67.34%) from 13 cinemas (7 on F.H.); Rajkot 1,39,277 from 2 cinemas (1 in matinee), Jamnagar 91,513; Pune 7,88,164 from 4 cinemas (1 in matinee), Solapur 1,10,506; Delhi 24,79,431 from 10 cinemas (1 on F.H.); Kanpur 2,67,217 from 2 cinemas, Lucknow 3,13,715, Allahabad 1,30,000, Varanasi 1,61,565, Meerut 1,24,191, Bareilly 63,719 (32.05%), Dehradun 1,25,774 (1st 1,79,000), Hardwar 30,000; Calcutta 9,85,127 from 7 cinemas; Nagpur 1,08,675 from 2 cinemas, Jabalpur 1,22,558 (1st 1,93,888), total 3,16,446, Amravati 1,15,704, total 2,98,157, Akola 77,939, total 2,53,374, 1st week Chandrapur 1,55,132, 2nd week Yavatmal 61,366; Indore 2,29,010 from 2 cinemas. Bhopal 2,56,420 from 3 cinemas; Jaipur 5,50,798, Ajmer 81,469 (1st 1,43,402), Bikaner 1,57,185, Udaipur 68,485; Hyderabad 8,95,034 from 4 cinemas (1 in noon).
Pyaar Kiya To Darna Kya 8th week Bombay 4,95,666 (53.66%) from 4 cinemas (1 on F.H.); Rajkot (matinee) 14,836; Pune 2,50,008 from 2 cinemas (1 in matinee), Solapur (7 shows) 74,059; Delhi 1,87,120; Kanpur 68,066, Lucknow 2,07,183, total 24,43,705, Allahabad 55,800, Varanasi 75,600, Bareilly 43,000 (22.96%), Dehradun 66,755 (7th 69,000); Calcutta 1,89,822; Nagpur 99,497, Jabalpur 77,765 (7th 74,056), total 9,90,571, Akola 68,707, total 8,68,101, share 6,28,196, 5th week Wardha 37,276; 8th week Bhopal (6 days) 1,09,859; Jaipur 72,566; Hyderabad 6,74,342 from 4 cinemas (2 in noon).
________
Chhota Chetan (partly dubbed, revived, 3-D) is super-strong wherever it is tax-free. 5th week Bombay (TF) 20,34,917 (95.44%) from 3 cinemas (3 on F.H.); Rajkot 88,960; 3rd week Solapur (TF) 93,751; 5th week Delhi (TF) 15,88,902 from 3 cinemas; 4th week Kanpur 59,194; 1st week Hyderabad 5,59,757, good.
Dildaara (Punjabi) 1st week Amritsar 49,460, entered 2nd week in Ludhiana.
________
Titanic (English) 11th week Bombay 26,33,202 (85.52%) from 6 cinemas (4 on F.H.); 10th week Delhi 13,88,752 from 4 cinemas; 2nd week Kanpur 1,54,643, 4th Lucknow 2,49,598; 11th week Calcutta (6 days) 3,19,934; 3rd week Nagpur 2,26,352 (95.38%); 1st week Jaipur 5,56,428 from 2 cinemas; Vijayawada 10 weeks' total 32,76,898, Visakhapatnam 10 weeks' total 31,39,008.

SHAKTI SAMANTA UNWELL
Producer-director Shakti Samanta took unwell last week and has been advised rest. He is recuperating at home.
UNSPENT SERVICE CHARGE CAN BE CARRIED FORWARD FOR 2 YEARS

The government of Maharashtra has amended the provisions of the Bombay Entertainments Duty Act by an ordinance promulgated by the governor on 1st May. The ordinance empowers the cinema proprietor to carry forward the unspent amount of tax-free service charge for expending in the two immediately following financial years. Earlier, the proprietor was required to spend the entire amount of service charges collected, in the same financial year in which it was so collected. But by the amendment of 1st May, 1998, the cinema owner is allowed to carry forward unspent amount of service charges for two financial years immediately following the financial year in which the amount has remained so unspent.

NEW CINEMA OPENS IN AURANGABAD
A new cinema, Nupur Cinetorium, opened on 22nd May in Aurangabad. Owned by Rajesh Patel of Raj group, it is equipped with DTS and Ultra Stereophonic sound. The cinema is air-cooled and is located near the fire station on Jalna Road.
Producer Smita Thackeray formally inaugurated it. Chandrakant Khaire, minister for forest and environment, Maharashtra, presided over the function.
DTS SOUND AT PANCHSHEEL, AMRAVATI
DTS sound system has been installed at Panchsheel cinema, Amravati. Titanic opened there on 21st May.
LAXMIKANT CRITICAL
Music director Laxmikant is seriously ill and has been admitted to Nanavati Hospital, Bombay, for cancer and kidney failure.
KANNADA FILM ACTRESS SERIOUSLY INJURED
Kannada film actress Nivedita Jain suffered severe head injuries after she fell down from her second floor house in Bangalore on the night of 17th May. She was trying to relax on the three-foot parapet wall on her terrace when she lost her balance and fell to the concrete floor 36 feet below. She was injured in the face and head and also fractured a hand. She was rushed to a nursing home from where she was shifted to a hospital. Nivedita slipped into a coma but her condition improved three days later.
According to a report, she opened her right eye on 20th and even recognised one of her friends.
CHANNELS OF CENSORSHIP: FFI TO DISCUSS
The Film Federation of India has convened a meeting on 26th May at IMPPA House in Bombay to discuss the film industry's views on I & B minister Sushma Swaraj's proposal to set up red and green channels of film censorship. Sushma Swaraj had, in the film industry and FICCI's national conference on 10th May, expressed a view of having a green and a red channel of censorship. She invited view points on the subject from the industry. After the meeting of 26th May, the FFI will hold discussions with the government and present its views on the issue.
TALAT MAHMOOD HAD NO ILLNESS
Khalid, son of late singer Talat Mahmood, has clarified that his father never suffered from Parkinson's disease nor was he ever paralysed, as mentioned in press reports covering the news of Talat Mahmood's death on 9th May. He has also made it clear that Talat did not suffer a stroke or, for that matter, had not contracted any other kind of illness. Advancing age and an aversion to any kind of physical exercise regime (like daily walks etc.) was what had made the singer frail, slowing him down considerably and making him withdraw from public appearances in later life.
YOU ASKED IT
What is the rough estimate of losses the industry has faced in the first four months due to the line of flops?
– Approximately 50 crore!
Which film of Amitabh Bachchan will be released first — Major Saab or Lal Baadshah?
– MAJOR SAAB may come before LAL BAADSHAH. Although the post-production work of LAL BAADSHAH is in progress, shooting of six to eight days still remains to be done.
What are the ratios of Mani Ratnam's Dil Se and Yash Johar's Kuch Kuch Hota Hai?
– 2 crore each.
DO YOU KNOW?
* With I & B minister Sushma Swaraj having expressed a desire to have a woman as chairperson of the Censor Board, speculations are rife in the industry that it may be Asha Parekh who will now occupy the post.
* A trial show of Ram Gopal Varma's SATYA was organised at Famous-Mahalaxmi earlier this week, specially for top police officers of Bombay. Reportedly, they loved the film.
* Deepa Mehta's FIRE, which has a very bold subject, has been passed by the CBFC's examining committee, without a single cut. It has, of course, been certified for adults only.
* Two forthcoming films — KAREEB and SATYA — will be released with limited prints in Bombay city and suburbs as well as Maharashtra.
* Raju Mavani's IMTIHAN (Sunny Deol, Raveena Tandon and Saif Ali Khan) will be revived by Dilsa Distributors Combine in Bombay under a new title, AASHIQ BANA GHATAK. The title has its origin in Saif's successful starrer, AASHIK AAWARA, and Sunny Deol's GHATAK.
* The first few reels of MARD (released this week) are technically faulty. The sound is not clear in those reels.
* Bombay distributor Sanjay Chaturvedi had to personally fly on Friday with four prints of MARD to Rajkot, for release in Saurashtra, because of the cancellation of Thursday's train (which would have otherwise carried the prints).
* Cinemagic, the third cinema owned by the Kanakias (the first two being Cinemax and Cinestar), will open in Andheri (Bombay) in June-July '98. This mini cinema has come up where earlier stood Darpan cinema. It has a capacity of about 350 seats.
* Following the popularity of Mukesh Khanna's TV serial, SHAKTIMAN, especially among children, some gutka and supari manufacturers have launched their products under the name of 'Shaktiman'. Mukesh Khanna has decided to move the court against these manufacturers.
* So moved was Katita Krishnamoorthy by the song she lent her voice to recently for the mentally handicapped children of Thakur Hariprasad Institute in Hyderabad that she donated her remuneration for the song to the Institute and also promised to visit the Institute. The song was recorded in Bombay at Inderjeet Singh's Innovision Studios.
* JAB PYAAR KISISE HOTA HAI opened at Abhishek Talkies, Khandwa yesterday (22nd May) with prizes in a lucky draw scheme announced by the cinema management. The prizes for the holders of the lucky tickets included a refrigerator, a mixer, a TV set, etc. Unfortunately, the opening show recorded only 35% collections. At Smruti cinema, Nagpur, where JEANS was released last week, the cinema management and Arvind Mills Ltd. joined hands and organised a lucky draw in which 28 lucky winners were given a pair of Ruf-n-Tuf jeans each.

Star? But Where's The Pulling Power?!?
The unexpectedly unexciting opening of Jab Pyaar Kisise Hota Hai this week has sent shivers down the spines of trade people. Salman Khan has had a hit in Pyaar Kiya To Darna Kya, and this is his first release after that. One would have expected JPKHH to open to bumper houses. Why, PKTDK had had a fantastic initial. But JPKHH did not draw full houses on the opening day or even in the opening shows in Bombay, parts of U.P., Bengal, C.P.C.I. and Nizam. In East Punjab and Rajasthan, even the main cinemas weren't full! The opening of JPKHH once again underlines the fact that today, no stars — repeat, no stars — are worth their prices. Two weeks back, Duplicate had opened to houses which were way below expectations. The high expectations were born out of the super-success of DTPH and the success of Pardes, the two releases of Shah Rukh Khan prior to Duplicate. So, the conclusion is: no star deserves the price he is demanding, whether he is Shah Rukh or Salman or Sunny Deol. The second conclusion, which is a corollary to the first one, is: producers are pricing their films too much on the higher side, on the assumption that stars sell. But the openings of the recent releases show that stars do not sell as far as the paying public goes. The importance of both, super-hit music and 'hot' titles to ensure good openings, cannot be under-estimated.

Problem Of Strictness, Not Of Time
I & B minister Sushma Swaraj has suggested the formation of two channels — a green and a red one — of censorship on the lines of the green and red channels for customs. When a passenger coming to India from a foreign country does not have any imported  goods to declare (and, therefore, has no duty to pay), he can pass through the customs' green channel and thereby save time. The red channel is for those who have to pay customs duty.

But one wonders what purpose the green channel of censorship would serve. The industry does not feel that film censorship takes too much time. What it definitely feels is that censorship is too strict and also futile in today's times. So what the industry is looking for is complete abolition of censorship or, if that is not possible, leniency in censorship. The green channel would not serve either of the demands. Besides, with the producer passing through the green channel being prone to be severely punished if his film is found to have flouted the censor guidelines, one wonders whether any producer would in the first place opt for the green channel. After all, if a producer is so confident of getting an all-clear certificate, why would he go through the green channel? He would, obviously, opt for the red channel so that he doesn't have to fear being penalised in future if something objectionable is found in his film at a later date.

The Film Federation of India, which will meet on 26th May to discuss the feasibility of the green and red channels of censorship, may well realise the futility of such channels to solve the real problems of censorship.

– Komal Nahta
3-E
Education-Entertainment-Enlightenment
Trailer Tattle
Distributors in Delhi are an enterprising lot. As soon as they receive the trailers of their due-for-release films, they hold a screening of the same for the trade people. If the trade-wallahs vanish from the scene quickly after the screening of the trailer, the interpretation is that the trailer has been disliked and, therefore, exhibitors will not be too 'hot' on the film. But if they accompany the films' distributor to his office after the screening, it means, the film is 'hot'! The distributor, in this case, can heave a sigh of relief.
Delivering Bombs
It hasn't been a very rosy career for both, ex-Miss Universe Sushmita Sen and ex-Miss World Aishwarya Rai. Films of both the beauties have bombed. Not just that, the cinegoers haven't really gone ga ga over their performances, too. When the audience refused to hear Sushmita's initial knocking at the box-office with Dastak, she bravely tried to make a forceful comeback with Zor. Sadly for her, the film proved too weak to stand on its own feet, what to talk of supporting Sushmita. Aishwarya's first film, …Aur Pyar Ho Gaya, was such a disaster that the public anything but fell in love with her. Her second feature film was Mani Ratnam's Tamil Iruvar and it proved to be such a big disaster that all plans to dub the film in Hindi had to be shelved. Now, with her recent release in Hindi, Jeans (dubbed), proving to be too ill-fitting for the distributors, it is evident that the public has once again ignored her graceful beauty. Wonder, whether these beauties charge bombastic prices for delivering beautiful bombs?
Many Firsts
The Gujarati film, Mara Saayba Ni Chundadi, which rolled on 15th May in Ahmedabad, has achieved a number of firsts for Gujarati films already. It is producer Rajendra Butala's first production venture. Butala is one of the leading figures of Gujarati stage with a number of successful stage-plays to his credit. His dramas have run to packed houses even in the USA. Director Arvind Vaidya, too, makes his debut with this film, after a long and successful stint as an actor on Gujarati stage and in TV serials. In fact, the career track record of the producer was so impressive that Mehboob Shaikh and Yusuf Shaikh of Yen Movies, Ahmedabad, bought the film's distribution rights for Gujarat territory on the day it was launched. This is the first time they will be distributing a Gujarati film. This is also, perhaps, the first time a Gujarati film has gone on floors with a bound script. The film was scheduled to be completed in one month, but going by its progress in the first week of shooting, producer Butala is confident of winding up three days ahead of the schedule. Incidentally, the film is based on one of Butala's ultra-successful plays.
Favouritism In Andhra
The Telugu Desam government in Andhra Pradesh has been accused of bias and favouritism in the grant of subsidy to Telugu films produced in the state. The state government has a policy of paying a subsidy of Rs. 3 lakh in order to encourage the local film industry. However, the state's Film Development Corporation, which makes the subsidy payments, has reportedly been facing a financial crunch and has not paid any subsidy for the past three years. As a result, a large number of producers are waiting to receive their subsidy, and the government's dues on this count total a whopping Rs. 3 crore. In this scenario, the payment of Rs. 30 lakh by way of subsidies to each of two producers, Doraiswamy Raju and M.S. Reddy, for their films made in 1997 throws up a number of allegations of governmental bias. The government policy allows payment of a maximum subsidy of Rs. 30 lakh for "good films". Pertinent to note that while Raju is a sitting MLA of the ruling Telugu Desam Party, Reddy is perceived to be very close to chief minister N. Chandrababu Naidu. It seems obvious that the Corporation was pressurised by the chief minister to make the two payments. The proximity of the two producers to the ruling party apart, it does seem improper on the part of the government to pay Reddy in full even when he is reported to owe the government more than Rs. 30 lakh as interest on the amount he had taken for the construction of his recording studio. The directors of the Film Development Corporation, including well-known producers Suresh Babu, K.L. Narayana and T. Bhardwaj and managing director Kishan Rao, are reportedly considering conveying their protest to the chief minister soon.