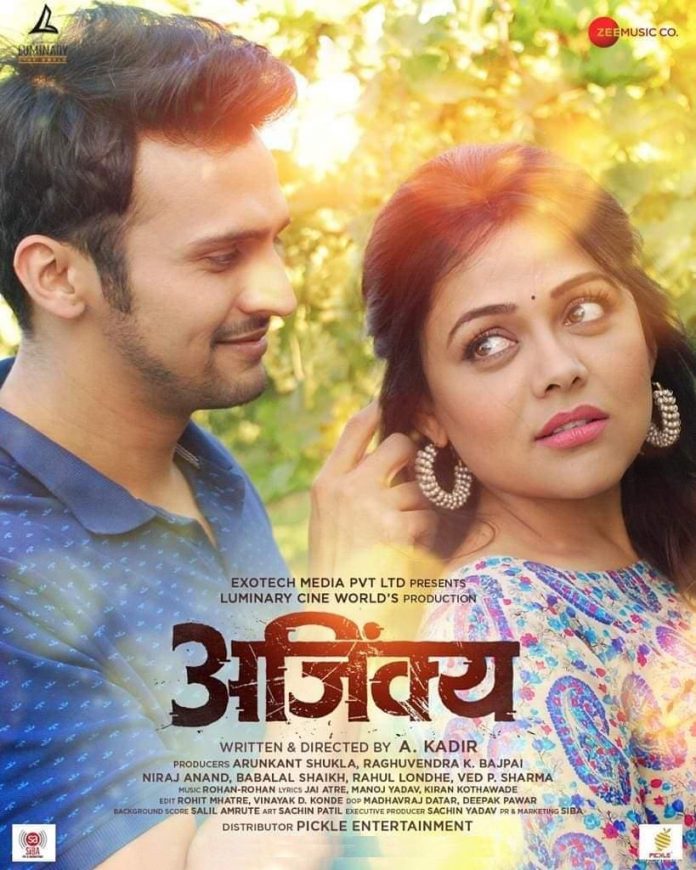 Exotech Media Pvt. Ltd. and Luminary Cine World's Ajinkya (Marathi; UA) is the story of celebrating triumph against all odds. Ajinkya (Bhushan Pradhan) is a dynamic entrepreneur whose construction company is doing very well. He can do anything, including resorting to unethical means, to get what he wants. He finds true love in Ritika (Prarthana Bere) who runs an NGO. The two visit his birth place. But then, a heartbreaking incident seems to shatter the very base of their love story. Will they be able to surmount this barrier which threatens to take them apart from one another?
A. Kadir's story is ordinary and involves the audience only in parts. His screenplay is predictable at many places. Dialogues, penned by A. Kadir, are so-so.
Bhushan Pradhan is okay in the title role. Prarthana Bere does well as Ritika. Pallavi Patil's performance is so-so in the role of Sonam. Arun Nalawade makes his presence felt as the grandfather. Aniket Kelkar is good as Amol. Uday Tikekar has his moments as the chief minister. Ganesh Yadav lends good support as the MLA. Prasad Javade (as Abhi), Triyug Mantri, Siya Patil and Vandana Waknis provide average support.
A. Kadir's direction is ordinary, limited as it is by his script. Rohan-Rohan's music is average. Lyrics (Jai Atre, Manoj Yadav and Kiran Khotawade) are alright. Arjun Gaikwad's song picturisations are functional. Salil Amrute's background music is nothing to shout about. Cinematography (Madhavraj Datar and Deepak Pawar) is of a fair standard. Sachin Patil's sets are good. Editing (Rohit Mhatre and Vinayak Konde) should've been tighter.
On the whole, Ajinkya is a dull fare.
Released on 19-11-'21 at Movie Time Goregaon (daily 1 show) and other cinemas of Bombay thru Pickle Entertainment. Publicity & opening: poor.