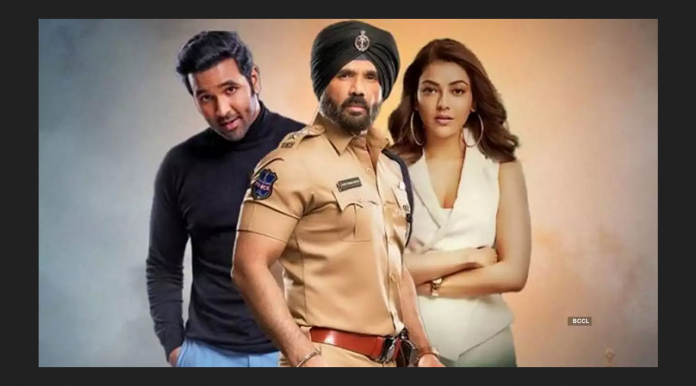 24 Frames Factory and AVA Entertainment's Anu And Arjun (dubbed from Telugu film Mosagallu; UA) is based on a series of true incidents that shook the Indian information technology industry. A call centre scam rips of millions of dollars of money of the US tax-payers. The film, also shot in English, is about the clash between the East and the West, between the rich and the poor and a clash of the generations of people.
Vishnu Manchu has written a story which has very limited appeal. His screenplay is not quite interesting and hence does not involve the viewers. There are some well-written scenes but they are few and far between. Overall, the impact is quite feeble. Dialogues (Aparna Nadig) are not upto the mark.
Vishnu Manchu does an average job as Arjun. Kajal Aggarwal is quite good in the role of Anu. Sunil Shetty leaves a mark as ACP Kumar. Ruhi Singh lends fair support as Mohini. Navdeep is alright as Vijay. Naveen Chandra (as Sid), Mahima Makwana (as Soha), Nagineedu, Raghu Babu, Raja Ravindra, Ravi Varma, Juliette Audrey, Priscilla Avila, Katelyn Ann Clark, Saurabh Goyal, Karma McCain, Aakash Dabhade and Shivam Jemini lend routine support.
Jeffrey Gee Chin's direction is commonplace. He has not been able to make a film which will appeal to the Indian audiences. Sam C.S.'s music is routine. Sheldon Chau and Bruce Thierry Cheung's cinematography is alright. Stunt Siva's action and stunt scenes afford some thrill. Kiran Kumar Manne's production designing is quite nice. Joe Murphy and Goutham Raju's editing could've been sharper. Dubbing is okay.
On the whole, Anu And Arjun is a dull fare and will not be able to make its mark at the box-office.
Released on 19-3-'21 at Premiere Gold (daily 3 shows) and other cinemas of Bombay thru UFO Cine Media Network. Publicity & opening: poor. …….Also released all over. Opening was weak everywhere. …….The original Telugu version has also opened simultaneously in Andhra and Nizam.