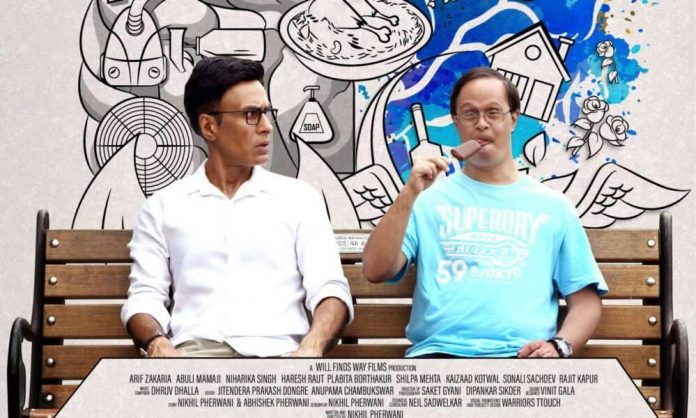 Will Finds Way Films' Ahaan (Hinglish) is the story of a young man, Ahaan (Abuli Mamaji), who suffers from Down's Syndrome, and his unusual friendship with Ozzy (Arif Zakaria), a middle-aged man suffering from Obsessive Compulsive Disorder (OCD).
Nikhil Pherwani and Abhishek Pherwani have penned a story which is not run-of-the-mill. Since the story is about two people who are suffering from disorders, it does have a depressing effect on the viewers. Nikhil Pherwani's screenplay tries to include elements of drama, comedy, emotions etc. but to little avail. The screenplay becomes one which holds appeal for a very, very thin section of the audience. Nikhil Pherwani's dialogues (in a mix of Hindi and English) are so-so. Because of the liberal use of the English language alongside Hindi, the appeal of the dialogues is restricted.
Abuli Mamaji does well as Ahaan. Arif Zakaria is excellent in the role of Ozzy. Niharika Singh has her moments in the role of Anu. As the psychologist, Rajit Kapur makes his presence felt. Plabita Borthakur lends decent support as Onella. Shilpa Mehta (as Gayatri), Kaizaad Kotwal (as Ranjit), Sonali Sachdev (as Mrs. Nair) and Haresh Raut (as Hari) are adequate.
Nikhil Pherwani's direction is suited to the kind of subject he has selected. Having said that, it must be added that the narration holds appeal for a very small section of the audience. Dhruv Dhalla's music is functional. Saket Gyani and Dipankar Sikder's camerawork is okay. Editing (Jitendra Prakash Dongare and Anupama Chabukswar) is loose.
On the whole, Ahaan is not the kind of film which can hope to be patronised at the box-office. Commercially speaking, it will flop at the turnstiles in spite of its noble intentions.
Released on 19-3-'21 at Metro Inox (daily 1 show) and other cinemas of Bombay by Will Finds Way Films. Publicity & opening: weak.