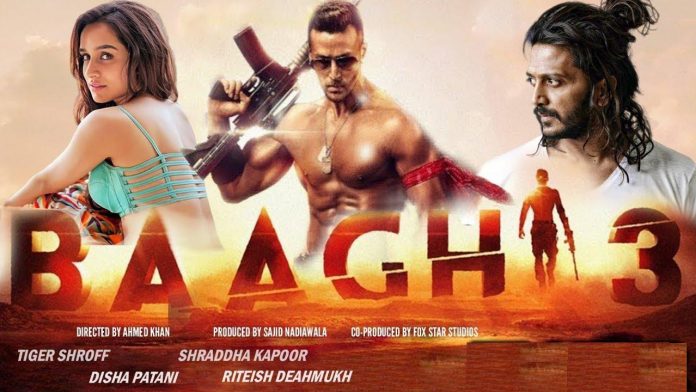 Fox Star Studios and Nadiadwala Grandson Entertainment Pvt. Ltd.'s Baaghi 3 (UA) is the third film in the Baaghi franchise. It is the story of two brothers, one a brave man, and the other, a timid person. They live in Agra.
Ronnie Chaturvedi (Tiger Shroff) and Vikram Chaturvedi (Ritesh Deshmukh) are brothers. Right from childhood, Vikram is timid while Ronnie is firebrand. In spite of being the younger one, Ronnie always saves Vikram from difficult situations. Their father (Jackie Shroff) is a police officer who lays down his life in the call of duty even when the two sons are very young. While dying, the father takes a vow from Ronnie that he would always protect Vikram. And that's what Ronnie does.
Ronnie continues to protect Vikram even after the latter becomes a police officer. So even though Vikram is petrified of action, he becomes a hero because Ronnie brings all criminals to book while the world thinks, the job has been accomplished by Vikram.
One day, Vikram is sent to Syria by the police department to investigate the human trafficking racket which starts in India and ends in Syria. In India, IPL (Jaideep Ahlawat) kidnaps entire families and sends them to Syria where don Abu Jalal (Jameel Khoury) kills them with a purpose. Unfortunately, Ronnie does not accompany Vikram to Syria.
As expected, Vikram is picked up by Abu Jalal's men in Syria. Ronnie and his girlfriend, Siya (Shraddha Kapoor), reach Syria in search of Vikram even as Vikram's pregnant wife, Ruchi (Ankita Lokhande), waits for him in Agra. Ruchi is the sister of Siya.
What happens in Syria? Is Vikram safe? Do Ronnie and Vikram succeed in eliminating the don and his army?
The story is heavily inspired by the story of Sunil Shetty starrer Gopi Kishan. It has been adapted by Sajid Nadiadwala and suitably modified to go with the modern times. The story abounds in action but it has a fair dose of emotions between the two brothers. The screenplay, penned by Farhad Samji, with additional screenplay by Sparsh Khetarpal, Tash Bhambra and Madhur Sharma, is well-written in the first half but takes a dip after interval. The pre-interval portion moves at a pretty fast pace and doesn't give the audience time to think, also because plenty of characters are introduced one after the other. The second half has an overdose of action and is also somewhat repetitive. Some turns and twists even appear a bit weird. For example, IPL has a change of heart a bit too quickly in the second half. The family of Asif reaching Syria also appears forced.
However, the screenplay never really loses its grip on the viewers despite some shortcomings. On the positive side, the blending of the emotional track in the action drama is well done. Some light moments, some melodrama and plenty of dramatic turns and twists make the film quite engrossing and entertaining. Overall, the first half entertains a lot but the second half does become weak although it keeps the audience involved. Romance is minimal, which is a minus point.
Farhad Samji's dialogues are lovely. Some dialogues evoke a lot of laughter while some dramatic ones are clapworthy.
Tiger Shroff breathes fire into the character of Ronnie. His action scenes and stunts are just too extraordinary and it is clear that Tiger has surpassed himself. Many of his stunts are a delight to watch. His dances are supremely graceful. His acting is also good except in a couple of scenes of breakdown, where he could've done better. Ritesh Deshmukh plays Vikram ably. He acts with effortless ease. Shraddha Kapoor is good as Siya. Her semi-vulgar dialogues are entertaining. Ankita Lokhande is quite nice as Ruchi. Jaideep Ahlawat leaves a fine mark in the role of IPL. Vijay Varma makes his presence amply felt as Akhtar Lahori. Jameel Khoury is menacing in the role of don Abu Jalal. Ivan Kostadinov is alright as Zaidi. Satish Kaushik is very entertaining as police officer BMC. Virendra Saxena has his moments as police officer Tripathi. Jackie Shroff makes a fine mark as police officer Chaturvedi. Shifuji S. Bharadwaj does a fair job as police officer Mishra. Manav Gohil is okay as Asif. Shriswara Dubey does fairly well as Hafeeza. Master Ayaan Zubair Rahmani (as young Ronnie) and master Yash Bhojwani (as young Vikram) are cute and confident. Disha Patani looks very sexy in special appearance in a dance number. Amit Sharma (as Bajwa), Danish Bhat (as Bilal), Sunit Morarjee (as police inspector Kute), master Aekam Binjwe (as Junaid), Farhad Samji (as the man in the toilet), Firoz Khan (as Rocky Hatela), Pradeep Kabra (as Rocky Hatela's sidekick), Shilpa Mhatre (as police officer Tripathi's wife), Slavisa Kajevski (as Andre Gomez), baby Vasilije (as the kid on the landmine), Ashish Sharma (as the interpreter hostage) and the rest provide good support.
Ahmed Khan's direction is effective. He caters to the masses with full gusto and keeps the viewers' interest alive with his fast-paced narration. Of the songs (composed by Vishal-Shekhar, Bappi Lahiri, Tanishk Bagchi, Sachet-Parampara, Rochak Kohli and Pranaay), the original songs are okay whereas the remixed numbers are very good. Lyrics (Panchhi Jalounvi, Indivar, Tanishk Bagchi, Shabbir Ahmed, Gurpreet Saini, Gautam G. Sharma and Ginni Diwan) are alright. Song picturisations (by Ahmed Khan, Ganesh Acharya, Adil Shaikh and Prince Gupta) are eye-filling. Julius Packiam's background music is effective. Santhana Krishnan Ravichandran's cinematography is splendid. Action scenes have been beautifully designed by Ahmed Khan, and their choreography by Ram-Laxman and Kecha Khampakdee is mind-numbing. The action scenes are of the kind rarely seen earlier on the Hindi screen. They will greatly appeal to the masses and single-screen cinema audiences. Manini Mishra's production designing is appropriate. Rameshwar S. Bhagat's editing is sharp.
On the whole, Baaghi 3 has great action to see it emerge a box-office winner. It will not prove to be a blockbuster but it will pay handsome dividends to all concerned. It is yet another film which will comfortably join the Rs. 100-crore club.
Released on 6-3-'20 at Regal (daily 4 shows) and other cinemas of Bombay by Fox Star Studios India Pvt. Ltd. Publicity: very good. Opening: very good in single-screen cinemas but only fairly good in multiplexes. The opening is adversely affected due to examination period, coronavirus scare and the dull pre-Holi days. …….Also released all over. Opening ranged from fair to very good everywhere. Collections picked up as the day progressed.