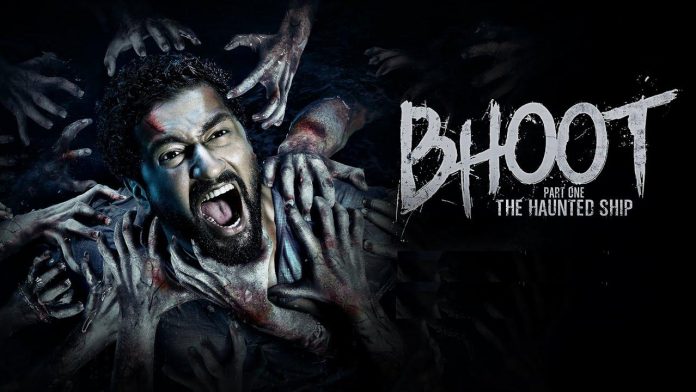 Zee Studios and Dharma Productions' Bhoot Part One – The Haunted Ship (A) is a horror film set in a ship.
Prithvi (Vicky Kaushal) works in a shipping company. Riaz (Akash Dhar), his best friend, also works in the same company. One day, almost out of the blue, a deserted ship reaches Juhu Beach in Bombay and gets stuck on the seashore. This is perplexing because there seems to be nobody on board the ship.
Prithvi and Riaz are asked by their boss, Agnihotri (Sanjay M. Gurbaxani) to anyhow have the ship removed from there. Even while they are trying to do so, Prithvi realises that there is something strange about the ship as he hears strange sounds and sees human beings who disappear in a jiffy just like they had appeared in front of his eyes. Not the one who believes in ghosts, Prithvi thinks that he is probably hallucinating. Prithvi has a past and he is fighting his own past demons. He somewhere assumes that it is because of his past that he is imagining things. Slowly but surely, it becomes clear that there is a ghost on the ship. Prithvi has collected some items from the abandoned ship, including a CD, which further corroborate the theory that the ship might be haunted.
Prof. Rajendra Joshi (Ashutosh Rana) believes in the occult and has ways and means to ward off ghosts. Ultimately, Prithvi, Riaz and Dr. Joshi go on board the ship on a mission. What is that mission? Do they accomplish the same? Is there really a ghost on board the ship? If so, how is the spirit brought under control? If not, what are the visions and sounds which Prithvi can see and hear when he is on the ship? Does the CD taken by Prithvi from the ship reveal anything?
Bhanu Pratap Singh has penned an interesting and frightening story in the first half. Setting the horror drama on a deserted ship gives the story a fine element of novelty. The post-interval portion, however, does not have the same power to keep the audience engaged as the story takes a dip. Flashes from Prithvi's past are interestingly woven into the main plot. Bhanu Pratap Singh's screenplay is, like the story, engaging and interesting but only before interval. Some scenes are truly very scary and will evoke screams and shrieks in the cinemas. However, the screenplay drops after interval. The drama then is engaging in parts but one of convenience at several places. Why Vandana Smith (Meher Vij), wife of Captain William Smith (Sameer Malhotra), suddenly decides to kill Amar (Aditya Sharma) is not clear. It is also not explained why the ghost does not kill Prithvi. The climax could've been better and scarier. Bhanu Pratap Singh's dialogues are natural and, therefore, a plus point.
Vicky Kaushal does an excellent job as Prithvi. He plays the vulnerable yet brave guy with all the conviction at his command. Not only is he good in horror scenes but also in the emotional ones. Vicky has looked very handsome. Bhumi Pednekar acts convincingly as Prithvi's wife, Sapna. Ashutosh Rana lends fair support as Prof. Rajendra Joshi. Meher Vij makes her presence felt reasonably well, especially in the pre-climax and climax, in the role of Vandana Smith. Akash Dhar has his moments as Riaz. Priya Chauhan is okay as Riaz's wife, Nilofer. Sameer Malhotra is so-so in the role of Vandana's husband, Captain William Smith. Aditya Sharma is good as Amar. Sara does a fine job as Meera. Inayah Chowdhary is effective as little Meera. Khushi Sachin Hajare leaves a mark as Megha, daughter of Prithvi and Sapna. Sanjay M. Gurbaxani lends able support as Agnihotri. Others are adequate.
Bhanu Pratap Singh's direction is lovely. Although this is his debut film, his handling of the script is praiseworthy. He has shot the film very stylishly. The visual effects and computer graphics are wonderful. Akhil Sachdeva's music and lyrics are quite appealing; there is only one song ('Channa ve'). Ketan Sodha's background music is impactful. Pushkar Singh's camerawork is lovely. Vikram Dahiya has composed the action scenes in a stylish manner. Production designing (by Aditya Kanwar) and art direction (Vilas Panchal) are of a fine standard. Bodhaditya Banerjee's editing is sharp.
On the whole, Bhoot Part One – The Haunted Ship has an exciting first half but a second half that's not half as exciting. It will, therefore, do very ordinary business at the turnstiles. Lack of haunting music and erotica in the film will tell on its business as the Hindi film-going audiences are used to watching abundant sex and haunting songs in a horror drama, both of which this film completely lacks. Considering the fairly high investment in the film on the one hand and a dull start and limited recovery from satellite rights because of its 'A' certificate on the other, the film will find the going tough.
Released on 21-2-'20 at Regal (daily 2 shows) and other cinemas of Bombay by Zee Studios. Publicity: so-so. Opening: average. …….Also released all over. Opening was good at places but below the mark at many other places.