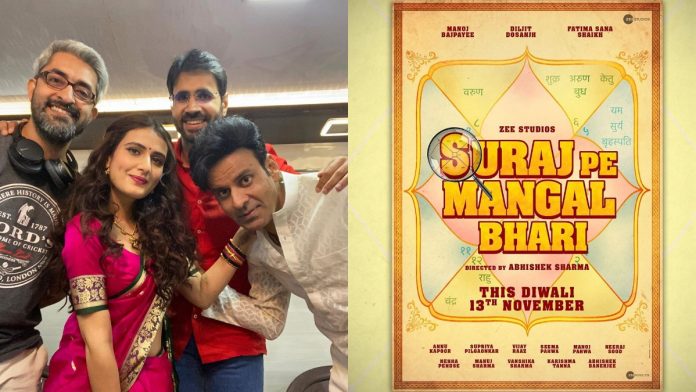 All hopes of Bollywood having a bright and colourful Diwali after the dark and grim lockdown were dashed to the ground a little while ago. The government of Maharashtra's order for easing of restrictions and phase-wise opening of lockdown (Mission Begin Again) was released some time back today (29th October), and it makes no mention of the reopening of cinemas in the state.
The order says that the state lockdown has been extended till 30th November as the state is still threatened with the spread of COVID-19. That means, cinemas in Maharashtra will not reopen anytime soon. Although there was speculation that three to four films would release in cinemas in the Diwali week, there was apprehension that that might not happen if cinemas in the states where they are still shut, would not reopen before that. Cinemas especially in Bombay (Maharashtra), which is the nerve centre of Bollywood, would have to reopen if producers had to release their new films on Diwali. No producer can be expected to release his new film if cinemas in Maharashtra remain shut. With Diwali being just a fortnight away and with the Maharashtra government's order being silent on the point of the reopening of cinemas, it is now almost certain that the films which were being speculated for Diwali release will not make it to the cinemas. Zee Studios had already officially announced Suraj Pe Mangal Bhari on 13th November in the hope that cinemas would have reopened in Maharashtra before that. Speculation was rife that Bunty Aur Babli 2 and Indoo Ki Jawani would also hit the cinema screens in the same festive week. However, with the scenario being what it is, it is very unlikely that any of these films will now make it to the cinemas this Diwali.
Traditionally, Diwali is considered to be bountiful for the box-office. Some of the earlier films which have opened in the Diwali week are Housefull 4 (2019), Golmaal Again and Secret Superstar (2017), Ae Dil Hai Mushkil (2016), Prem Ratan Dhan Payo (2015) and Krrish (2013). Of course, nobody knows how this festival of lights, straight after the pandemic lockdown, would have panned out for the box-office. But still, there was hope that matters would brighten up for the beleaguered industry from Diwali, at least. The prospects now seem to be of a Black Diwali for Bollywood. Way back in 1986, the Hindi film industry had experienced a Black Diwali because it had downed shutters to demand concessions from the Maharashtra government. Although the situation is different this year, the outcome may be the same — a golden week of robust collections will pass off without Diwali lamps lighting up the cinemas.
Not just cinemas, this Diwali will be black for the lakhs of people working in the film industry and whose livelihoods depend upon the health of the box-office.