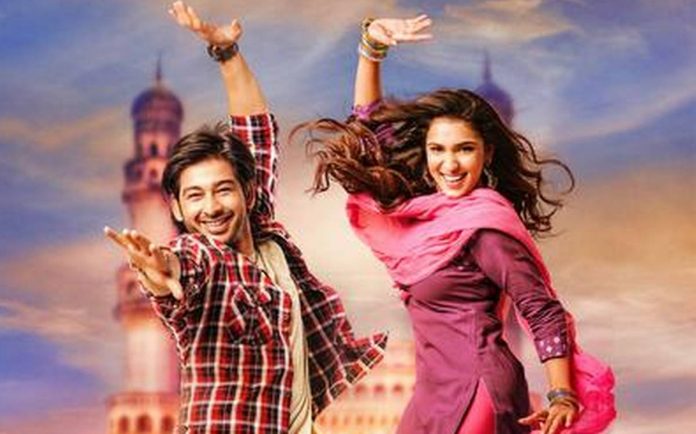 Dhanrajgir Productions' Bolo Hau is a love story with a Hyderabadi (Dakhani) touch. Salman (Ankit Rathi) is the son of a small-time antiques dealer. Rukhsar (Jahnavi Dhanrajgir) is the daughter of a nawab who has fallen upon bad times. The two meet at a common friend's wedding and end up falling in love with each other. The love story turns from being a fun and light-hearted tale into an intense drama.
Abid Shah and Tarun Dhanrajgir have written a story and screenplay which offer nothing new except, perhaps, the Hyderabadi flavour to the proceedings. Therefore, the drama appears to be oft-repeated. Dialogues, penned by the duo, are entertaining at places.
Ankit Rathi does a fair job. Jahnavi Dhanrajgir makes a decent debut and seems confident in her maiden role. Adnan Sajid Khan is effective as Gullu Dada. Preeti Nigam does a fine job as Begum. Moin Jaan (as Nawab), Mouzam Ali Khan (as Bade Nawab), Amair Amaan (as Chhote Nawab), Munnawar Ali (as Gaffar Ali), Shahnaz Khan (as Haleema Bee), Haji Kamal (as Gulabo), Hamid Kamal (as Salman's father), Noor Kamal (as Salman's mother), Soha Khan (as Salman's sister), Shaarif Shaikh (as bridegroom Javed), Shabbir Khan (as Javed's father), Shabnam (as Javed's mother), Sameera Khan (as bride Ayesha), Anil Patel (as Ayesha's father), Swetha Upadhyay (as Ayesha's mother) and the others provide ordinary support.
Tarun Dhanrajgir's direction is so-so. Music and lyrics (Abid Shah) are commonplace. Anna Raj's choreography is nothing to shout about. Satya, Manik and Afsar have scored the background music which is average. Thota V. Ramana's camerawork is okay. Jahnavi Dhanrajgir's editing is alright.
On the whole, Bolo Hau is too ordinary to make any impact at the box-office. Added to that is the lack of awareness among the public about the film's release, and the general reluctance of people these days to visit cinemas for non-star cast films. Resultantly, it will prove to be a non-starter.
Released on 15-1-'21 at Inox (daily 1 show) and other cinemas of Bombay thru PVR Pictures Ltd. Publicity & opening: poor. …….Also released all over. Opening was weak everywhere.