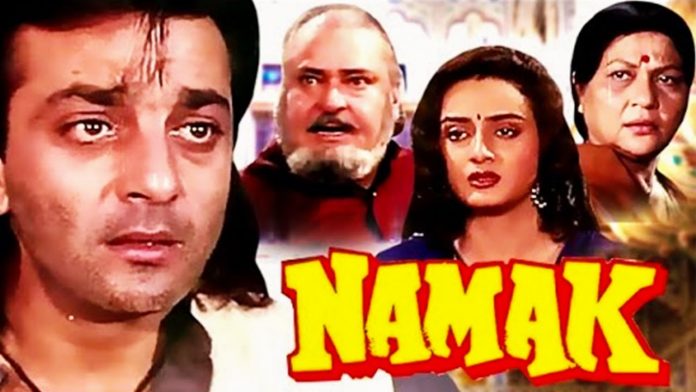 NAMAK
Kawal Films' Namak is a stale film about a young lad who is brought up in his master's house, like a family member. He repays the goodness of his master by exposing the scheming family members of his master, who are out to usurp the wealth of the rich master. In doing so, he has to undergo a lot of hardships.
The film has a poor story, and its screenplay cares little for logic. No attention has been paid to the characterisations. The drama moves on in a routine fashion and fails to involve the viewer. The climax is also not exciting. Dialogues are ordinary.
Sanjay Dutt does a fair job. Shammi Kapoor is alright. Farha has no role worth a mention. Prem Chopra, Shakti Kapoor and Gulshan Grover are impressive. Raza Murad passes muster. Amita Nangia and Sahila Chaddha fill the bill. Nirupa Roy, Preetam Oberoi, Jagdeep, Paintal, Dinesh Hingoo and the rest lend the desired support.
Direction is dull. Music is a letdown. Action scenes are so-so. Photography and other technical values are ordinary.
On the whole, Namak is a non-starter.
Released on 20-12-'96 at Shalimar, New Excelsior (matinee) and 3 other cinemas of Bombay thru Sumit Films. Publicity: good. Opening: poor. …….Also released all over.
CBFC SEES 'MAACHIS' AGAIN
Gulzar's Maachis was seen again by the CBFC on 20th December under the instructions of the I & B ministry.
VED PAL DEAD
Music director Ved Pal breathed his last on 19th December in Bombay. He was 73 and had been ailing. He is survived by three sons.
Ved Pal was scoring the music of Arman at the time of his death. Among his well-known films are Souten Ki Beti, Oh Bewafaa, Maya Sundari, Gunehgar, Sant Tukaram, Bhoot Nath, Aai Phirse Bahar etc.
P.D. MEHRA UNWELL
Writer, producer, director P.D. Mehra suffered a heart attack on 6th December in Delhi. He has been since flown to Bombay and is presently recuperating at home.
I-T RAIDS ON INDUSTRY PEOPLE
The income-tax authorities swooped upon the film industry when simultaneous raids were conducted on several industry people in Bombay on 18th December. Among those raided were David Dhawan, K.C. Bokadia, Sunil Shetty, Shah Rukh Khan, Madhuri Dixit, Kumar Sanu, Moranis, Bunty Soorma, Karisma Kapoor, Mahesh Bhatt, Mukesh Bhatt, Nandu Tolani, Rikku (Rakesh Nath), star secretary Jatin etc. The investigations continued on 19th too, and several shooting schedules on 18th and 19th went haywire with the stars raided not reporting for shootings.
'MAACHIS' TAX-FREE IN DELHI
Gulzar's Maachis has been granted exemption from payment of entertainment tax in Delhi for three months from 20th December.
B.R. CHOPRA'S GRAND-DAUGHTER TO WED
Marriage of Pooja, grand-daughter of B.R. Chopra and daughter of Ravi Chopra, with Varun will be solemnised on 28th December at the Royal Western India Turf Club, Bombay.
DO YOU KNOW?
* The title KAMASUTRA is registered in favour of producer B. Gupta. Mira Nair, who has made a film of the same name, actually has the title A TALE OF LOVE – KAMASUTRA registered in her favour.
MIX MASALA
OBJECTIONABLE BUT WORTHY OF TAX EXEMPTION
Isn't it strange that two members of the BJP took objection to the contents of Maachis, in Parliament, and the same film has been granted tax exemption by the BJP government in Delhi?
CENSOR NEWS
Shree Krishna International's Ajay was given C.C. No. CIL/2/40/96 (UA) dt. 20-12-'96; length 4111.75 metres in 16 reels (cuts: 178.61 metres).
Prathima Distributors P. Ltd.'s Jeeo Shaan Se (revised), seen on 12th, has been passed for adults, with cuts.
Ketan Mehta Films P. Ltd.'s Aar Ya Paar (length 4524.76 metres in 16 reels), applied on 13th and seen on 16th, has been offered A certificate, with cuts. It has been referred to the revising committee by the producer.
YOU ASKED IT
What are the chances of the cinema closure in Maharashtra from 1st January, '97 being averted?
– The chances of the state government giving an extension to the present entertainment tax structure are bright. So, there may not be any necessity of a closure, after all. But one has to wait for the government decision to come.
What lesson should the film industry learn from the simultaneous income-tax raids conducted on industry people this week?
– That, like film business, the income-tax department is also most unpredictable!
With big films being announced every week and being sold at fancy and unheard of prices, where is the crisis in the industry, about which one is so used to hearing?
– There's no crisis now. There's a fear that the high prices will lead to a crisis. But that too is a fear. So, don't you worry, dear!
IN & OUT OF BOMBAY
Mr. R.R. Khajanchi of Khajanchi Film Exchange, Amravati, is in town (493-0645) and will return to Amravati on 22nd December.
Mr. J.P. Chowksey of Prachi Films, Indore, returned to Indore on 20th December and will come to Bombay again on 24th.
Mr. Anil Thadani of A.A. Films, Bombay, left for Pune on 20th December and will return today (21st).
Mr. Niraj Manchanda of Niraj Movies, Calcutta-Bombay, left for Calcutta on 20th and will be back after 2 days.
Mr. Ravi Machhar of Abhinay cinema, Aurangabad, left Bombay for Bangalore today (21st December) and will return to Bombay (98200-31295) tomorrow.
Entertainment Tax In Maharashtra
Crucial Cabinet Meeting Next Week To Decide About Cinema Closure
Will the Maharashtra film industry close down its exhibition outlets from the new year or won't it? This is the question doing the rounds of film circles all over India. Although industry leaders insist that the closure of cinemas from 1st January '97 is definite, a last-minute withdrawal of the bandh is not ruled out. This would happen if the Maharashtra government accedes to the demand of the industry for continuation of the benefit of reduced (50%) entertainment tax in the state. The prevailing tax structure would come to an end on 31st December, '96 and it is feared that the government would enhance entertainment tax in the new year.
It is rumoured that the practice of exhibitors, especially in Bombay city, to enhance admission rates to "unreasonable" levels is what has agitated the government. It is felt by the government that the benefit of reduced entertainment tax is not being passed on by the film industry to cinegoers because the latter are forced to pay even more due to increased admission rates. However, this allegation is not wholly true because the practice of increasing admission rates is prevalent mostly in Bombay city, and that too, only a few selected cinemas resort to hiking their rates.
In the meantime, a delegation of many leading exhibitors and distributors of C.P. Berar (Maharashtra region), headed by CCCA vice president Vijay Rathi, met Maharashtra chief minister Manohar Joshi and deputy chief minister Gopinath Munde on 18th December in Nagpur and submitted a memorandum to them against the proposed hike in entertainment tax. The ministers gave a patient hearing to the delegation and assured it that its proposal would be kept before the cabinet meeting to be held in Bombay on 24th December. A further extension of the reduced entertainment tax structure for three months is not ruled out, reveal insiders. After three months, the new tax structure will be based on the report of a committee which is being appointed for the purpose. Another source informs that while 50% entertainment tax will be maintained, the rate of tax will be higher in the case of admission rates beyond a certain limit, say, Rs. 30 or Rs. 40.
Vijay Rathi told Information, "The chief minister and the deputy chief minister were very sympathetic to the demands of the film industry."
In the meantime, Judwaa did not release this week due to the impending cinema closure. Ram Aur Shyam and Namak, however, have been released. Suneel Darshan's Ajay is slated for release next week even despite the possibility of a closure in Maharashtra from 1st January, 1997. The production sector is not likely to join in the closure. Therefore, shootings, recordings and all other production and post-production work will continue as usual.
Dream Merchant
Income-Tax Raids: The Inside Story
I had had a tax-filled week. First, it was the computation of my income for payment of advance tax before 15th December. Then, it was the issue of entertainment tax in Maharashtra. Wherever I went, that was the topic of discussion. As if entertainment tax wasn't enough — the rate (50%) as well as the topic — came the income-tax raids on my many friends in the industry. Why, I even dreamt of the tax raids when I tried to relax my taxed brains last night.
I saw a team of income-tax officials enter the house of David Dhawan. "Where's all the black money you take?", they asked David who didn't look one bit disturbed. "See," David warned the officials, "you will never succeed in anything if you approach me alone. If you want 100% success, you must raid me and Govinda together. Ours is a hit team with 100% success ratio. It's the Team No. 1." One of the officials shot back, "Oh shut up. Where is your money no. 2? Is it under your khatiya? If so, please sarkailo khatiya." "Stop it, stop it," screamed David. "Don't you know, I've stopped picturising double-meaning songs. Please don't start it all over again. And see, you shouldn't be troubling me at this time. I'm about to start my Bade Miyan Chote Miyan with Amitabh Bachchan and Govinda. I've got to go for its photo session." Punching him in his protruding stomach, the official said, "You motay miyan, don't try to confuse us with bade miyan and chote miyan. But if you so plead, we will come after your photo session."
So saying, they left from there and came to Gaffarbhai Nadiadwala's residence. "What's the harm in accepting black money?", asked Nadiadwala innocently. "After all, if I can make a film titled Lahoo Ke Do Rang, I can surely accept payments for it with money of do rang — white and black." Seeing Gaffarbhai spell out his dealings so clearly in black and white, the I-T sleuths decided to exempt him.
They then reached Madhuri Dixit's well-furnished apartment. Madame Madhuri was away in Ooty, shooting for Pukaar, and it was her father who attended to the I-T officials. "See, let me tell you one thing very frankly," he whispered. "All these years, my daughter was no. 1. But 1996 has been unlucky for her because her films have bombed. The trade says, she is slipping from her no. 1 position. To match her new no. 2 position, Madhuri has started accepting payments in no. 2, only from this year onwards." One official, with an investigative bent of mind, asked, "Then who is the current no. 1 heroine?" Pop came the reply from ex-no. 1's pop, "Rani Hindustani — Karisma Kapoor. You must raid her residence."
And sure enough, the team of the income-tax men landed in Karisma's home. Poor Karisma didn't even know what was income-tax and who were income-tax officers? She viewed them as one would, an alien, and instantly broke into a song, "Pardesi pardesi aana nahin / Mujhe chhod de, mujhe chhod de." Then, like the defiant Aarti of Raja Hindustani, who kisses Aamir Khan at the end of the Pardesi song, in front of her father, Karisma smooched all her black money right in front of the I-T guys. When the shocked officials asked her to sign the statement of unaccounted money they had found in her house, she refused point blank. "I didn't sign the divorce papers in Raja Hindustani and look, what a big hit the film has become. Since then, I've decided not to sign any papers. I won't be filing my tax return from now on because I can't sign it." Thus saying, Karisma burst into tears à la Raja Hindustani. The officials beat a hasty retreat. How could they antagonise the no. 1?
So they decided to go to the house of a hero who wasn't no. 1. They chose Sunil Shetty but within minutes of reaching his house, the officials came out weeping. "We shouldn't have come here," sobbed one officer as another one tried to console him. "Poor guy, he has given so many flops, how can he have any money — black or white? As a noble gesture, let the I-T department give Shetty some funds."
Next on their list was Shah Rukh Khan. The actor was flabbergasted on seeing the I-T sleuths because only recently, the I-T department had felicitated him for being an honest tax-payer. In his Darr style, he began to stutter, which showed that he was indeed daraa hua: "You first f-f-f-f-felicitate me and now you f-f-f-f-……." An impatient officer interrupted, "We f-f-f-f-f-forgot the past, now you f-f-f-f-f-forgive us for our present lapse."
By now, it was almost time to call it a day. But the sleuths tried to squeeze in one more name. They knocked on the office door of K.C. Bokadia. The simpleton that Bokadia is, he blurted out the truth. "If you think, I have been dealing in black money, let me tell you, you are sadly mistaken. Amitabh Bachchan is not charging me a single naya paisa (black or white) for Lal Badshah. He volunteered to do the film for free because before his retirement, it was only my Aaj Ka Arjun which clicked from among his last lot of films. Amitabh needs me more than I need him." One of the officials remarked, "But you do have stocks of black money." An excited Bokadia exclaimed, "Black money and me? I don't have any money — black or white. Haven't you seen my last 15 films? They were all major flops. Sit down and watch them on television for yourselves to judge the amount of losses I've made in them." And Bokadia began to adjust his VCR and television set to start his last debacle called Aashique Mastane. The I-T sleuths screamed in unison, "Please don't raid our brains. We believe every word of what you say. But we beg of you to let us go."
– Komal Nahta
3E
Education-Entertainment-Enlightenment
We Two, Our Four
'V' for Venus. And 'V' for V.I.P. Enterprises. Well, the two V's have joined hands for not one or two, but as many as four films. V.I.P. Enterprises will be distributing four of Venus' films in Bombay. And Vinay Choksey (another 'V') of V.I.P. hopes, this mega-deal spells 'v'ictory for them. The four films acquired by V.I.P. are Josh (starring Salman Khan, Aishwarya Rai and Saif Ali Khan; directed by Mansoor Khan), Badshah (starring Shah Rukh Khan and Kajol; directed by Abbas Mustan), Dhadkan (starring Akshay Kumar, Shilpa Shetty and Arbaaz Khan; directed by Dharmesh Darshan) and Yes Boss (Shah Rukh Khan and Juhi Chawla; directed by Aziz Mirza). If four of Venus' films are with V.I.P. for Bombay, Venus has also joined hands with Tolu Bajaj for Delhi-U.P. in four of their many projects. The four films of Venus to be released by Tolu in Delhi-U.P. are: Mela, Dhadkan, Keemat and Aar Ya Paar (the last-named film is a Venus presentation).
Costly 'Mela': The Rush Has Already Started
While on Venus, their Mela is absolutely 'hot' if the offers the film's Bombay distributor, Anil Thadani, is getting are any indication. When Anil acquired the film last week at a fancy price, he was a bit scared — if only for the heavy price he was paying. But no sooner did the news spread that Mela had been acquired by Thadani than he was flooded with offers for partnership in Bombay distribution. According to Anil, he has as many as nine or 10 standing offers for partnership, even at the fancy price. So, fancy price apart, it is the film that has caught the fancy of the trade, it seems. It would be interesting to mention here that Mela is just about a reel-and-a-half complete. According to its director, Dharmesh Darshan, it will be ready for release by the end of 1997. Incidentally, the folders of Mela and the special expensive envelopes in which they came (distributed last week alongwith copies of Film Information) won a lot of praise. They were designed by Himanshu and Rahul Nanda.
Disproportionate Ratio
Is C.P. Berar 40% of a major circuit? Not at all, feels C.P. Berar distributor Pramod Munot. Says he, "If you compare the businesses of 10 hit films in the different circuits, you will find that the business of all the 10 films in C.P. is much less than 40% of the business in the circuit where they have done the highest business. So how can C.P. be 40% of a major territory?" According to Munot, the ratio of C.P. Berar should be a maximum of 30% of a major circuit, whether the major circuit is Bombay or Delhi-U.P. With film prices threatening to touch the sky, Munot also feels that he is no longer a distributor as he does not feel like taking such dangerous risks. "At best, we are film exploiters, but not distributors," he concludes.
To The Point
The CBFC has suggested that dubbed versions of films should be treated as fresh films for the purpose of certification. Rightly has the AMPTPP described the suggestion as impractical. Why does the CBFC want to increase its work load? Any logic?
* * *
The music of Ramgopal Varma's Daud is being spoken of in superlative terms. Nizam distributor and exhibitor Ravi Machhar (who is not the distributor of Daud) says, "The Shabba Shabba hai rabba song will be a super-duper hit." The Zahreelay zahreelay number is yet another hit song The magic of the A.R. Rahman and Varma combination again after Rangeela.
* * *
The staff at the CBFC office in Bombay were pretty cooperative with producer Suneel Darshan during the censorship of his Ajay this week. They did not throw any tantrums when the video cassette of the film, submitted by Suneel, was found to be defective. What's more, they viewed the fresh cassette, verified the cuts and issued the certificate — all on 20th December — so that Suneel could effect delivery to the Overseas distributor for release next week.

* * *
Producer-director Suneel Darshan is taking a big risk by releasing his Ajay next week. If the Maharashtra cinemas close down from 1st January, '97, it will be sad for the film. If they don't, Suneel will have the last laugh.

* * *
Of all the Amitabh Bachchan starrers announced or being made presently, it will be Bade Miyan Chote Miyan that will be the most sought-after by distributors. The set-up (bada B, chhota G and double D — Bachchan, Govinda and David Dhawan) looks just too wonderful.
– Komal Nahta