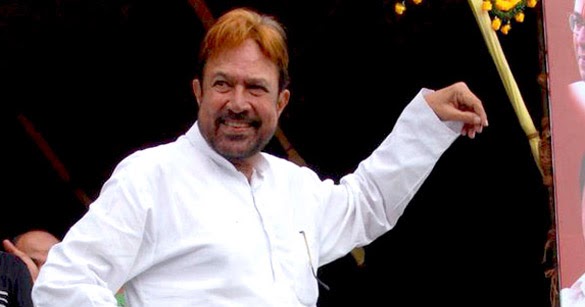 RAJESH KHANNA FILES PAPERS FOR LS SEAT
Rajesh Khanna on 20th September filed his nomination papers as the Congress candidate for the prestigious Gandhinagar Lok Sabha seat. The by-election has been necessitated following Atal Behari Vajpayee vacating the seat after winning it with a huge margin of over 2 lakh votes.
Vijay Patel, son of late speaker of the Gujarat assembly, Harishchandra Patel, is the BJP candidate, and Navin Patel is the Rashtriya Janata Party candidate.
Rajesh Khanna was greeted with cheers and loud slogans when he reached the collector's office in Gandhinagar, with a huge crowd, to file his nomination papers. As soon as he entered the office, a large number of people started shouting slogans like "Rajesh Khanna tum aage badho, hum tumhare saath hain" and "Congress zindabad". The star-MP was mobbed by fans.
Rajesh Khanna, in typical filmi style, said, "Hum to Gujarat ke daamaad hain, iss vajah se humein Gujarat se chunav ladne ka hakk hai."
LATEST POSITION
It was a normal week. However, collections of all the releases of last week were poor. This week, too, presents a sorry picture as far as opening goes.
Angaara has done poor. 1st week Bombay 22,19,920 (66.50%) from 13 cinemas (5 on F.H.); Ahmedabad 3,60,454 from 6 cinemas, Rajkot 53,545, Jamnagar 61,795 from 2 cinemas (1 in matinee); Pune 4,04,341 from 5 cinemas (1 in mat.), Nasik (25 shows) 1,14,672, Nasik Road (last) 53,652; Delhi 16,69,546 (46.71%) from 10 cinemas (4 on F.H.); Kanpur 1,61,483 from 2 cinemas, Lucknow 76,264, Agra 63,000, Allahabad 62,500, Bareilly 62,018 (49.17%), Gorakhpur 95,000 (72.40%); Amritsar 49,220, Jammu 80,000; Calcutta 15,91,607 from 20 cinemas; Nagpur 2,61,296 from 4 cinemas, Jabalpur 56,755, Raipur 70,674 (30.52%), Bhilai 72,465, Bhusawal 29,587; Bhopal 1,55,304 from 2 cinemas (1 on F.H.), Ujjain 60,774; Jaipur 2,26,907 from 2 cinemas; Hyderabad 10,31,010 from 9 cinemas, share 3,50,010.
……..
Sazaa-E-Kaalapaani (dubbed) 3rd week Bombay (TF) 9,75,200 (59.81%) from 5 cinemas (4 on F.H.); Ahmedabad (TF) 91,049, Baroda (TF) 64,813, Rajkot (TF, matinee) 23,530; Pune (TF) 2,26,828 from 2 cinemas (1 in matinee), Kolhapur (TF, 20 shows) 41,855, Solapur (TF) 42,445, Nasik (TF) 43,928; Delhi (TF) 11,36,394 from 6 cinemas; Lucknow 55,618, Agra 33,900, Allahabad 27,200, Gorakhpur 20,000 (2nd 31,600); Nagpur (TF) 80,120, Jabalpur (last) 23,226, Amravati (TF, last) 37,940, Raipur 27,658, Bhilai (last) 20,474, 1st week Yavatmal (TF) 45,924; 2nd Bhopal 56,787; 3rd week Jaipur (last) 79,719.
Jeet 4th week Bombay steady; Ahmedabad 1,85,786 from 2 cinemas, Rajkot 54,483 from 2 cinemas (1 in matinee); Pune 3,53,237 from 3 cinemas, Kolhapur 80,000, Solapur 58,523; Delhi 8,70,746 from 3 cinemas (2 on F.H.); Kanpur 1,76,583 from 2 cinemas, 2nd Lucknow 2,12,580, 4th week Agra 1,04,089, Allahabad 68,100, Bareilly 59,090 (33.01%), Gorakhpur 70,000 (3rd 88,000), Muzaffarnagar 45,000; Jammu about 98,000; Calcutta 10,36,100 from 13 cinemas; Nagpur 1,16,493 from 2 cinemas, Jabalpur 64,992, 3rd week Amravati 1,07,020, theatre record, 4th Akola 45,626, Raipur 76,679, Bhilai 33,111, Bilaspur 60,326 (3rd 74,083); Indore 1,04,911, Bhopal 1,19,056, theatre record; Jaipur 2,08,569, Bikaner 98,422; Hyderabad 5,58,197 from 4 cinemas (1 on F.H.), share 2,61,452.
Hindustani (dubbed) 5th week Bombay very steady; Ahmedabad 2,61,348 from 3 cinemas, Jamnagar 58,543, total 4,34,965; Pune 6,98,652 from 4 cinemas (1 in matinee), Kolhapur 1,79,274, Solapur 87,672, Satara 71,750 from 2 cinemas (1 in mat.); 1st Dharwad (6 days) 56,010; 5th week Delhi 11,08,573 from 5 cinemas; Kanpur 74,330, Lucknow 1,67,342, Agra 60,319, Allahabad 49,200, Gorakhpur 36,000 (4th 44,000); Nagpur 2,06,160 from 2 cinemas, Jabalpur 53,292, Amravati 77,559, Akola 64,228, Dhule 42,966, total 3,70,740, Raipur 73,713, theatre record, Bhilai 39,856, Bhusawal 23,002, 4th Yavatmal 28,814; 5th week Indore 1,47,628, Bhopal 75,620; Jaipur 1,19,537.
CALCUTTA CINEMA CLOSURE CALLED OFF
The proposed token strike by cinemas of Calcutta on 24th September has been put off for the time being. The decision to defer the bandh was taken because of an assurance given to the industry by the government of West Bengal that it would look into its demands and grant reliefs.
ENTERTAINMENT TAX NOTIFICATION
ISSUED IN MAHARASHTRA
The notification fixing 50% entertainment tax in Maharashtra was issued on 19th September. The old ordinance, which had fixed entertainment tax at 50%, expired on 15th September. There was panic in the trade when the notification to renew the ordinance was not issued for three days after its lapse. The panic was born out of rumours that the Election Commission had stayed the renewal. Of course, the rumours turned out to be baseless.
The renewal has been granted upto December 31, 1996.
In the meantime, there were reports that local entertainment tax departments were asking cinemas to deduct 100% tax from 16th September. Some exhibitors obliged while many did not, in the hope that a notification would come soon.
YOU ASKED IT
What, according to you, lures newcomers in this industry in the production sector?
– Two Gs — the glamour of the industry and the gambling instincts of the newcomer.
What has happened to the star ceiling scheme?
– It had to die a natural death due to lack of control on erring producers by their Associations! Frankly speaking, the scheme lasted well for about two years, after which it began to lose its seriousness. Now it is history!
If a good opening is like half the battle won for a film, what is a poor opening akin to?
– More often than not, a film's poor opening these days means that the total battle is lost!
DO YOU KNOW?
* Anand Bakshi is writing lyrics for the first time for a TV serial. The serial in question is Pradeep Saini's AANDHI, and its music is being scored by Tabun.
To The Point
People in the film industry are as unpredictable as the audience taste (for films). Just a fortnight back, Nagpur-based builder and film financier N. Kumar had got issued an arrest warrant against Jackie Shroff for non-repayment of his loan. Of course, the loan was repaid by Jackie thereafter. But the best news is that N. Kumar and Jackie Shroff have now joined hands to produce a film. It will be a big-budget horror film to be directed by horror kings Tulsi and Shyam Ramsay. Special effects of the film will be done abroad. (Read more about the film elsewhere in this issue.)
* * *

Bombay distributor Ramesh Sippy is all praise for Nazir Hussain and Feroz of Liberty cinema, Bombay. And not because they are giving him handsome shares of Khamoshi every week. "It's because, in my 26 years of distribution, I've never seen gentlemen among exhibitors like the two of them," said Sippy. Twenty-six cheers then for the two men – sorry, gentlemen.
* * *
Sameer is pleased as pleased can be, these days. For, most of the films which have celebrated jubilees in recent times or are celebrating jubilees have his songs. Yes, Barsaat had Sameer's lyrics, and so did Agni Sakshi and Saajan Chale Sasural.
* * *
Who is more popular than even Shah Rukh Khan today? You'd be surprised to know that it's lyricist Javed Akhtar. Zee TV airs a programme, Aap Ki Pasand, in which songs of one hero or heroine or music director or playback singer or lyricist are shown. Letters are invited from viewers about their choice of favourite personality as also their songs. Kailash Gandhi, director of the programme, revealed that they had received the highest number of letters for Javed Akhtar — which was twice the number of letters for Shah Rukh! Now, that should inspire Javed's creative genius to write some more hit lyrics for the music lovers' pasand!
* * *
There's heavy speculation about who will win and who will lose in the CCCA elections scheduled for 24th September. I think, some change should be welcome. Young blood should be encouraged to enter the arena and learn the ropes of social service. Times are changing and they should be allowed to bring in their ideas if that can benefit the industry. Some of the young contestants are raring to go — of course, under the leadership of veteran Santosh Singh Jain. Their aim is to dislodge some elders who, many feel, aren't doing any good for the Association. The election naara (slogan) of the Young Turks should be: Hum chhote zaroor hain, par kuchh badon ke jaise khote nahin hain. Another naara: Aap kal the. Hum kal hain. Guzre huye kal ko chhodo. Aanewale kal ko mat todo. …..Good luck to all contestants. May the best win.
– Komal Nahta