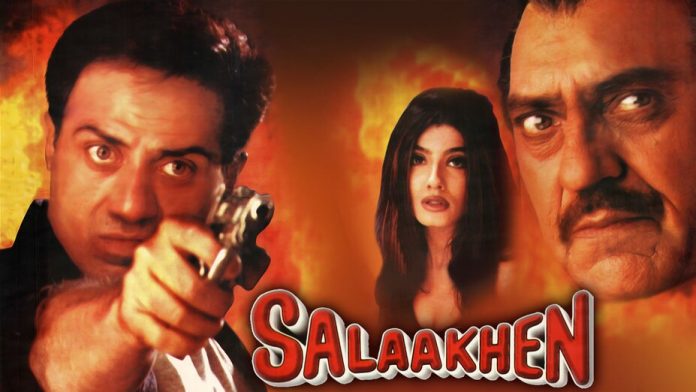 SALAAKHEN
Cinema Arts' Salaakhen is a revenge drama with a difference. It tells the story of a man who dares to raise his voice against the crimes committed by an influential person who is actually an underworld don but who wears the garb of a social worker. Since the police are hand-in-glove with the don, they make life miserable for this man, an honest teacher, who pledges to give witness in the court and who thinks he is, therefore, helping the police. The torture gets too much for the simpleton teacher and then, his son, an angry young man, decides to take law into his hands. He breathes fire and, one by one, kills all those responsible for torturing his father. A major part of the film is in flashback.
The opening couple of reels (before the flashback begins) are stunning because the drama is absolutely unusual. Once the flashback begins, the film has some highs and also some lows. The plus points are the arresting second half, especially the long climax, the performances of the main characters, and the action. The lows are that the film has less relief and the ending is not as effective as it should have been. Since the hero is a criminal in the eyes of law but a true hero in the public eye, greater participation of the public in getting justice for the hero would have had a more hair-raising impact. Nevertheless, the climax action (Tinnu Verma) is simply astounding and keeps the audience at the edge of their seats. The murder of the police officer in the dhobi ghat and the car stunts and explosions are breathtaking. Too much footage has been given to the hero's father, and his death in the court looks contrived. The first half is dull at places but the second half is good.
Sunny Deol does a remarkable job as the angry young man. He breathes fire into his character and performs brilliantly. As a result, all his action scenes and otherwise unbelievable dare-devilry look absolutely believable. Raveena Tandon has hardly any role but she is good in whatever little she has to do. Her dances are appealing. Anupam Kher is simply fantastic as the simple teacher who takes on the don. His little nuances are proof of how much pains he has taken to portray his character. In one word, he is superb. Farida Jalal, playing his wife and Sunny's mother, also gives a memorable performance. Her scenes when she curses the evil-doers is stunning. Amrish Puri plays the don with conviction and with the ease which he has mastered. Mohan Joshi is good. Mahavir Shah leaves a mark with an able job. Harish Patel provides a couple of light moments with his natural acting. Deven Varma has a brief role and is good. Rummy Dhillon is average. Ravi Patwardhan acts ably. Dinesh Hingoo is okay. Manisha Koirala appears in just one dance number but her presence is not electrifying.
Director Guddu Dhanoa has extracted superlative performances from his cast. Although he has not let the action fare remain just that and has handled the subject with reasonable confidence, providing some emotions too, he has not balanced the tension with light scenes or refreshing romance. Dilip Shukla's screenplay is good and his dialogues are also very nice. But it must be mentioned that Sunny's character is such that his dialogues should have been much more fiery. Dilip Sen Sameer Sen's music is catchy but the absence of a hit number is felt sorely, especially because there's not much relief otherwise. 'Pichhu pade hain', 'Dhak dhak', 'Punjabi kudi' and 'Zubaan pe jo nahin aaye' are the better songs. Song picturisations are not novel. Camerawork is quite good. DTS mixing is very effective. Other technical aspects are proper. Production values are grand.
On the whole, Salaakhen has appeal for the masses. Despite a heavy price, it has the merits to keep everybody satisfied.
Released on 24-4-'98 at Novelty and 21 other cinemas of Bombay thru A.B.C. Pictures P. Ltd. Publicity: very good. Opening: good (affected due to Sharjah Cup cricket match finals). …….Also released all over. Opening was excellent in U.P., C.P. Berar and Orissa (in all these circuits, the film opened on Thursday) but not as good in C.I.
VIJAY SIPPY'S DEATH STILL A MYSTERY
Mystery continues to surround the death of producer Vijay Sippy, son of G.P. Sippy and brother of Ramesh Sippy, whose body was found lying in the building adjacent to the one in which he used to stay, on the morning of 17th April. Police investigating the case are confused about whether the death is a case of suicide or murder.
Vijay Sippy was 52 and a law graduate. He joined his father's business when he was 22 years old. Starting as a trainee, he went on to eventually run the company.
Vijay was a private person by nature and, therefore, socialised very little. He is survived by his parents, two wives and a son.
A condolence meeting will be held on Sunday, 26th April, between 5.30 p.m. and 6.30 p.m. at the residence of G.P. Sippy, Shree Vijayaa Bhavan, Altamount Road, Bombay.
CHANDRA SHEKHAR BEREAVED
Satyamma, mother of veteran actor Chandra Shekhar and grandmother of television serial producer Ashok Shekhar, expired on 22nd April in Hyderabad after a prolonged illness.
SOUND RECORDIST H.D. MISTRY DEAD
H.D. Mistry, senior sound recordist, expired in Bombay on 8th April after a brief illness. He was 84 and active till the end. He was president of the Western India Motion Picture & Television Sound Engineers' Association and chairman of WIMPSE Welfare Trust.
Before turning a freelance sound recordist in 1969, Mistry was attached to Ranjit Studios. He recorded the songs of late singers K.L. Saigal and Khursheed at Ranjit with only one microphone for both, the singer and the musician. The famous Vande Mataram song, rendered by Lata Mangeshkar, Hemant Kumar and chorus for Anand Math, was recorded by H.D. Mistry in 1950 with just three microphones in a non-airconditioned and non-sound-proof shooting stage of Filmistan Studios.
Mistry had recorded the sound for 100 feature films.
He is survived by his wife, son and three daughters.
C.I. REVERTS TO THURSDAY RELEASE SCHEDULE
Beginning this week, films are being released in C.I. on Thursdays again, instead of Fridays. The system of releasing films on Thursday was discontinued from 13th November, 1997, as a result of a decision taken by the Indore Distributors Forum. But the system of releasing films on Fridays did not find favour with distributors and exhibitors alike. The trade has, therefore, shifted to the old system of releasing films on Thursdays.
In C.P. Berar, it had been left to the discretion of the distributor to release films on Thursdays or Fridays. But now, even the C.P. trade has decided to stick to the Thursday release pattern.
HINDI FILMS 'BANNED' IN MANIPUR
Hindi films have been 'banned' in Manipur with effect from 25th April by extortionists who were demanding protection money from cinemas screening Hindi films. When the cinemas refused to oblige, the extortionists ordered an unofficial ban on Hindi films.
The ban has spread panic among Assam distributors who fear, they will face a loss of at least 20% in their revenue.
YOU ASKED IT
With star-cast films like Qila, Kabhi Na Kabhi, Zor, Yugpurush and Keemat flopping, will film prices come down?
– They may not come down but they surely won't go up indiscriminately.
Which was the first cinema to be built in India?
– It was Elphinston Picture Palace, built by J.F. Madan in Calcutta in 1907. The first cinema show was arranged by the Lumière brothers of France at Watson Hotel in Bombay on 7th July, 1896.
What is essential for a non-star-cast film to click?
– Novelty in subject or presentation or hit music or all three.
CENSOR NEWS
Lata Films' Aunty No. 1, seen by the revising committee on 21st, has been issued C.C. No. CIL/1/25/98 (U) dt. 24-4-'98; length 3933.90 metres in 16 reels (cuts: 158.81 metres).
M.V. Gopalram's Mera Desh (dubbed) was given C.C. (in Madras) No. CIL/3/0099/98 (A) dt. 27-3-'98; length 4013.31 metres in 15 reels (no cut).
Venus Corporation Ltd.'s Satya (length 4999.19 metres in 17 reels), applied on 17th and seen on 20th, has been offered A certificate, with cuts.
Sarav Productions' Dhadak was seen by the revising committee on 20th.
P.M. Films' Sar Utha Ke Jiyo was seen on 22nd.
Promise Pictures' Jungle Love Story has been offered UA certificate, with cuts.
IN & OUT OF BOMBAY
Mr. Sunil Bansal of Jai Pictures P. Ltd., Jaipur, is in town (630-2376).
Mr. S.M. Kothari of Indore will reach Bombay today (25th April).
Producer N.N. Sippy, associate producer Pravesh Sippy and cameraman Debu Deodhar left for France and Czechoslovakia on 23rd April to scout locations for SILSILA HAI PYAR KA. They are expected back after a fortnight.
Mr. Sunderdas Sonkiya and Mr. Ramavtar Rana of Jaipur Films P. Ltd., Jaipur, are in town (611-5808).
DO YOU KNOW?
* Three Mithun starrers are ready for release. All the three — MARD, HITLER and HATYARA — might hit the screens in May.
* The Aati kya Khandala song, rendered by Aamir Khan (and Alka Yagnik) for GHULAM, should soon become very popular. It has endearing lyrics by Nitin Raikwar and soft music (Jatin Lalit).

* M.F. Hussain's GAJ GAMINI has taken off with song recordings.
* A.R.B. Arts, the East Punjab distributors of SALAAKHEN, have released as many as 28 prints in the circuit. Two prints were added to the original 26 on Friday itself. 
* The US assistant secretary of state for South Asian affairs, Karl Frederick Inderfurth, saw DTPH on 22nd April at Bombay's Liberty cinema. Persis Khambatta was his interpreter. Inderfurth could see just 45 minutes of the film as he had to keep another appointment, but he said, he was dying to know the ending of the interesting film.

* Rajshri's MAINE PYAR KIYA has been revived in Bihar this week with six prints. …….At Chitrabani, Begusarai, it was PYAAR KIYA TO DARNA KYA which was booked from 24th April but due to the print not reaching the cinema on time, MAINE PYAR KIYA is being screened there for a week. PKTDK will open next week in continuation to MPK. That's MAINE PYAR KIYA TO DARNA KYA, then!

Dream Merchant
'Titanic' Fever In Bollywood
It's Titanic fever all around. Whether at parties or other social gatherings, the film being discussed is the 11-Oscar winner. So, it was natural for me to dream about the film industry in Bollywood trying to ape Titanic. Bhed chaal, you know.
I first dreamt about Mahesh Bhatt who told me that after the super-success of Titanic in India, he had decided to postpone his retirement by one film. "I'll quit direction after I've made a Hindi Titanic," he said. "What Hollywood can do, Bollywood can do better and with double the results and efficiency. My film will start after the release of my Duplicate and it will be called Duplicate Titanic. There will be not one but two Titanic ships in the film, and catastrophe will strike both of them at the same time. That would mean double the thrill for the price of a single ticket."
David Dhawan was busy on the sets of Smita Thackeray's Haseena Maan Jayegi. Without giving much thought, he told me, "My next will be titled Haseena Teri Jaan Jayegi. In that film, it will be the heroine who will die due to the cold waters the lovers will land themselves into after the ship tragedy as in Titanic. Karisma will play Kate Winslet's role and, of course, Govinda will be her hero. Govindo Di Virario."
Subhash Ghai had not yet recovered from the blacklash of the "nasty journalists" who had been "writing nonsense" about his legal battle with Mahima Chaudhary. About Titanic, he said, "I plan to make a sequel to Titanic. It will be called Titanic Chali Pardes. My film will start where the Hollywood film ended. I will show the ship-owner taking the ship-builder to court for breach of his contract. How could the ship sink like that?" Then, sensing my bewilderment, he added, "Don't worry, I may have lost in a real court of law, but that doesn't mean, I don't know to direct a courtroom drama. Coming back to my film. It will be so titled because the Titanic will be shown heading for pardes when calamity will strike. Since I've got a contract with Mahima, she will have to play the heroine in the film. The boy? It could be anybody. But not a newcorner. I don't want more courtroom dramas in real life!"
Umesh Mehra was still trying to figure out why Qila bombed so miserably, when I met him. "See, we Indians have got a Hollywood complex," he thundered. "Why should I make a Titanic or a sequel or an inspired version of it? If Titanic was a disaster film, so was my Qila. But nobody praises me as they praise the Titanic director."
Vashu Bhagnani was not in his office when I reached there. His peon told me, he had gone to IMPPA to register a line of titles like Ship No. 1, Disaster No. 1, Iceberg No. 1, Love Story No. 1, Titanic No. 1, Luxury Liner No. 1, Water No. 1, Sea No. 1, Samudra No. 1, Accident No. 1…… I excused myself to use Vashu's toilet to do what they call 'no. 1'.
Randhir Kapoor said, he had finally been inspired to start a film. "It will be called Ram Teri Ganga Phir Maili Ho Gayee because the ship disaster will take place in the Ganga in my film."
Yash Chopra and Rajkumar Barjatya, being the most forward-looking producers in India, told me, they had decided to join hands for the Titanic film in India. "Oh, like Paramount and 20th Century Fox joined hands in Hollywood," I exclaimed excitedly. "Yes," nodded Barjatya. But the two pillars were undecided about the title. While Barjatya wanted the film to be called Nadiya Ke Paar because it would be the endeavour of Titanic to go nadiya ke paar, Chopra suggested that more prominence should be given to the romance portion of the story and preferred the title Dil To Saath Saath Hai. "This film," revealed Chopra, "will be longer than even the Titanic. It will be of 21 reels and saat-saat-saat reels will be directed by me, Sooraj Barjatya and Aditya."
Ram Gopal Varma scoffed at the idea of being inspired from Titanic. "This is not Hollywood," he said. "Special effects don't work in our films," he sighed, adding, "Remember my Daud? It had so many special effects, still it bombed." I had half a mind to tell him, his film had flopped not because of the special effects but rather because of the special defects!
Pranlal Mehta was despondent. My Yugpurush has put me to such major losses, I can't dream of starting my next so soon. But yes, I've thought of a title. If I could make Jeeo Shaan Se, I can also make Doobo Shaan Se. And yes, if I do make this Titanic-inspired film, it will be directed by……." "Ramesh Sippy," I interrupted him.
B.R. Ishara was in a dubbing studio. He told me, "If Hollywood can send a Titanic to India, so can I send a film to Hollywood. I'm dubbing my old film, in English, and just wait and watch, it will give Titanic a run for its money. "Which film?", I queried. "Of course, Kaagaz Ki Nao," he announced.
The last on my list was Priyadarsan. "I'm no less than James Cameron," he said with unmistakable pride. "Saat Rang Ke Sapne and Kabhi Na Kabhi have given me more confidence than ever before. Cameron only made the ship sink. I'm capable of drowning the entire Bombay film industry, just you wait."
I woke up with a start. I didn't want to drown.
– Komal Nahta
3-E
Education-Entertainment-Enlightenment
Colleagues Before Becoming Man And Wife
Before Shravani Deodhar got married to cameraman Debu Deodhar, she used to be Amol Palekar's fifth assistant. In fact, the two met each other when Debu was Amol's cameraman, and Shravani, his assistant. Being the fifth assistant, she used to sound the clapper-board before every shot but since she used to be a bit slow in moving out of the frame after sounding the clap, Debu used to get irritated and often chided her for wasting precious raw stock. He used to tell Shravani to move out of the frame quickly and used to advise her to decide beforehand on the place where she would run after giving the clap. Those were the days when Shravani and Debu were just colleagues. Shravani ultimately did find the right place — in Debu's heart. This was revealed by Shravani recently.
A Promise Fulfilled
Late actor Yeshwant Dutt, perhaps, had a premonition of his death. After completing the shooting of Ajey Jhankar's Marathi film, Sarkarnama, he had been hospitalised for an ailment. When the film's director, Shravani Deodhar, and cameraman, Debu Deodhar, went to visit him in hospital, he told them not to worry because he wouldn't die before completing his dubbing. When he was discharged from hospital, he dubbed for Sarkarnama at Film City from morning to 2.30 in the night. Only after completing his dubbing did he return home. The following day, Yeshwant Dutt breathed his last. But he had kept his promise to the Deodhars about completing Sarkarnama before dying.
Thoughtful Gesture
Vinayak Mayekar, the controller of Plaza cinema, Bombay, where Marathi film Tu Tithe Mee opened this week, was so impressed with the film when he saw it that he agreed to forgo one show's rent (approximately Rs. 10,000) at Plaza. It's not the amount but the thought which counts.
Hindustani-Pakistani
After late Nusrat Fateh Ali Khan, it is Pakistani singer Ataullah Khan who has lent his voice to a Hindi film song. And this Pakistani has sung for a film with a title no less than Hero Hindustani! Which makes it: Film Hindustani, singer Pakistani.
The 'D' Factor
'D' has been a particularly lucky alphabet for Yash Chopra. Some of the biggest hits of his, either as director or producer or both, have had their titles beginning with 'D' — Dhool Ka Phool, Daag, Deewaar, Darr, Dilwale Dulhania Le Jayenge and Dil To Pagal Hai.