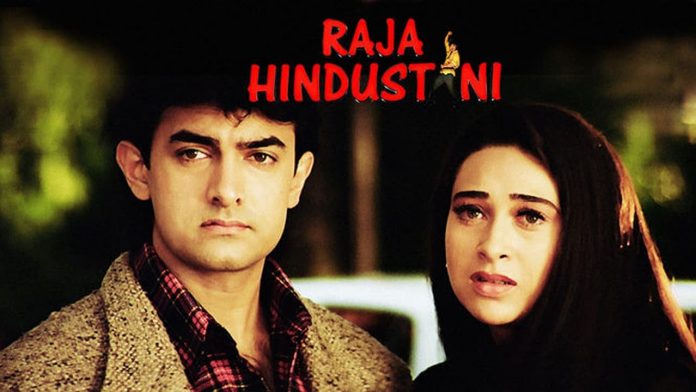 THREE CINEMAS REOPEN WITH 'RAJA HINDUSTANI'
Three cinemas in C.P. Berar, one each in Jalgaon, Dhulia and Nandurbar, reopened on 24th January despite the ongoing cinema closure in Maharashtra. All the three cinemas — Natwar (Jalgaon), Bhattal (Dhulia) and Bhatwal (Nandurbar) — are screening Raja Hindustani.
The Amravati film trade on 24th January met and expressed deep anguish over what it described as "gross violation of CCCA's directive" by the three cinemas. The trade felt that Mihir Pictures, the film's distributors, had provoked the said exhibitors directly or indirectly to violate the directive of the CCCA, which had threatened the Association's unity.
The meeting resolved to request the CCCA to take disciplinary action and impose penalty of Rs. 1 lakh per day per violation against the three exhibitors as well as against Mihir Pictures. It also resolved to request the CCCA president and its executive committee not to entertain any case of those exhibitors and the distributor in any adjudicating body for at least 3 years. Further, all distributors irrevocably agreed that they would not supply any film print, whether contracted or not, to the three erring cinemas for one year.
As Cinema Closure Enters 'Silver Jubilee' Day
Maharashtra Government Takes Film Industry For A Royal Ride
Empty Promises But No Action
The Maharashtra government seems to be taking the film industry for a long ride. The ministers and politicians are making the proverbial promises every day but not keeping them. As a result, the cinema closure in the state entered its 25th day today with sure signs of cracks in the unity.
The action committee of the film industry met Shiv Sena chief Bal Thackeray on 19th January when the latter is said to have assured the delegation that he would see to it that conditions conducive to the reopening of cinemas were created very soon. When nothing came out of the promises for three days after that, the industry kept its fingers crossed in the hope that an announcement of some relief or concession would be made on 23rd January, the birthday of Bal Thackeray. But even the birthday passed without any gift from the birthday boy to the industry.
In the meanwhile, a group of exhibitors of Marathwada region, including Ravi Machhar, met Maharashtra chief minister Manohar Joshi and deputy chief minister Gopinath Munde in Aurangabad earlier this week and appealed to them for relief in entertainment tax. Both the ministers were sympathetic to the demands of the industry and promised to look into the matter.
Rumours were rife on 23rd that a slab system of entertainment tax on the lines of that finalised by Pramod Navalkar and the action committee on 6th January would be announced by the government on 24th. Another rumour had it that 50% tax would be retained and an announcement to that effect would be made by the state government on 24th. The rumours mentioned that the announcement would be made as soon as the governor gave his assent to the concession. Of course, the rumours were completely baseless. And so, like the earlier days of the week, the 24th day of January too passed without any news from the government's side. Obviously now, nothing would be forthcoming till Monday (27th) at least.
The industry leaders are likely to meet Bal Thackeray again today (25th January). In its meeting of 19th, the action committee members also had a brief discussion with L.K. Advani who also, like Bal Thackeray, was of the opinion that the industry needed to be granted reliefs.
In the meantime, exhibitors and distributors in various parts of the state are becoming more and more impatient with each passing day. Some exhibitors in C.P. Berar (Vidarbha region of Maharashtra) even put up notice boards outside their cinemas on 22nd January, announcing their reopening on and from 24th. The CCCA intervened and succeeded in persuading many of them to hold themselves back in the interest of unity. Even then, at last three cinemas did reopen on 24th.
CRUCIAL MEETING ON MONDAY
A joint meeting of the BJP and Shiv Sena ministers with the action committee will be held on 27th January to arrive at a consensus settlement. This was decided at a meeting the action committee members had with Maharashtra deputy chief minister Gopinath Munde on 24th. During the meeting, Munde is said to have expressed his displeasure over the industry leaders' complete bypass of the BJP ministers in their earlier talks of settlement with the state government. The leaders apologised for their lapse and cleared the misunderstanding, it is learnt.
Veeru Devgan Hurt On 'Sar Utha Ke Jiyo' Sets
Action director Veeru Devgan hurt his shoulder recently while performing a stunt for P.M. Films' Sar Utha Ke Jiyo at Film City. He was facing the camera under the direction of another action director, Mohan Baggad.
'Jab Pyar Kisi Se Hota Hai' Major Spell
Director Deepak Sareen started a 25-day marathon shooting schedule of Tips Films (P.) Ltd.'s Jab Pyar Kisi Se Hota Hai from Jan. 16 on a set at R.K. Studios. All the artistes are participating. The film stars Salman Khan, Twinkle Khanna, Johny Lever, Mushtaq Khan and Anupam Kher. It is based on a screenplay by Honey Irani and has music by Jatin Lalit, lyrics by Anand Bakshi, cinematography by Manmohan Singh, editing by Renu Saluja, art by Sharmishtha Roy and dialogues by Javed Siddique.
'Virasat' Dubbing Complete
Dubbing and effects and special effects work of M.R. Productions Pvt. Ltd.'s Virasat have been completed in Madras. Recording of background music will start next week. The film stars Anil Kapoor, Tabu, Pooja Batra, Milind Gunaji, Govind Namdeo, Tiku Talsania, Neeraj Vora, Satyen Kappu, Dilip Dhawan, Sulbha Deshpande, Anjana, Reena, Ajay Ratnam, Ajit Kumar, Dev Sharma and Amrish Puri. It is directed by Priyadarshan for producers Mushir Riaz. Dialogues: Vinay Shukla. Music: Anu Malik. Lyrics: Javed Akhtar.
'..Aur Pyar Ho Gaya' Last Schedule
After completing a 15-day shooting schedule in Singapore, the unit of Essem Entertainment's ..Aur Pyar Ho Gaya has now shifted to Bombay where it is being shot in bungalows, on sets and locations and will be so shot till February. All the artistes are participating. The film will be complete after this schedule. A Bharat Shah presentation, it is being directed by Rahul Rawail and written by Rumi Jafri. It stars Bobby Deol and Aishwarya Rai in the lead. Music: Nusrat Fateh Ali Khan. Lyrics: Javed Akhtar.
'Auzaar' Copy Out
The first copy of Tips Films (Pvt.) Ltd's Auzaar is out. Due for release next month, the film has been applied for censorship. It stars Salman Khan, Sanjay Kapoor, Shilpa Shetty, Paresh Rawal, Johny Lever, Kiran Kumar, Asif Sheikh and Nirmal Pandey. It is written and directed by Sohail Khan and has dialogues by Anwar Khan, music by Anu Malik, lyrics by Rahat Indori, Qatil Shifai, Ila Arun and Anu Malik, art by R. Verman, action by Mahendra Verma, editing by A. Muthu, dances by Raju Sundaram, Saroj Khan and Raju Khan, cinematography by Kaka Thakur, and sound by Narendra Shinde.
'Mrityudand' Complete
With the completion of a song picturisation on Madhuri Dixit and Ayub Khan from Jan. 14 to 17 at Panchgani, the entire shooting of Prakash Jha Productions' Mrityudand is complete. Directed by Prakash Jha, who also produces the film in association with G.S Mayawala, it co-stars Shabana Azmi, Om Puri, Shilpa Shirodkar, Mohan Joshi, Mohan Agashe, Rajkamal, Dashrat, Pyare Mohan Sahay, Brijgopal, Ajit Vachani, Abha Dhulia, Mona Ambegaonkar and Harish Patel. Music: Anand Milind. Lyrics: Javed Akhtar. Cameraman: Rajen Kothari. Manmohan Shetty presents the film.
DO YOU KNOW?
* RAJA HINDUSTANI has created a theatre record by collecting 99,970/- in 11th week at Apsara, Meerut.
* RAJA HINDUSTANI has created a city record by collecting 1,01,239/- in 10th week at Babulal, Raipur.
* RAJA HINDUSTANI has created a city record by collecting 1,79,676/- in 8th week at Jyoti, Jabalpur. Total: 16,26,695/-.
* RAJA HINDUSTANI has created a theatre record by collecting 1,11,692/- in 10th week at Radha, Bhopal, and another record by collecting 85,018/- in 5th week at Jyoti, Bhopal.
* RAJA HINDUSTANI has created history in Rajasthan by collecting a total of 34,48,448/- in 10 weeks at Premprakash, Jaipur. Distributor's share in 10 weeks is 21,91,358/-!
* Some big films like JUDWAA, KOYLA, MRITYUDAATA and HERO NO. 1 have been already booked at Itarsi on fantastic terms.
* 1997 should be a crucial year for Bengal distributor Dr. Sunil Kumar. For, he has, besides other films, four big films due for release in West Bengal and Bihar this year. The big and costly projects are MRITYUDAATA, GUPT, AEY WATAN TERE LIYE and DIL TO PAGAL HAI (the last-named film is for Bihar only).
ANNOUNCEMENT & LAUNCHING
Mehul Kumar's 'Aey Watan Tere Liye' Launched With Fanfare
Mehul Movies P. Ltd.'s Aey Watan Tere Liye was launched on Jan. 23 at Filmalaya Studios in the presence of a huge gathering. Writer-director-producer Mehul Kumar's daughter, Jahan, switched on the camera, and music director Laxmikant performed the coconut-breaking ceremony as Dinesh Gandhi sounded the clapper-board for the inaugural shot. Amitabh Bachchan and Arshad Warsi performed on a specially erected stage with the Parliament forming the backdrop. Both of them performed a scene with some pre-recorded dialogue on the independence and the state of law and order in the country, being played in the background.
The film, which has story and screenplay by producer-director Mehul Kumar, co-stars Dimple Kapadia and Ranee Mukherjee. Music is by Nadeem Shravan and lyrics, by Sameer. Dialogues: Jalees Sherwani. Cinematography: Russi Billimoria. Editing: Yusuf Sheikh. Action: Shakoor Pathan. Audiography: Sarosh Italia. Art: Sunil Singh.
* * *
Nandu Tolani Announces 'Dada Thakur'
Producer Nandu G. Tolani has signed Amrish Puri to play the title role in Sapna Arts' Dada Thakur. To be directed by Jayprakash Shaw, the film co-stars Raakhee, Indra Kumar, Shakti Kapoor, Ashok Saraf, Laxmikant Berde, Tinnu Anand, Ajit Vachani, Tej Sapru, Tiku Talsania, Ahmed Sohail, Arjun and Jack Gaud. A female lead is to be finalised. It is written by Anwar Khan. Music by Anand Milind, lyrics by Sameer, cinematography by Harish Joshi, art by R. Verman, action by Mahendra Verma, editing by A. Muthu, and sound by Jagmohan Anand are the other major credits. The film will go on the floors in March.
3E
Education-Entertainment-Enlightenment
Exciting Entertainer
Boney Kapoor's Judaai has turned out to be an extremely entertaining film. Remake of the very successful Telugu film, Shubhlagnam, it boasts of a mind-blowing performance by Sridevi and a brilliant show of talent by Urmila Matondkar. Although Anil Kapoor does not have histrionics to perform, his role is as difficult as tight rope-walking and he carries it off with the ease of a veteran. Farida Jalal is yet another actress whose role and performance will be loved by ladies, never mind if it is not a very lengthy role. Comedy (of Johny Lever, Paresh Rawal, Kader Khan and, of course, Sridevi) is a major highlight of the film. In fact, Judaai can best be described as a David Dhawan kind of comedy but with a definite and strong story-line. Music is racy and the song picturisations, especially those on picturesque and hitherto unexploited foreign locales, are a treat for the eyes. Director Raj Kanwar and dialogue writer Jainendra Jain have both done a swell job in making Judaai an exciting and truly promising film.
The Best Of Saurashtra
Sooraj Barjatya was in Rajkot recently where he saw the Gujarati film, Oonchi Medi Na Ooncha Mol, and Raja Hindustani at Galaxy, the best cinema not only in the city but in the whole of Saurashtra. Rajeshbhai and Rashmibhai Patel's Galaxy cinema is equipped with digital Dolby sound. It screens Hindi films in the 12 noon and 3 p.m. shows and English films in the 6.30 p.m., 8.30 p.m. and 10.30 p.m. shows daily. Since there is more demand for tickets in the 3 p.m. show, the admission rates are hiked slightly in that show.
Republic Day Wishes From Raja Hindustani
Shringar Films, the Bombay distributors of Raja Hindustani, have got made special flags for the Republic Day. The flags will carry the film's logo and a picture from it, with the slogan, "Hindustan ko Raja Hindustani ka salaam". The flags will be distributed among the public as a publicity for the film.