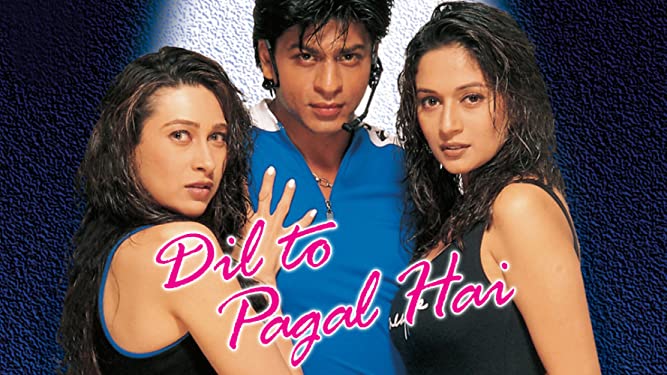 IT'S 3 CRORES
The audio cassettes of Yash Chopras's Dil To Pagal Hai have been released by HMV. And Yash Chopra has revealed the price at which he is selling the film to its distributors. It is reportedly 3 crore per major circuit.
LATEST POSITION
The initial excitement of DAUD gave way to dejection as the week progressed and saw its collections coming down drastically day by day. Even the energetic performances of Sanjay Dutt and Urmila Matondkar couldn't salvage the film.
Daud, after a flying start, crashed from 4th/5th day onwards. Even trimming mid-week couldn't better its weak sustaining power. It will entail heavy losses to distributors and exhibitors. 1st week Bombay 40,86,371 (89.89%) from 12 cinemas (11 on F.H.); Ahmedabad 11,70,782 from 8 cinemas, Vapi 2,39,621, Padra 1,52,476, Rajkot (matinee) 52,888, Jamnagar (matinee) 36,530; Pune 11,77,417 from 6 cinemas (1 in matinee), Solapur 3,18,461 from 2 cinemas, Satara 1,89,472 (80.13%); Hubli 100%, Belgaum 100%, Dharwad 100%; Delhi 39,53,387 (83.89%) from 10 cinemas; Kanpur 4,06,546 from 2 cinemas, Lucknow 2,46,637, Agra 3,51,360, Allahabad 1,66,000, Meerut 2,03,371, Bareilly 1,47,932 (67.37%), Dehradun 1,40,000, Gorakhpur 1,36,000 (74.62%), Varanasi 1,79,246; Calcutta 22,16,086 (56.32%) from 26 cinemas; Nagpur 6,03,041 from 5 cinemas, Amravati 1,70,523, Akola 1,65,055, Bhilai 1,59,129 from 2 cinemas; Indore 2,59,092 (2 on F.H.), Bhopal 3,53,153 from 2 cinemas; Jaipur 8,52,217 from 4 cinemas, Jodhpur 2,25,000, Bikaner 2,13,244; Hyderabad 56,81,026 from 25 cinemas, share 31,00,000; Vijayawada 5,33,000 from 3 cinemas, Guntur 1,10,000 from 2 cinemas, Venali 97,000, Ongole 1,53,000, Eluru 98,000, Bhimavaram 1,10,000.
…Aur Pyar Ho Gaya will entail losses to the tune of a crore and more per major circuit. 2nd week Bombay 14,41,452 (65.49%) from 5 cinemas (8 on F.H.); Ahmedabad 1,22,202 from 2 cinemas (1 unrecd.), Baroda 1,09,921, Jamnagar 66,814; Pune 3,87,185 from 4 cinemas (2 in matinee), Kolhapur 60,226, Solapur 60,844; 1st week Hubli 1,06,956 (69.20%); 2nd week Delhi 26,39,886 from 10 cinemas (1 on F.H.); Kanpur 1,52,202 from 2 cinemas, Lucknow 1,70,770, Agra 1,10,380 (1st 2,18,711), Meerut 87,434, Dehradun 70,152, Gorakhpur 69,000, Varanasi 91,758; Rohtak 15,756 (1st 29,238); Calcutta 3,41,052 from 2 cinemas; Nagpur 51,540, Jabalpur 1,08,563, total 2,93,485, 1st week Akola 84,329, 2nd week Bhilai 36,400; Indore 1,24,225, Bhopal 1,38,601 from 2 cinemas; Jaipur 1,85,480, Bikaner (26 shows) 86,732; Hyderabad 4,41,034 from 3 cinemas (2 in noon).
Mere Sapno Ki Rani is steady on mediocre collections in parts of Maharashtra and Bihar, but is a total loss in North. It will entail heavy losses to third parties/exhibitors who paid handsome terms. 2nd week Bombay 7,09,095 (53.87%) from 4 cinemas (5 on F.H.); Ahmedabad 86,930 from 2 cinemas, Vapi 98,998, Rajkot (14 shows) 94,828; Pune 2,63,357 from 3 cinemas (1 in matinee), Solapur (matinee) 55,476; Hubli 37,845 (32.67%, 1st 70,990); Delhi 1,74,940 from 4 cinemas (2 on F.H.); Kanpur 34,703, Lucknow 39,586, 1st week Agra 71,384, 2nd week Allahabad 24,000; Calcutta 1,89,014; Nagpur 84,215 from 2 cinemas, Amravati 87,282, Akola 41,000, Bhilai 38,167, Durg 41,722, Jalgaon 53,700, Wardha 27,501; Indore 63,272, Bhopal 62,902 (1st 79,089); Jaipur 52,153; Hyderabad 2,06,118.
Pardes, as predicted three weeks back, will prove to be a commission-earner in most circuits and average in a couple of them. 3rd week Bombay 20,11,463 (83.78%) from 7 cinemas (8 on F.H.); Ahmedabad 3,78,403 from 2 cinemas (1 unrecd.), Vapi 2,03,016, Bharuch (gross) 1,72,640, Rajkot 1,78,000, Jamnagar 78,760, total 2,36,811; Pune 4,54,935 from 3 cinemas (1 in matinee), Kolhapur 1,60,000, Solapur 1,45,000, Satara 92,783; Delhi 20,07,281 from 7 cinemas; Kanpur (6 days) 1,89,365 from 2 cinemas, Lucknow 2,37,768, Agra 1,28,460 (2nd 1,85,714), Allahabad 93,500, Meerut (6 days) 1,40,712, Bareilly (6 days) 63,788 (2nd 1,31,303; 50.53%), Dehradun 1,12,000, Gorakhpur 75,000, Varanasi 1,11,397; Calcutta 5,73,196 from 4 cinemas (1 in noon); Nagpur 1,67,567 from 2 cinemas, Jabalpur (6 days) 96,485 (2nd 1,44,532), Amravati (6 days) 85,917, Akola 1,00,651, 2nd week Dhule (6 days) 57,383, 3rd week Bhilai (6 days) 64,401, 2nd Jalgaon 1,12,083; 3rd week Bhopal 1,01,151, Ujjain 42,293; Jaipur 1,83,243; Vijayawada 1,95,533, total 7,90,651.
…………
RAJAT RAKSHIT DEAD
Director Rajat Rakshit died of acute asthama on 27th August at Cooper Hospital, Irla, Bombay. He was 55 and a bachelor.
He had directed Damaad, Bin Phere Hum Tere, Rakt Bandhan, Yahan Wahan, Naya Khoon, Meri Biwi Ki Shadi, Ruswai and Faraib.
MAJOR RENOVATION AT GANGA-JAMUNA CINEMAS OF BOMBAY
Ganga and Jamuna cinemas at Tardeo, Bombay, are being extensively renovated by owner Gul Achhra. They will be equipped with Dolby digital sound and will be now called Ganga Palace and Jamuna Palace.
Jamuna Palace will screen The Lost World: Jurassic Park (dubbed) from 5th September, and Ganga Palace, Judge Mujrim from 12th September. Both the films are being distributed in Bombay (the former in Bombay city & suburbs only) by Gul Achhra himself.
The cinemas have a facility for parking about 150 cars.
IN DEFENSE OF STARS
A large number of national and regional newspapers and periodicals have written a lot about the nexus of film people and the underworld. Mumbai politicians and police officers are blaming the film industry for taking finance from the underworld. The truth is that most politicians have close links with the underworld, and police is deliberately overlooking the unholy alliance between politicians and criminals. Police have no courage to accept that they have been under tremendous pressure. An old allegation against the film people is that some of them have been friendly with Dawood and they used to sing and dance in his parties held in Dubai. Photographs of the stars with Dawood, taken at Sharjah cricket stadium, have been repeatedly published. It is a fact that most stars have to pose with strangers and it is part of their profession. Today, it is being conveniently forgotten that once there was a video cassette depicting top politicians and police officers hobnobbing with notorious criminals. The most horrifying truth is that every small town has a don, and most people pay their respects to the local don. The street goondas also get respect and money from their area. In every small town and village, criminals are patronised by politicians. It is a well-known truth that politicians were the first to make use of criminals in election campaigns. Top people from the Election Commission have deplored the nexus between politicians and criminals. There are criminal cases against forty Members of Parliament. Criminals have invaded every aspect of life, and India has become a haven for criminals. There is an excellent scene in Rajkumar Santoshi's Ghatak where Sunny advises his brother to fight for the shop in Mumbai. The elder brother wanted to go to his native place to cultivate land. Sunny says that there are criminals in the native place also. "If you do not fight against them in Mumbai, you will not be able to fight against them at Banaras." The naked truth is that the entire nation is in the grip of fear. Everyone feels the presence of the invisible knife hanging in air over their heads. Dons are born from the womb of fear. When such is the state of affairs in the country, why blame the poor film stars for being friendly with the underworld?
There may be more than a lakh rich people in Mumbai alone, who can buy the entire film industry, but the underworld does not touch them because they know that any single real rich man can destroy the very politician who patronises them. Film people have no such muscle power. Stars are a frightened lot. They are lonely and miserable.
There is one area of closeness between stars and criminals. Most of the criminals have been ardent fans of stars and some of them wished to become stars when they were young. All of them are film-crazy people. When they attain enough muscle power, they manage to get stars to attend their parties. The neo rich from small towns pay a lot of money to the stars to inaugurate their offices and industries. No one minds this trend but everyone objects to stars attending birthdays of a don. Politicians also use the whip of income-tax to get stars at their residence. Most stars take part in election campaigns because of some fear. Police and politicians are seeking scapegoats in stars to hide their own failure and unholy alliance with criminals.
Today, India is like a masala film based on a script written by spineless politicians. Let's hope, India rises above the script in the 21st century.
– J.P. Chowksey
Prachi Films,
Indore
YOU ASKED IT
Has audience taste changed in the last few years or is it the same?
– It has definitely changed. The audience is now receptive to newer subjects. What used to earlier click in just major cities, now appeals to the cinegoer in a small town also.
When should an artiste venture into doing a film which has a role which is not quite in keeping with his public image?
– Only when he has been accepted completely by the public and at least his last two or three films (in which he plays roles suited to his public image) have clicked.
What are the average theatre rentals in Bombay city and suburbs?
– About 35% of capacity in side-cinemas and 50% in main cinemas.
HERE & THERE
Shabana Goes To Rajya Sabha
Shabana Azmi is the latest star to become a Member of Parliament. She is among the nine who have been nominated to the Rajya Sabha by the President. Shabana, who has been recognised by the world as an actress of international standard, has won many national and international awards, worked as the chairperson of the N'CYP and is a social activist engaged in fighting for the rights of the downtrodden, will not be just a decorative piece in the Rajya Sabha as she has a mind of her own and is also outspoken.
The swearing-in ceremony of the new Rajya Sabha members was held on 29th August in Delhi. Mrinal Sen was sworn in that day but Shabana could not attend the ceremony in Delhi.
Filmmakers Demand Industry Status
A seminar on 'The film industry's expectations and government policy framework' was organised on 23rd August as part of the Films Fair '97, and a number of industry stalwarts as well as government officials participated in it. The filmmakers demanded recognition for filmmaking as an industry, and steps to mitigate its problems. It was emphasised by the industry speakers that the film industry was going through probably its toughest and trying period in its 100 years' old history and the government should lend a helping hand to help it tide over the crisis. IMPPA president Sultan Ahmed asked the state and central governments to return part of the money earned through taxes on films, to the industry for the development of infrastructure facilities. He denied that there was any nexus between the film industry and the underworld. Only a few have connections with them, he said. AMPTPP president Pahlaj Nihalani expressed his unhappiness over the functioning of the Censor Board. He said that more often, personal biases and prejudices were at work when a decision was being taken. M. Bhaktavatsala from Karnataka was critical of the NFDC, which, according to him, had been usurped by a handful of directors while majority of the producers were being neglected. He also criticised the high rates of taxes and entertainment tax. ITPO chairman K.K. Mathur said that ITPO would try to act as a bridge between the industry and the government.
The seminar was jointly organised by ITPO and Federation of Film Societies of India.
Reshma Blames Indian Composers For Plagiarising Tunes
It was late Nusrat Fateh Ali Khan first. Now is the turn of Reshma, the Pakistani singer who is in India these days and whom Subhash Ghai had introduced to Indian film music lovers in his film, Hero, with the song Lambi judaai. Reshma was in Patna this week, where she told the press that some of her best tunes had been dubbed in Hindi films without any acknowledgement. She said that Lata's Yaara sili sili from Lekin was lifted from her 28-year-old song. She also blamed Lata for singing the 'lifted' song. Reshma rendered that song at a concert in presence of Bihar's chief minister, Rabri Devi.
IN & OUT OF BOMBAY
Producer Pravesh Sippy is in Africa to scout locations for SILSILA HAI PYAR KA, and will return after 10 days.
Producer-director Subhash Ghai is in Australia.
Director Aditya Chopra, Bombay exhibitor-distributor Anil Thadani and director Karan Johar will go to London on 1st September.
CCCA president Santosh Singh Jain is in Indore and is expected back in a day or two.
Actress and stage artiste Mini Tabassum left for the USA for stage shows on 27th August and will return on 1st October.
DO YOU KNOW?
* Shri Krishna Talkies at Seoni Malwa (M.P.) must be the only cinema in the country which celebrates the birth of Lord Krishna every year along with its patrons. Every year, at the stroke of midnight when Krishna was born on Janmashtami, the cinema stops the screening of the film for a while and distributes prasad among the patrons. The cinema also has a Krishna temple in its premises, where a pooja is done at 12 midnight on Janmashtami.
* DAUD has created a theatre record by collecting 2,26,176/- in 1st week at Shree, Ahmedabad.
* BORDER has created a record by collecting 51,700/- in 11th combined week at Palace, Allahabad.
* BORDER (tax-free) has created a city record by collecting 72,105/- (against a capacity of 80,318/-) in 1st week at Shashikant Chitra Mandir, Karanja (C.P. Berar), despite heavy rains.
* ANACONDA (dubbed) has created a city record by collecting 60,004/- in 1st week at Rajkala, Wardha, in spite of heavy rains.
MIX MASALA
WHAT'S IN A NAME?
Believe it or not but many people in the industry refer to …Aur Pyar Ho Gaya as Aao Pyar Karen. And there are many who call Virasat as Hirasat!
EARTHY COINCIDENCE
In this week's release, Prithvi, Sunil Shetty's name is Prithvi. And in real life, Sunil lives in Prithvi Apartments on Altamount Road. Why, he has bought another flat in the same building from Bombay distributor Ashok Ahuja.
WHAT'S IN A NAME?
Believe it or not but many people in the industry refer to …Aur Pyar Ho Gaya as Aao Pyar Karen. And there are many who call Virasat as Hirasat!
Dream Merchant
WATER DREAM……..WHAT A DREAM!
Last Friday's torrential rains which lashed Bombay city and threw it completely out of gear caught me in my dream the following night.
I dreamt about the entire Bombay film industry battling with the rain water. The more enterprising ones were enjoying themselves in the downpour.
Aamir Khan, who could barely keep his face out of the waist-deep water outside his house (it was waist-deep for me and, therefore, more than neck-deep for 'shorty' Aamir), was struggling to reach his car parked outside his compound. Drenched in the rain from the top and the water below, he managed to hold a picture of Karisma Kapoor in his right hand and an imported umbrella in his left, as he sang loudly, "Pardesi pardesi nahaana nahin / Mujhe chhod ke, mujhe chhod ke / Pardesi mere yaara, vaada nibhana / Tum yaad rakhna, kahin doob na jaana / Pardesi pardesi…."
Just nearby, Urmila Matondkar, clad in a skimpy bikini, was getting down from her Maruti Zen which had a breakdown in the water-clogged road. Umbrella-less, she waved out to her umbrella-clinging Rangeela hero and wondered aloud, "Why don't you dress up like me? Na rahenge tan pe kapde, na honge geele!" But looking at Aamir singing away to himself, Urmila also broke into a song, asking Aamir to join her thus: "Yayee re, yayee re, baarish zor zor se aaye re / Chal ho jaa mere sang, thoda sa be-dhang / Ho jaa geela re, ho jaa geela re…" Waving goodbye to an unwilling Aamir, she said, she had to reach Gaiety cinema for the first-day-show of Daud.
Outside Gaiety cinema, producer-director Ramgopal Varma stood expectantly as boat-loads of people came to see Daud. He was waiting for his Bombay distributor Shyam Shroff who had promised to be with Ramgopal (Ramu) at 11.30 a.m. It was almost 2 p.m. and I don't know whether Ramu was crying at the poor public reaction or because he was missing Shyam Shroff. Or was it the rain water rolling down his cheeks and not tears? Anyway, Ramu too started singing a song, "Rain-a beeti jaaye / Shyam na aaye / Rain-a beeti jaaye…"
Barely had he started the song than Shyam Shroff arrived on the scene with a bag full of bottles of Ganga jal which he had bought some time back for distribution among patrons of Lav Kush before the start of every show at Maratha Mandir, Bombay. Since nobody came to see Lav Kush, the Ganga jal remained unused. Aware that people found Daud vulgar, Shyam Shroff had decided to distribute Ganga jal among the viewers after every show to cleanse them and their minds. When he told Ramu of his plan, the latter felt insulted. Pointing to the rain water dropping into the open bottles of Ganga jal, Ramu remarked, "Shyam, teri Ganga maili ho gayee." Just then, Urmila — her face soiled and her wet hair dishevelled — reached the cinema. To get back at Ramu, Shyam Shroff shot back, "Ram, teri Urmi maili ho gayee."
I cornered Ramu and asked him what his next film would be. Drawing inspiration from the wet atmosphere, he replied, "It will be called either Geela or Rain-Geela. And since I'm accused of exposing my heroines in my films, I'll not do anything of the sort in this film. That's why, it will be the hero taking bath in the rains this time. And like my Satya is a songless film, Geela/Rain-Geela will be a heroine-less film."
Just then, I saw Shekhar Kapur in a wet Digjam suitings coat, in conversation with Bobby Bedi. "Shekhar, why this long absence?", I asked him. "When are you starting your next? What's it about?" Slow-coach Shekhar, as usual, was undecided. "Wet and watch," he winked.
Watch I did. At Lokhandwala bazaar, I was astonished to see Sridevi buying vegetables from a roadside vendor, her teeth chattering because of the cold water in which she was standing. She was making an attempt to talk in shudh Hindi under hubby Boney's instructions, and on reaching home, she told hubby — in shudh Hindi again — "Dekhiye jee, main to paani-paani ho gayee!" Boney buried his face in his hands and wanted to drown in the rain water at such atrocious Hindi.
BBC News on television came up with a sensational bit of news. Away in Bangalore, Mandakini was throwing a fit at being left out of the rain drama in Bombay. She telephoned Rishi Kapoor and begged of him to sign her for his directorial venture. She reminded Rishi of how she had boldly done the waterfall bathing scene in his father Raj Kapoor's Ram Teri Ganga Maili. Sentimental Rishi agreed to drop Aishwarya Rai and take Mandakini in her place. Packing her bags with bikinis, Mandakini told her mom, "Aa ab laut chalen."
Rajiv Kapoor too decided on that wet Friday that he should return to direction after the long holiday. "So what if Prem Granth did not run," he told elder brother Randhir Kapoor. "I'll make Rain Granth this time. And I'll make it in collaboration with BMC. The Brihanmumbai Municipal Corporation (BMC) will give me a lot of data on the rains in Bombay, down the centuries. People felt, Prem Granth was too dry, so, I've even chosen a wet title this time."
Time took me to the office of Time Audio-Video. The Vijaypath makers were planning to announce Paanipath. No, it had nothing to do with the water-laden paths in Bombay. Rather, it was based on the battle of Panipat. The 'h' and extra 'a' in the title were purely for numerological reasons.
Numerology had me meeting producer Vashu Bhagnani who is obsessed with the number 1. Had the rains inspired him to announce another No. 1 film, I asked. "Yes," he smiled, "Before Biwi No. 1, I plan to make Paani No. 1. The film will deal with water and related problems. It will star Govinda and will be shot completely in water." Oh, a desi Waterworld, I suppose. "It will be a watershed film," said an excited Vashu.
Suddenly, I heard Baba Sehgal singing a familiar song. He was gesticulating to Sheeba and the song went, "Aaja mere paani mein kood ja / Aaja mere paani mein kood ja / Swimming karenge / Dance bhi karenge / Gaana bajaana, khaana-peena paani mein hoga sanam…"
Anil Kapoor had to show his sincerity even on the rainy day. His driver was rowing a boat in which he was going towards Film City. Apparently, the boat had lost direction and a forlorn Anil was singing, "O majhi re, apna kinara…. Film City ka temple hai / O majhi re…"
At Film City, Salman Khan was shooting a rain song for brother Sohail Khan's Pyar Kiya Yo Darna Kya. His heroine, Kajol, had not reached the location, and the shooting was held up for a while. Sohail's fertile brain, during the forced interval, thought of a sequel to the film. It would be titled Paani Gira To Karna Kya.
On another floor, Akshay Kumar was barely able to give his shot because the water had reached the tall hero's neck. I was scared, Akshay would drown. As it is, his films were sinking, I thought, and it would be terrible if the poor guy also drowned. Luckily, a taller and skinny Kamal Sidhu was shooting on the maidan in Film City and I requested her to get Akshay out of the water which she did. Doobte ko Thin K (Kamal) ka sahara mil gaya and I was happy.
On a set in Film City, Priya Teudulkar was shooting the 100th episode of The Priya Tendulkar Show. She had clinched the opportunity and had selected the topic 'Should there be rains in Bombay?' for the century episode. On the panel were Rain God Lord Indra, head of the meteorological department, and Sachin Tendulkar whose cricket was damper than the rains.
Producer R.V. Pandit had managed to reach the censor office despite the blocked roads, and was seen arguing with the soaked-in-rain regional officer who refused to issue a censor certificate to his Train to Pakistan. Maintaining his cool, despite all odds, Pandit informed me, "I am planning two more films now — Plane To Afghanistan and Rain From Pakistan. Khushwant Singh firmly believes that these torrential rains have been master-minded by our enemy, Pakistan."
Rahul Rawail had just returned from London from the shooting of London and had managed to reach a far-off cinema screening his …Aur Pyar Ho Gaya to gauge the public reaction. He was in for a shock because there was no public, what to talk of reaction. "I'm sure, people haven't come because of the rains," he said, trying to hide the tears that threatened to come out of his eyes. Continuing his brave act, he sighed, "Oh, I thought, my film would at least be a Barsaat and I'm sure, it had the chances, but the rains have spoilt everything. I was looking forward to telephoning hero Bobby Deol in London today to give him the good news that the film Barsaat ho gayee, but look, I'll now have to tell him that real life mein. …aur barsaat ho gayee."
Amitabh Bachchan was frantically waving out to the stray cabs plying in the waist-deep water on Juhu Tara Road, but nobody was willing to stop. He had come out of his director, Mehul Kumar's office, and his car refused to take off — in much the same way as his Mrityudaata had refused to take off. I thought, I'd chat up with him and swam across the road. "Where are you going? How have the rains affected you?", I queried. With a fallen face, Amitabh replied, "It's terrible. Meri company, ABCL, doob gayee." Of course, I knew that, but what had the rains got to do with the company's doobna? I asked him, "Doob gayee — figuratively speaking, isn't it? "Yes, figuratively speaking," he replied, "because all the figures of my creditors bhi saath mein doob gaye!"
– Komal Nahta
3-E
Education-Entertainment-Enlightenment
Of Content And Form
Although Pardes did not boast of a very exciting start, its collections became steady as the weeks progressed. On the other hand, Daud opened to bumper houses everywhere but collections began to drop day by day. This, in sum, describes the fate of, what we say, a grammatically correct film (Pardes) and grammatically incorrect film (Daud). The former had substance, the latter was rich in form but poor in content.