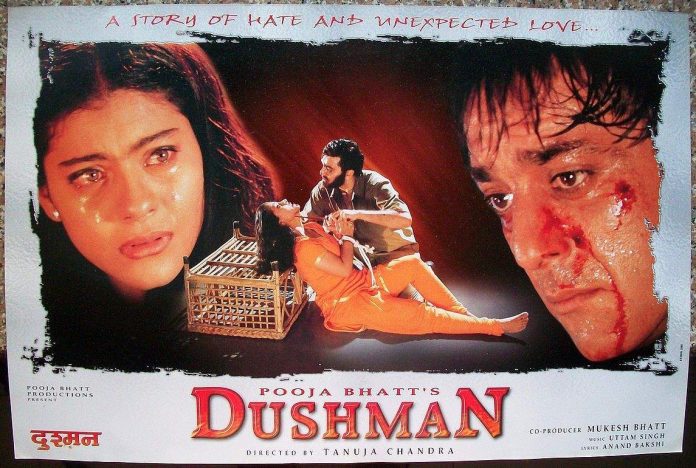 DUSHMAN
Pooja Bhatt Productions' Dushman (A) is the story of a girl who avenges the rape and murder of her twin sister. While her family is too scared to confront the rapist-cum-murderer, and the police plead helplessness is arresting him, the girl decides to finish the villain off. She is aided in achieving her goal, by a blind army officer.
The film, inspired from the Hollywood film Eye For An Eye, has an exciting and interesting first half. The audience keeps getting more and more involved in the drama as it unfolds. Some scenes (like the girl's rape even while her sister is aware that something terrible is happening but finds herself in a helpless situation) have such a lovely impact that they even shock the viewer. But the drama becomes dull after interval as the story tries to accommodate the romantic track. Besides, there are far too many convenient twists and turns in the story post-interval. For instance, although the police keep a close vigil on the villain, he refuses to mend his ways. In the end, he even walks into the trap laid by the girl, without so much as even bothering about verifying if he was being trapped.
Kajol gives an award-winning performance in a double role. She is simply splendid as the shaken sister (after her twin's death) and the avenging angel. Not once does she go overboard and she carries the film on her shoulders with effortless ease. Sanjay Dutt, in a guest-like appearance, is average. Jas Arora looks good but gets very little scope. Ashutosh Rana is marvellous as the villain. He delivers a performance that is mind-blowing. Tanvi Azmi acts ably. Pramod Moutho is fair. Kunal Khemu leaves a mark. Baby Varsha, Naresh Suri and the others lend good support.
Tanuja Chandra makes an impressive debut as a director; her shot takings are like those of a seasoned director. But the screenplay (by Mahesh Bhatt and her) is not very consistent. Girish Dhamija's dialogues are lovely. Music (Uttam Singh) needed to be more peppy and much better. 'Awaz do humko' and 'Pyar ko ho jaane do' are the better numbers. Song picturisations are ordinary and a couple of them even break the flow of the story. Camerawork (Nirmal Jani) is excellent. Action scenes are well composed. Climax is not very exciting. Technically, very good. Background music is appropriate.
On the whole, Dushman has a tight first half but a dull second half. It has excellent performances by Kajol and Ashutosh Rana but it gives no scope to the hero. With average music and lack of repeat value, the film finally emerges as one mainly for cities, that too, of Maharashtra and South. It may, however, find the going tough in U.P., East Punjab and Rajasthan. Tax exemption can help.
Released on 29-5-'98 at Novelty and 19 other cinemas of Bombay thru Veekay Enterprises. Publicity: very good. Opening: good. …….Also released all over. Opening was quite good in Delhi, Nizam and Mysore, below the mark in U.P. and rather dull in Rajasthan.
SHAM GHANSHAM
Suneha Arts' Sham Ghansham is the story of two boys who are not brothers but are brought up by the same woman, the mother of one of the two boys. The other boy is the son of the villain who, incidentally, is the murderer of the first boy's father. The villain is unaware that his wife had delivered a baby boy before dying in the hospital and had given the new-born's custody to the other woman, asking her to keep the child away from the murderer. The villain is daggers drawn with the two boys (when they grow up) and even wants to shoot them (for a reason which is not very strong). It is then that the mother challenges the villain to shoot the boys dead and reveals that one of them is his own son. The villain then yearns to know which one of the two boys is his. His wish is fulfilled when he is dying. But before that, the two boys attempt to seek revenge on the villain for having murdered their mother/guardian's husband. That is to say, the son of the villain is also out to seek revenge.
Although the story is new, there's no meaning to the novelty because the audience isn't really interested in knowing who is who's son. A major reason for this lack of interest is the uninteresting turns and twists in the story and the conscious, though feeble, attempt to make the drama look like an exciting suspense drama. Even after the suspense is revealed, no major purpose is served. Screenplay is quite weak. What's more, either the editor seems to have forgotten his job or the director seems to have not allowed the former to use the scissors judiciously. Scenes are lengthy and repetitive. Some emotional scenes touch the heart. Comedy is dull.
Raakhee does a good job. Chandrachur Singh is average and so is Arbaaz Khan. Priya Gill hardly leaves a mark. Pooja Batra is worse still. Amrish Puri performs with conviction. Bindu is fair. Bhupinder Singh passes muster. Gufi Paintal, Vikram Gokhale, Rohini Hattangady, Raju Kher and the rest lend average support.
Direction is ordinary. Director Ashok Ghai has been able to neither make the drama exciting nor involve the audience. Of the songs, 'Aandi ae jaandi ae' is quite well-tuned. 'Mitwa re' is alright. Song picturisations are routine; none of the four lead players can dance even reasonably gracefully. Camerawork is good. Production and technical values are alright.
On the whole, Sham Ghansham has hardly any merits and, given the dull start, it may remain a non-starter.
Released on 29-5-'98 at Minerva and 15 other cinemas of Bombay thru V.I.P. Enterprises. Publicity: fair. Opening: poor. …….Also released all over.
LATEST POSITION
It was a normal week, but the heat is adversely affecting box-office collections.
Jab Pyaar Kisise Hota Hai has done well mostly in good cinemas of major cities only. 1st week Bombay 38,01,506 (82.80%) from 9 cinemas (6 on F.H.); Ahmedabad 91,717 (4 cinemas unrecd.), Jamnagar 1,24,169 from 2 cinemas (1 in matinee), Adipur 1,16,857; Solapur 2,14,390 from 2 cinemas; Delhi 26,91,955 (86.02%) from 7 cinemas (1 on F.H.); Kanpur (6 days) 2,65,669 from 2 cinemas, Lucknow (6 days) 2,44,601, Allahabad 1,04,500, Bareilly (6 days) 1,22,126 (63.30%); Calcutta (6 days) 17,55,199 from 11 cinemas (19 cinemas were either on F.H. or their collections were not revealed); Nagpur 4,40,441 from 3 cinemas, Jabalpur (6 days) 1,24,135, Akola 1,26,660, Chandrapur 1,73,804; Bhopal (6 days) 2,53,286 from 2 cinemas; Jaipur 6,83,827 from 4 cinemas, Udaipur 2,10,215; Hyderabad 25,30,438 from 14 cinemas (1 in noon), share 12,70,088.
Mard is poor at most of the centres. 1st week Bombay 18,55,792 (52.52%) from 12 cinemas (5 on F.H., 3 unrecd.); Ahmedabad 1,92,990 from 3 cinemas (3 cinemas unrecd.), Rajkot 51,000; Delhi 19,09,183 (49.56%) from 10 cinemas (1 on F.H.); Kanpur 1,33,272, Lucknow 79,896, Allahabad 56,000, Varanasi 64,782, Bareilly 85,161 (39.41%); Amritsar 54,540; Calcutta (6 days) 7,84,498 from 11 cinemas (11 cinemas were either on F.H. or their collections were not revealed); Gaya 65,000; Nagpur 1,65,749 from 3 cinemas, Amravati 1,12,942, Dhule 59,552, Raipur 1,13,003; Bhopal 1,08,708 from 2 cinemas; Jaipur 2,90,318 from 2 cinemas, Jodhpur 2,23,000; Hyderabad 7,02,927 from 9 cinemas (3 in noon).
…………
Jeans (dubbed) 2nd week Bombay 12,29,732 (57.69%) from 4 cinemas (3 on F.H.); Baroda 1,07,967; Solapur (14 shows) 1,18,110; Delhi 4,58,802 from 2 cinemas; Kanpur 32,658, Lucknow 99,603, Allahabad 32,500, Varanasi 20,252; Calcutta (6 days) 1,22,328; Nagpur 93,677, 1st week Jabalpur (25 shows) 89,511, 2nd week Amravati 56,666, Akola 92,560, total 2,05,500; Indore 71,253 (1 on F.H.), 1st week Bhopal 62,948; 2nd week Jaipur 1,37,069; Guntur 3 weeks' total 5,37,200, Tenali 3 weeks' total 3,84,125, Ongole 3 weeks' total 4,18,000.
Duplicate 3rd week Bombay 16,08,945 (44.26%) from 9 cinemas (5 on F.H.); Ahmedabad 1,18,772 (2 cinemas unrecd.), Rajkot 93,493; Solapur 60,764; Delhi 8,67,606 from 5 cinemas (1 on F.H., 1 unrecd.); Kanpur 1,41,114 from 2 cinemas, Lucknow 1,98,585, Varanasi 95,868, Bareilly 26,311 (13.23%), Hardwar 20,000; Calcutta (6 days) 4,78,975 from 3 cinemas; Nagpur 59,895 from 2 cinemas, Jabalpur 75,055, total 3,91,403, Amravati 71,986, Akola 41,244, total 2,94,618, share 2,12,000, 1st week Dhule 72,675, 3rd Raipur 51,011, total 3,47,730; Indore 1,33,045, Bhopal 50,532; Ajmer 51,867; Hyderabad 5,52,238 from 3 cinemas (1 in noon).
Chhota Chetan (partly dubbed, revived, 3-D) 6th week Bombay (TF) 19,79,761 (92.85%) from 3 cinemas (3 on F.H.), excellent; Ahmedabad 1,45,927, Rajkot 82,910; 4th week Solapur (TF) 69,967; 6th Delhi (TF) 14,41,154 from 3 cinemas; 1st week Amravati (TF) 1,69,476; 2nd week Hyderabad 4,24,552.
Titanic (English) 12th week Bombay 24,54,685 from 6 cinemas (3 on F.H.); 5th week Ahmedabad 1,88,710; 11th week Delhi 9,06,489 from 3 cinemas; 3rd week Kanpur 1,24,895, 5th week Lucknow 1,99,271; 12th week Calcutta (6 days) 3,37,707; 4th week Nagpur 2,12,083, 1st Amravati 1,56,144; Indore 2,29,682 (1 on F.H.), Bhopal 1,98,428; 2nd week Jaipur 3,68,213.
SUBHASH GHAI'S STUDIO INAUGURATION
Subhash Ghai's shooting and post-production studio, Audeus, will be inaugurated on 31st May. Located at plot no. A/18, off Link Road, opposite Laxmi Industrial Estate at Andheri (W), Bombay, it is equipped with state-of-the-art Fairlight MFX 3 Plus Digital audio workstation. The entire studio, including the shooting floor, is air-conditioned. Phone no.: 632-0937.
APARESH LAHIRI DEAD
Noted singer and music director Aparesh Lahiri, father of music director Bappi Lahiri, expired on 28th May in Bombay at Jaslok Hospital. He was 74. He had scored music and rendered songs for about 100 Bengali and Hindi films. The first Hindi song he rendered was for Kathputli. His most popular number was the Bengali national song, Ek baar biday de ma, sung by Lata Mangeshkar.
Aparesh Lahiri had bagged the government's Rajat Kamal award for his music in the Hindi-Bengali film, Subhas Chandra Bose. He is survived by his son, Bappi, his daughter-in-law, grandson and grand-daughter.
Shradh ceremony will be held on 7th June (Sunday) at 10 a.m. at Lahiri House, plot no. 4, Hatkesh Nagar, JVPD Scheme, Bombay.
RAJESH VAKIL DEAD
Director Rajesh Vakil, son of late producer-director Nanubhai Vakil, passed away on 22nd May in Bombay following an illness. He was 49.
Rajesh had worked as an associate director in films like Aaj Ka Arjun and Teri Meherbaniyan. He had directed Mere Sajana Saath Nibhana, starring Mithun Chakraborty and Juhi Chawla.
He is survived by his wife and a son.
NUPUR CINETORIUM OPENS IN AURANGABAD
Smita Thackeray inaugurated Nupur Cinetorium in Aurangabad on 22nd May. Guardian minister Chandrakant Khaire, Jackie Shroff, commissioner of police of Aurangabad, Joshi, and ex-MP Pradeep Jaiswal, besides distributors of Nizam and local exhibitors, were present at the opening of the fourteenth cinema in the city, with Jeans.
Rajesh Patel and Sushma Patel, directors in the cinema, welcomed the guests. The cinema has 1,130 seats and is equipped with DTS Ultra Stereophonic sound system.
'DTPH' TAX-FREE IN MAHARASHTRA

Yash Chopra's Dil To Pagal Hai, which won the award for the best popular film of 1997 providing wholesome entertainment, has been granted perpetual tax exemption by the Maharashtra government.
UNCANNY COINCIDENCE
On the same day and around the time music maestro Laxmikant breathed his last was scheduled the first trial of the first copy of one of Laxmikant-Pyarelal's last films, Manoj Kumar's Jaihind. The trial, scheduled for 2.30 p.m. at Sumeet, started a bit late. And even as the viewers enjoyed the melodies of L-P inside the preview theatre, little did they know that one of the two geniuses behind the lovely tunes had passed away a little while ago.
Laxmikant Bids 'Bye
Even six days after music maestro Laxmikant bid farewell to the world, the news of his death seems unbelievable. Maybe because the composer, who scored music with Pyarelal in over 490 films, is still alive through the great legacy of almost 5,000 songs he has left behind. Or maybe because Laxmikant-Pyarelal were like one single person, the one inseparable from the other. Or because Laxmikant's smiling face is almost impossible to wipe out from the memory, and it comes before your eyes the moment you think of the music wizard. But the fact is, the great music director is no more. He breathed his last around 2 p.m. on 25th May at Nanavati Hospital in Bombay where he had been admitted a few days back for cancer of the prostate and kidney failure. His condition continued to cause concern to his near and dear ones and a slight improvement on 24th was hardly any consolation.
Born in 1934 on Diwali day, Laxmikant got his name from the festival of lights on which day the Hindus pray to Goddess Laxmi. For many years till the Diwali of 1997, Laxmi-ji, as he was fondly called, used to throw a party on Diwali night, inviting his friends to enjoy with him.
The first film for which Laxmi-Pyare scored music was Parasmani, released in 1963. Both, the film and their music, became big hits, and the music duo became overnight celebrities. With a sound training in music and having assisted Shanker-Jaikishen, Naushad and Kalyanji-Anandji, the team churned out one captivating melody after another. If their songs Bindiya chamkegi from Do Raaste or Saawan ka mahina from Milan could gladden the heart, their melancholic numbers like Jaanewalon zara from Dosti or Khilona jaan kar tum to from Khilona could also moisten the eyes of the listener. Whatever the mood of the song, the duo came up with brilliant tunes and remained the undisputed kings in the music world for three decades.
Hansta hua noorani chehra (Parasmani), Jyot jagate chalo (Sant Gyaneshwar), Suno sajna, papeehe ne (Aaye Din Bahaar Ke), Mast baharon ka main aashique (Farz), Dil vil pyar vyar main kya janoon re (Shagird), Maar diya jaaye ki chhod diya jaaye (Mera Gaon Mera Desh), Vaada tera vaada (Dushmun), Patthar ke sanam tujhe humne (Patthar Ke Sanam), Jhilmil sitaron ka aangan hoga (Jeevan Mrityu), Aap aaye bahaar aayee (Aap Aaye Bahaar Aayee), Chal chal chal mere haathi (Haathi Mere Saathi), Dheere dheere bol koi sun na le (Gora Aur Kala), A B C D chhodo (Raja Jani), Ek pyar ka naghma hai (Shor), Hum tum ek kamre mein bandh ho and Jhooth bolay kauva kaate (Bobby), Ab chahe maa roothe ya baba (Daag), Kabhi khole na tijori ka taala (Bidaai), Gore rang pe na itna gumaan kar (Roti), Main na bhooloonga (Roti Kapada Aur Makaan), My name is Anthony Gonsalves (Amar Akbar Anthony), the title song in Satyam Shivam Sundaram, Chalo re doli uthao kahaar (Jaani Dushman), Dafliwale dafli bajaa (Sargam), Sheesha ho ya dil ho (Aasha), Om Shanti Om (Karz), Tere mere beech mein kaisa hai yeh bandhan anjaana (Ek Duuje Ke Liye), Tu mera jaanoo hai (Hero), Tumse milkar na jaane kyon (Pyar Jhukta Nahin), Chitthi aayee hai (Naam), Main teri dushman (Nagina), Kaate nahin kat-te (Mr. India), Ek do teen char (Tezaab), My name is Lakhan (Ram Lakhan), Jumma chumma de de (Hum), Illu illu (Saudagar) and Choli ke peechhe kya hai (Khal-nayak) are only a few of the super-hit songs of the duo.
Laxmikant was a talented mandolin player. He teamed up with Pyarelal, whom he met during his struggling days, and thus began a golden chapter in the history of Hindi films. Being more vocal of the two, Laxmikant lit up the atmosphere wherever he went. "He was a damn confident person," said Boney Kapoor, adding, "He was never unnerved and he had this knack of putting his producers at ease." This unshaking confidence in his abilities was, perhaps, the reason why Laxmikant never thought of calling it a day even when Laxmi-Pyare's popularity began to decline in the nineties when younger music directors came on the scene.
The under-production films of L-P are Manoj Kumar's Jaihind (ready for release), Aabroo, Meri Biwi Ka Jawab Nahin, Maha-Yudh and Rishta Ho To Aisa.
Music director Kalyanji said, Laxmikant's biggest strength was churning out numbers which catered to popular taste. Melody queen Lata Mangeshkar described the late composer as "a member of our family". Naushad described Laxmikant as the "last" chirag (lamp) of the golden era of Hindi film music.
Laxmikant was cremated on the night of 25th at the Vile Parle crematorium. His funeral was well-attended. The condolence meeting on 28th May at his bungalow, called Parasmani after L-P.'s first film, was very largely attended.
And so, even though Laxmi can't give us more hits, his legacy of songs will continue to entertain the world for years and years…..
YOU ASKED IT
What is the biggest malady in the film industry today?
– Lack of good, sensible and original writers. Second on the list is star prices which are too high.
Which was the first music director duo in Bollywood?
– Phirozeshah H. Mistry and B. Irani, who played musical instruments for ALAM ARA in 1931.
DO YOU KNOW?
* Manoj Kumar's new film has been re-titled JAIHIND. As this title was earlier with Anand Balraaj, Manoj Kumar had decided to call his film JAI-HIND – THE PRIDE. BUT Anand graciously decided to forgo the title in favour of Manoj Kumar and, therefore, the latter's film is now JAIHIND once again.
* Goldie Behl, the 23-year-old son of late Ramesh Behl, used to sport long hair (almost touching his shoulders), but he has cut them short as an astrologer told him, this would be good for the box-office performance of his film, ANGAARAY. Incidentally, Goldie has made a good teaser trailer of the film, which will soon go on air on the various satellite channels.
* M.F. Hussain, whose painting of Goddess Sita had him in the midst of a terrible controversy, finally tendered an apology to Shiv Sena Chitrapat Shakha president G.P. Shirke. The latter had threatened that he wouldn't allow Hussain's GAJ GAMINI to be shot unless Hussain apologised for the painting which had hurt Hindu religious sentiments.
* Raj Karan Palace in Allahabad is the only cinema in Delhi-U.P., where ISHQ has had a 25-week run. This is the second jubilee at the cinema, of the same distributor viz. Mukta-Shakti Combines, Delhi. The earlier silver jubilee was of RAJA HINDUSTANI. …….Raj Karan Palace is the first cinema in Allahabad district to be equipped with Dolby Ultra Stereophonic 4-track sound system. CHHOTA CHETAN has opened at the cinema this week.

* Bengal-Bihar distributor Dr. Sunil released MARD last week in West Bengal, and DUSHMAN this week in West Bengal and Bihar. In the coming days and months, he has the following line-up of releases for West Bengal as well as Bihar: GHULAM, MAJOR SAAB, SATYA, DIL SE (only West Bengal) and ZAKHAM.

* Cinemax cinema has recorded all shows house-full for the past 11 weeks! CHHOTA CHETAN drew all shows full in its 6th week, too. Before CC, TITANIC had had a 5-week run at the cinema, with cent per cent collections every week!

3-E
Education-Entertainment-Enlightenment
Beautiful Flops
Films made by reputed directors from the South have in recent times failed to woo Hindi film viewers, primarily because of the directors' concern more for the 'form' than the 'substance'. The 'form' seems all too important in films like Priyadarsan's Saat Rang Ke Sapne and Kabhi Na Kabhi, Sangeet Sivan's Zor, Shankar's Jeans, among others. A heavy overdose of aesthetics is what the viewer gets in these films, when all he is looking for is a good drama/story. This undue emphasis on visual appeal often means that the content takes a back-seat in such films. One can attribute this overly conscious sense of aesthetics to the fact that the South Indian directors are, perhaps, more technically aware than their Bombay counterparts. It is also understandable that they should apply these new techniques in their films as soon as they have mastered them. But in doing so, they often go overboard and reduce their films to merely attempts at showing off their technical prowess.
Moreover, undue insistence on mood lighting, use of bounced light almost uniformly throughout the film, extra-artistic (and sometimes, even bizarre, as in Priyadarsan's Kabhi Na Kabhi) settings and unnecessary use of special effects distract the viewer from the subject matter of the film. These props irritate the viewer when the script does not match the form. A producer has rightly said that Priyadarsan makes even poverty look rich! But, jokes apart, it does look like the director is trying too hard to woo the viewers who, as a result, end up suspecting the director's intentions. It is a proven fact that a film with good subject matter appeals more to Hindi film audience everywhere than films with extra-technical finesse but which lack in subject matter. It is about time Priyadarsan, Sivan, Rajiv Menon and company paid heed to this simple truth.