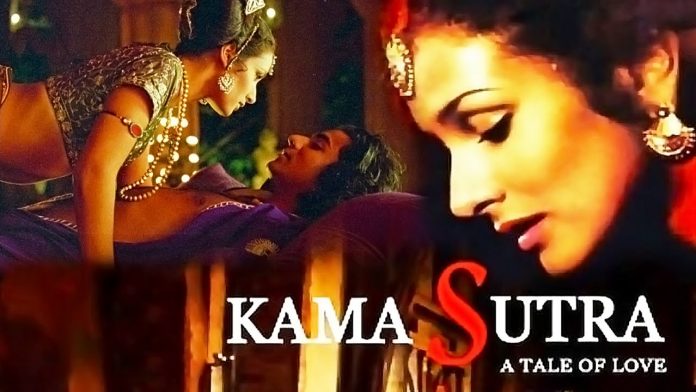 KAMA SUTRA – A TALE OF LOVE
(Dubbed)
Mirabai Films Pvt. Ltd.'s Kama Sutra – A Tale Of Love (A), dubbed from English, is a film (set in the 16th century) which has a story knit around sex and more sex. A princess and her lowly servant grow up together as friends but the latter resents having to wear the former's old clothes always and being sidelined everywhere even while the former gets the best of everything in life. The servant, who grows up to be very sensual, seeks revenge on the princess by seducing her (the princess) to-be husband just a little before their marriage. The casanova husband falls prey to the servant's seduction. So much so that when he consummates his marriage with the princess, he can think of only his sexual escapade with the servant.
The servant, who is now banished from the palace, meets a court sculptor who takes her to a teacher who used to teach the princess and other girls lessons in Kama Sutra. The sculptor and the servant are attracted towards each other. In the meantime, the princess' husband yearns to get back the servant and when he does find her, he makes her his chief courtesan, much to the chagrin of his wife (the servant's childhood friend). Thus begins the emotional and sexual game with the four players viz. the princess, her husband, the servant and her beloved.
Sex has been very liberally shown and that's the catchword in the entire film. It titillates the viewer, more so because so much sex has never been seen earlier in a Hindi film. Otherwise, the drama moves at a slow pace but that is often sought to be compensated by vivid sex, coming at regular intervals. Music is in the background and there are no songs in the film.
Indra Verma does a wonderful job as the servant, looking sensual and performing brilliantly. Sarita Chowdhury, as the princess, is quite good. Naveen Andrews looks and acts the sex-hungry husband of the princess beautifully. Ramon Tikaram is also extremely natural in the role of the sculptor. Rekha is restrained and truly effective as the teacher imparting Kama Sutra lessons. The rest of the cast, including Harish Patel, Pearl Padamsee, Arundhati Rao, Khalid Tyabji and others, lend admirable support.
If the sex scenes are vivid, the dialogues too are pretty bold at several places. Although the censors may have cut portions, they've also permitted a lot to be shown. Dubbing is excellent.
Direction (by Mira Nair) is exemplary because the erotic scenes are truly so and they succeed in exciting the viewer, which was the aim of the film. What's more, the drama also holds appeal for the class audience. Photography is superb. Sets (Nitin Desai) are fabulous. Production values are very nice. Costumes of the various characters give the impression of the drama being set centuries ago.
On the whole, a film like Kama Sutra is visually one of the boldest ever seen on the Hindi screen and it is this novelty and shock value and, of course, abundant and uninhibited sex, which will see it succeed handsomely at the box-office. The craze for the film will not be limited to young adults or just menfolk, even women and the elite can be expected to patronise the film in a big way as days pass. Class A1.
Released on 6-2-'98 at Satyam and 15 other cinemas of Bombay by Shogun Films thru Shringar Films. Publicity & opening: very good. …….Also released all over, to bumper houses everywhere. Over-capacity crowds were witnessed in several cinemas in different circuits.
LATEST POSITION
The industry's Idd has come this week with the bumper opening of non-star cast and songless KAMA SUTRA. The actual Idd festival last Friday could not do anything for star-cast and song-filled BANARASI BABU and VINASHAK. Instead, Idd proved bountiful for DTPH and ISHQ as their collections jumped up in the week under review.
Banarasi Babu has not been appreciated and will entail losses to its distributors due to its high price. 1st week Bombay 35,70,871 (67.84%) from 15 cinemas (8 on F.H.): Ahmedabad 3,16,454 from 3 cinemas (1 unrecd.), Rajkot 1,44,628 from 2 cinemas (1 in matinee), Jamnagar 96,272 from 2 cinemas (1 in matinee); Pune 8,10,681 from 5 cinemas (1 in matinee), Solapur 2,33,660 from 3 cinemas (1 in matinee), Satara 80,556; Belgaum 1,97,826; Delhi 29,09,218 (50.57%) from 11 cinemas (1 on F.H.); Kanpur 3,53,047 from 2 cinemas, Lucknow 2,88,717, Allahabad 1,59,000, Varanasi 1,95,495, Meerut 2,03,067, Bareilly 1,52,558 (60.54%), Dehradun 1,28,000, Hardwar 34,711; Nagpur 4,08,917 from 4 cinemas, Jabalpur (6 days) 1,78,062, Amravati (6 days) 81,220, Akola 1,27,922, Bhilai 1,45,128, Chandrapur 1,14,646; Indore 1,29,580 (4 on F.H.), Bhopal 4,10,189 from 3 cinemas; Jaipur 7,41,585 from 4 cinemas, Bikaner 1,34,900.
Vinashak dropped rather badly from 2nd day onwards at some places and from 4th day onwards at other places. Its only saving grace is its reasonable price in some circuits. 1st week Bombay 43,19,365 (69%) from 13 cinemas (9 on F.H.); Ahmedabad 6,17,036 from 7 cinemas, Rajkot 2,34,565 from 2 cinemas, Adipur 1,26,405; Pune 7,90,168 from 6 cinemas (1 in matinee), Solapur 3,49,261 from 3 cinemas (1 in matinee); Hubli 100%, Belgaum 1,35,845 (100%), Dharwad 100%; Delhi 29,39,616 (51.85%) from 12 cinemas (1 on F.H.); Kanpur 3,76,191 from 2 cinemas, Lucknow 3,03,033, Allahabad 1,82,500, Varanasi 2,39,601, Meerut (6 days) 1,61,808 (100%), Bareilly 1,46,845 (73.88%), Dehradun 1,36,316; Calcutta 23,03,921 from 22 cinemas; Nagpur 4,59,519 from 4 cinemas, Jabalpur 1,79,890, Amravati 1,93,233, share 1,35,300, Akola 1,49,848, Raipur 2,12,595 (45.96%) from 2 cinemas, Bhilai 98,267, Durg 88,891, Jalgaon 1,82,235, Wardha 62,409, Chandrapur 1,49,319; Bhopal 3,22,002 from 3 cinemas; Jaipur 4,97,553 from 3 cinemas, Jodhpur 3,00,000, Bikaner 97,500, Bharatpur (gross) 1,20,000; Hyderabad 32,09,820 from 17 cinemas.
…………
_________

Desh Re Joya Dada Pardesh Joya (Gujarati, TF) is still going great guns and proves a blockbuster. It has collected better this week than in the previous week at many places. 4th week Ahmedabad 7,21,313 from 4 cinemas, Asodar 1,01,341, 2nd week Baroda 1,47,948, 4th Rajkot 2,14,376, 2nd Jamnagar 1,65,858 (1st 1,40,676), Bhavnagar 1,93,621 (1st 1,86,425).
Laali (Punjabi) is doing well in the circuit in East Punjab.
COURT ALLOWS SHOGUN FILMS TO USE TITLE 'KAMA SUTRA – TALE OF LOVE'
Rejecting the notice of motion taken out by B. Gupta against Mirabai Films Pvt. Ltd. and Shogun Films Pvt. Ltd., the producers of Kama Sutra – A Tale Of Love, for the use of the title Kamasutra which is being made by him, Justice A.T. Vaidya of the Bombay city civil court in a judgement passed recently has said that as the name Kama Sutra – A Tale Of Love had been registered by the Association of Motion Picture & TV Programme Producers, though rejected by the Film Makers Combine, the same could be used by the defendants (Mirabai Films). However, the judge said that the loss suffered by Gupta could be compensated by the defendants in terms of money. The court also held that the balance of convenience was in favour of the defendants as the plaintiff had approached the court at a belated stage.
YUNUS PERWAIZ TO CONTEST LS ELECTIONS
Actor Yunus Perwaiz will contest the forthcoming Lok Sabha elections from the East Delhi constituency. He will be a candidate of the Samajwadi Party.
ADITYA CHOWKSEY'S WEDDING LARGELY ATTENDED
C.I. distributor Aditya Chowksey, son of distributor J.P. Chowksey, got married to Chhavi on 3rd February in Indore at Sayaji Hotel. The wedding reception was largely attended by the C.P.C.I. trade as also by Bombay trade personalities.
DO YOU KNOW?
* Besides Anil Kapoor and Salman Khan, there will be a third hero in Vashu Bhagnani's BIWI NO. 1. His role will be small but important. Vashu and director David Dhawan have not yet finalised the guy.
* Sanjay Dutt plays a very important role in Raj Kanwar's second home production, as yet untitled and starring Chandrachur Singh and Mahima Chaudhry. Raj prefers to call it a "dynamic role" although it is a guest appearance but a very, very lengthy guest appearance.
* Tips has got made attractive cards (in the style of picture postcards) of its forthcoming film, JAB PYAR KISI SE HOTA HAI, directed by Deepak Sareen. The card does not reveal the film's name, it only shows Salman Khan and Twinkle Khanna in a song sequence, wearing similar clothes — red and green checkered shirt with blue jeans. Besides the main credit titles, the card announces: 'Await the heart-throbbing music coming on Tips'.
RECORDS RE JOYA!
* Govindbhai Patel's DESH RE JOYA DADA PARDESH JOYA (Gujarati, TF) is moving from glory to glory. The fourth week's collections in most of the cinemas are better than or almost equal to those of the third week. The 3rd and 4th week's collections respectively are: Amber, Ahmedabad 2,67,790/- (full) and 2,67,790/- (full); Anupam, Ahmedabad 2,68,392/- and 2,67,502/-; Anand, Naroda 90,016/- and 95,325/- (theatre records); Ashok, Ahmedabad 85,027/- and 90,696/- (theatre records); Vasant, Asodar 76,288/- and 1,01,341/-; Rajshree, Rajkot 2,14,878/- and 2,14,376/-; Galaxy, Bhavnagar 1,86,425/- and 1,93,621/-; Chitrakoot, Morbi 1,48,321/- and 1,51,151/-; Liberty, Junagadh 1,47,565/- (record) and 1,45,588/-. At Sadhna, Baroda, it collected 1,52,724/- in 1st week, and 1,47,948/- in 2nd week. The corresponding collections at Deepak, Jamnagar were 1,40,676/- (1st week) and 1,65,858/- (2nd week). The total for 2 weeks (3,06,534/-) is a city record. At Jaimeen, Botad, it has collected 1,42,161/- in 1st week.
Are Awards Losing Their Sanctity?
The recent film awards functions held by two big media groups have caused a lot of heartburns among industry people, giving rise to bickerings and allegations of partiality in the selection of winners. Since awards are subjective, there will always be such complaints, and history is witness to this fact because although one awards function was started as an annual affair only some years back, the other has been an annual ritual for many years now. But the foul talk that's been generated this year after both the awards functions is, perhaps, the maximum. And that indeed is cause for concern not only because the industry participates in both the annual celebrations whole-heartedly year after year but also because the two media groups have their reputations to guard.
The funny part of the awards functions is that both profess to be popular awards and yet the winners in so many categories were absolutely different in the two functions. If the public, as is claimed, selects the winners, what does this imply? That there's a different set of people selecting the award winners for one function, and another set of persons for the other function? Both the media groups had separate juries too but the wide variance in the winners makes one wonder whether it was finally the verdict of the jury alone and not of the public too. Or was it? Was even the verdict of the juries overridden in a bid to oblige people? That's one major accusation being hurled at the organisers of at least one awards function. A top producer, wishing to remain anonymous for obvious reasons, felt that the winners were cleverly picked out so as to cover as many people and films as possible. Says he, "With the awards functions getting commercialised, the sponsors naturally insist that all top stars, producers, directors, music directors etc. should attend the function, to get the maximum mileage for their products. The organisers can ensure such attendance by honouring as many people as possible, whether or not they deserve to be so honoured. So we have popular awards and critics' awards as also awards for new reasons and achievements."
A natural corollary of having separate awards under the popular catgegory and the critics category is that the critics do not think like the normal public. While it is understandable in the case of one or two categories, how does one explain such differences in a line of categories? Obviously, the intention was to please too many people at the same time, some deserving, others undeserving.
A glaring difference in the two awards functions was the almost complete omission of Dil To Pagal Hai from even the list of nominations in one, and the sweeping of awards by the same film in the other. Even subjectivity has to have some basis and there cannot be so much difference when both the awards are public awards. Then, some awards went by the name of popular awards although the films for which the concerned persons won those awards were flops. There's no harm in giving awards to persons associated with flops if the said persons have excelled in their fields, but how can such awards assume the character of "popular awards"? The dictionary meaning of the word 'popular' is: 'of, carried on by, the people; adapted to the understanding, taste, or means, of the people'. When the people didn't patronise the film, how could they have voted for a person associated with the film? One is not disputing that the winners deserved such awards. No, that's not the point here. But what the point definitely is is that such awards cannot be called popular awards.
The third major awards function, that is still to be held, may give rise to more controversies. The nominations themselves are raising eyebrows. A lot of questions vis-à-vis the awards functions are remaining unanswered. For a free and fair awards ceremony, what is required is complete transparency. Unfortunately, none of the awards ceremonies has been able to give that feeling of transparency — neither to the general public nor to the industry people.
Little wonder then that some top names, again wishing to remain anonymous, are seriously considering boycotting one or the other awards functions from next year onwards. The rumblings have begun. The organisers of these major events cannot afford to ignore these sounds of discontent. So also the sponsors of these mega events.
– Komal Nahta
Honestly Speaking….
Exhibitors all over the country are panicking. With hardly any films sustaining at the box-office, cinemas will soon have to go abegging for films. That would mean jeopardising the position of exhibitors. With distributors coming into a commanding position vis-à-vis exhibitors, the former would be able to dictate terms to the latter. Of course, that itself wouldn't be enough to get smiles back on the faces of distributors because they've also been reeling under losses due to films falling like nine pins. Kama Sutra has come like a belated Idd!.
Well, actually, if you ask me, I'll say — even at the cost of sounding repetitive — that it is the prices which are failing sometimes, not the films. Producers should realise the importance of correct pricing because ultimately, in calculating whether a film is a paying proposal or a loser, one has to weigh its cost against its business. Unrealistically high prices of films are ruining the market. Distributors are dying a slow but sure death. And if distributors don't come forward to buy films of producers, the situation in the coming months will become even more alarming than it is today.
The demonstration effect is killing the industry. Each one is getting influenced by what the other is doing. If he can price his film so high, why can't I? That seems to be the new mantra. In the case of artistes, the guiding factor for fixing one's price is: when he/she is charging so much, why shouldn't I? Producers and artistes ask themselves these questions but, believe me, they don't have the guts to accept the honest reply.
The honest answer to the two questions above is: Each film is different from the rest, every artiste is unique, there can be no mathematics or readymade formulae for price fixation. A Sunny Deol may command 'x' price but Sunil Shetty or Akshay Kumar cannot, simply because they are also action heroes like Sunny, demand prices equivalent to or even determined by what Sunny is asking for. Or just because a Subhash Ghai sells his film at 'y' price, it doesn't mean that every producer can get that price. It also doesn't mean that even if he can get that price, he should ask for it even if his project does not deserve that price.
A question — and a pertinent one — that arises here is: who will decide what is the deserving price? The honest reply is: the conscience of the producer or the artiste concerned. If one cannot be fair, one should take the help of knowledgeable people in the industry who are known for their unbiased and balanced approach. It may sound a ridiculous option but that's if you don't give it a serious thought. Think over this for two days and then ask yourself for an honest reply. Chances are, you will agree with what's mentioned above.
– Komal Nahta
3-E
Education-Entertainment-Enlightenment
Differential Admission Rates
A lot of concern is being expressed at the level of box-office collections of some recent releases. But while expressing concern, one must not forget that the high admission rates of cinemas, especially in major cities, are also responsible for the pathetically low collections. It is a fallacy to imagine that a cinegoer would be willing and even eager to pay the same ticket price for a lesser hero as he would, say, for Sunny Deol or Shah Rukh Khan. The latter may not be as hot in smaller centres, but in cities, where admission rates are sometimes prohibitively high, he is the darling. And if the films of lesser heroes are not up to the mark, the exorbitant admission rates act as a double deterrent. Alongside pricing of films and artistes, it's time one gave a serious thought to the pricing of cinema tickets too.
Of Good Luck And Bad Luck
It is not without reason that the film line is called the most speculative line. For, when Lady Luck will smile at you, you never know. Take, for example, the case of Rajasthan distribution. Kama Sutra was originally with Chopra Jaggi Pictures for the circuit. When Chopra Jaggi relinquished the distribution rights, two distributors saw the film (only last week). One was Rajasthan distributor Baba Ramdeo and the other party was East Punjab distributors, Saraswati Films. After the trial show, while Baba wondered whether he should go for it or not, the Saraswati guys struck the deal. Thus, they had the film for East Punjab as well as for Rajasthan. Baba Ramdeo later even had a change of mind and offered to buy the film from the Saraswati guys after giving them profit. But do you know why they refused to let go the rights? According to Baba Ramdeo, "They told me, they couldn't leave the rights as they had told Subhash Ghai that they were releasing the film in Punjab as well as Rajasthan!" Imagine, sticking to a commitment because it had been conveyed to Ghai who, in any case, was not otherwise connected in any way with the film or the deal. The Saraswati guys must thank Ghai for their luck. And also thank Kamdev, the sex God, for their double windfall with the sexy Kama Sutra.
In Bombay too, the film changed hands. It was first acquired by Ajay Devgan who then relinquished the rights, presumably because pirated video cassettes of the film surfaced in the market. It was then that all-India rights holder R. Mohan decided to release it himself thru Shringar Films.
Doubly Lucky
Delhi-U.P. distributor G.D. Mehta is a very lucky guy. After negotiations, the price of Kama Sutra for Delhi-U.P. was brought down dramatically last week. And when the collections of all the three releases of last week nose-dived on Saturday itself in Delhi, exhibitors made a bee-line for the office of G.D. Mehta to book Kama Sutra as that was the only release of this week. That's what you call double luck.
Sexy Shringar
Bombay distributors Shringar Films are on a sexy trip. It started with Aastha which they distributed, but there was a long gap after that. The trip has restarted this year with Kama Sutra this week. In the pipeline are two more films — Deepa Mehta's Fire and Trans Arts India's Erotic Tales (Part I) — which have a good dose of sex. The latter film (cleared by the Appellate Tribunal) actually consists of two different films — Mani Kaul's The Cloud Door and a foreign film, The Insatiable Mrs. Kirsch. It may be recalled that The Cloud Door, starring Anu Agarwal and Murad Ali, had attracted huge crowds in 1995 at the IFFI held in Bombay, obviously, due to its steamy sex scenes.
No Men Please
Apprehending that ladies may not readily and immediately come to cinemas screening Kama Sutra, Bombay distributor Balkrishna Shroff has decided to hold special shows for ladies only on Tuesday (10th February) at 3 p.m. at ten to twelve cinemas of Bombay city and suburbs. A good move which can be well emulated by distributors of other circuits since there were very, very few ladies in the house-full audiences on the first day throughout the country.