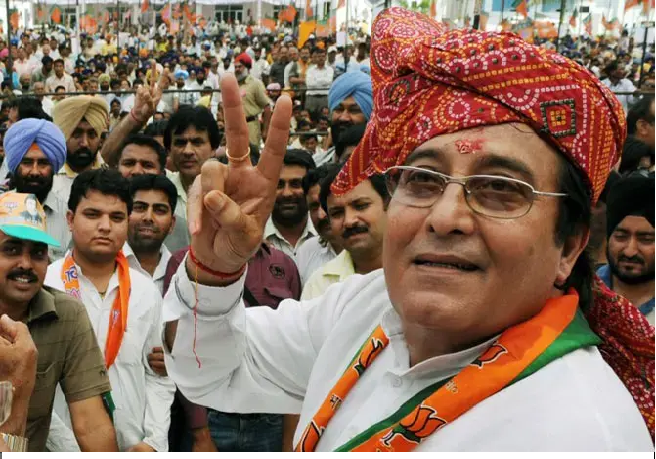 VINOD KHANNA ELECTED MP
Vinod Khanna won the Lok Sabha election from the Gurdaspur constituency in Punjab by a margin of over a lakh votes. He defeated his nearest rival, sitting MP Sukhbans Kaur Binder, by 1,06,843 votes.
PRABHA THAKUR WINS AJMER LS SEAT
Rajasthani film producer and poetess Prabha Thakur won the Lok Sabha election from the Ajmer constituency, on a Congress ticket. She defeated her nearest (BJP) rival by a narrow margin of 5,772 votes.
Prabha Thakur had produced the Rajasthani film Binani Howe To Isi, and the Hindi film, Jai Mahalaxmi Maa.
SATTOOR CHANDRASEKHAR NO MORE
Sattoor Chandrasekhar of Natraj 70mm Theatre, Secunderabad, expired on 5th March in Hyderabad due to a heart attack. He was cremated the same day.
Sattoor had served as an office-bearer of the Hyderabad State Film Chamber of Commerce and the Andhra Pradesh Film Chamber of Commerce and was also a member of the executive committee of the Film Federation of India.
BHARAT RATNA FOR SATYAJIT RAY
Satyajit Ray was posthumously honoured with the Bharat Ratna in Delhi at Rashtrapati Bhavan on 1st March. Ray's son, Sandeep, received the award from President K.R. Narayanan.
RAMESH SIPPY'S DAUGHTER TO WED
Marriage of Priya, daughter of Bombay distributor Ramesh Sippy, with Rajeev will be solemnised on 17th March at the NSCI (West Lawns), Worli, Bombay. A reception to celebrate the wedding will be held the same day.
MARATHWADA CINEMAS PUT OFF STIR
The Marathwada Cinema Exhibitors' Association has postponed its proposed indefinite theatre bandh, which was to have started on 5th March, following an assurance by Maharashtra guardian minister Chandrakant Khaire and revenue minister Narayan Rane. The MCEA is protesting against the illegal demand of entertainment tax by the Maharashtra government on service charges collected by cinemas, and other issues relating to cinemas. About a hundred cinemas were to down shutters from 5th March. No where else in the state is entertainment tax levied on service charge collected by cinemas as the service charge is entertainment tax-free.
A meeting with the office-bearers of the Association was held in Bombay at Mantralaya on 4th March. After discussions, Khaire and Rane assured the office-bearers that the issues would be settled at an early date. The ministers appealed to them to not press for the closure of cinemas indefinitely.
President Atul Save, Jugal Tapadiya, Noor Khan, Ashok Amin, Qaiser Khan, Mukesh Amin, Bhaskar Amin and Basant Kauria represented the MCEA in the meeting.
RAJA GOSAVI DEAD
Vetaran stage and Marathi film actor Raja Gosavi, popularly known as Danny Kaye, passed away in Bombay in the early morning hours of 28th February. He was cremated the same evening.
The 73-year-old actor was applying make-up for the last show of the Marathi play, 'Brahmacha Bhopala', at Dinanath Mangeshkar Hall at Vile Parle when he suffered a cardiac arrest and collapsed. He was rushed to Nanavati Hospital in an unconscious state, where he passed away.
Raja Gosavi was a great actor and was known for his comic roles on stage as well as in films. Among his well-known Marathi films were Avgachi Sansar, Raja Gosavichi Gosht, Ganget Ghoda Nahla and Gurukilli. On stage, he had played a variety of roles. His film, Pradyapak Visar Bhole, is scheduled for release shortly.
Raja Gosavi was a door-keeper at the Rajvilas theatre in Pune where his starrer, Lakhachi Gosht, was released, went on to become a hit and, in fact, changed his life. He had also worked in two Hindi films, Bhabhi and School Master. He had acted in about 250 Marathi films in a career spanning 55 years. He was in the midst of writing his autobiography, 'Ek Rajachi Gosht' ('The Story Of A King') when the end came.
ANNOUNCEMENT & LAUNCHING
Hrithik, Kareena In Rakesh Roshan's 'Kaho Naa…Pyaar Hai'
Film Kraft's Prod. No. 11, titled Kaho Naa…Pyaar Hai, will be launched on 21st March with a song recording at Sahara India. The song will be composed by Rajesh Roshan and penned by Saawan Kumar Tak. Producer-director Rakesh Roshan will launch Hrithik Roshan and Kareena Kapoor in this film co-starring Anupam Kher, Dalip Tahhil, Johny Lever, Mohnish Bahl, Satish Shah, Farida Jalal and Ashish Vidyarthi. Story-screenplay by Ravi Kapoor and Honey Irani, dialogues by Sagar Sarhadi, cinematography by Kabir Lal, and editing by Sanjay Verma are the other credits. Shooting will start from April.
YOU ASKED IT
What is the business of the all-time Gujarati hit, Desh Re Joya Dada Pardesh Joya, so far? How much is it expected to do?
– In 8 weeks, it has fetched a share of about a crore from Gujarat and Saurashtra. It is expected to touch the 4-crore mark. The music sales are also as strong as the film.
I am planning to make a Hindi film and I am inclined to remake an old classic hit with some changes. Should I go for it?
– It is a good idea because, after all, old is gold. Try remaking an old family social.
Will Titanic be dubbed in Hindi like so many other Hollywood films?
– It is likely to be dubbed in Hindi. In fact, it should be dubbed because its story is like a typical Hindi film love story. Added to that is the Titanic ship disaster which will be a novelty for Hindi film viewers. If dubbed in Hindi, the dubbed version has chances of clicking in a major way.
DO YOU KNOW?
* SALAAKHEN, which gives the impression of being an action film (and not only because of the presence of Sunny Deol), has been okayed for universal exhibition (after cuts, of course). What is surprising is that the lady-members in the examining committee insisted that the film be granted 'U' certificate while most of the male members were in favour of an 'A' certificate. The film was censored in Hyderabad.
* ZOR has created another theatre record at Krishna, Raipur, by collecting 43,012/- in 3rd week. Distributor's share for 3 weeks: 2,69,902/-.
* DESH RE JOYA DADA PARDESH JOYA (Gujarati; tax-free) has created a record by collecting 1,25,106/- in 1st week, 1,26,963/- in 2nd week, and 1,26,963/- in 3rd week at Kamal, Sabarmati (Ahmedabad).
* SARKARNAMA (tax-free) has created a city record for Marathi films by collecting 1,21,559/- in 18th week at Prabhat, Pune.
* SARKARNAMA (Marathi; tax-free) has created a record by collecting 42,789/- (nett for 21 shows) in 1st week at Shiv Shankar, Miraj.
Vinod Khanna, M.P.
A filmi is a filmi is a filmi. And so, even though Vinod Khanna has been elected to Parliament, his phillum connection will always find expression in what he talks in the Lok Sabha. Here's how his first day in the Lower House might be.
The handsome star will board the early morning flight to Delhi — yes, he will wake up early because Parliament is not like a producer's set where Vinod can report late. Once in the capital city, Vinod will ask his make-up man to do his make-up and his dressman, to give him his costume, and will then leave for Parliament House in his brand new imported chauffer-driven car.
Once there, he will alight from the car, a revolver in hand, and dash into the House, firing his revolver in the air and hurling abuses at imaginary villains. And even while Vinod would be making his entry with a bang, his driver would be banging at the door of the accountant for collecting petrol money.
Once in his seat, BJP members would welcome the hero with the song Bambai se aayaa mera dost, dost ko salaam karo from his own starrer, Aap Ki Khatir. Vinod would make polite conversation with BJP members to acquaint himself with the working of the Lok Sabha. For instance, he would ask L.K. Advani about the different shifts in which Parliament works. Advani would shift his attention, unable to understand what Khanna was talking about. Vinod would then turn to Atal Behari Vajpayee and enquire about the manner in which instalments would be paid to LS members. Instalments? What instalments? Vajpayee would look quizzically at Vinod and the latter would change the topic. "What about lunch break?, he would ask, adding, "Will it be of one hour or less?" Even before Vajpayee or Advani would attempt to reply to that, Vinod would quiz them further, "How long will the current schedule of Parliament be?" Perhaps, the PM-to-be will explain to the charismatic star, "We have sessions of Parliament, not schedules." To which Khanna would smile and say, "Like our card sessions and drinking sessions, is it?"
The Speaker would take his chair and call the House in order. Since it would be the first day, the excitement and chatter will take some time to die down. The Speaker would shout 'silence silence' on the mike. After silence is attained, Vinod Khanna would be almost ready to break into a song-dance sequence, waiting for the Speaker to give the "Action" order. That's what 'silence' is followed by on the sets, you see. When the Speaker himself would go into action instead of shouting "Action", a perplexed Khanna would wonder what's going on.
Anyway, he would make the most of it by mugging the long pieces of dialogues he would have got written on sheets of paper — dialogues penned by Kamlesh Pandey. When the Speaker would ask Vinod Khanna to speak, the actor would stand up, look his face in a mirror he would be carrying and ask for glycerine. "Glycerine? What on heavens are you up to?", the Speaker would ask him. "Sir, some dialogues in my speech are full of emotions and, so, I'll need glycerine to cry while mouthing them," Khanna would confess. Glycerine granted.
Pin-drop silence. The Speaker would look at Vinod and wonder why he wasn't starting. Vinod, very innocently, would ask the Speaker to give the orders. What orders? "Sir, you must say, 'Start sound, camera, action'," Khanna would enlighten the Speaker.
The opening speech would read something like this: "Gurdaspur aur India, Mera Gaon Mera Desh. People of India — Mere Apne. Whether it is Amar Akbar Anthony, I pledge to serve the people of India till the last drop of my Khoon Pasina. I've passed the Imtihan of elections, now I want to do something constructive for the country in general and Gurdaspur in particular.
"I had promised to convert Gurdaspur into Paris and so I will. In my election meetings, I had also expressed a sincere desire to start a school and college in Gurdaspur. For this, I've already spoken to Padmini Kolhapure who, after Delhi, will build an acting school in G'pur."
In an emotion-choked voice, Khanna would continue, "For coming to Parliament, I've had to make a big Qurbani — of my acting career which, as it is, was not going any great guns. But when I was at the peak of my career, I gave it up for Osho Rajneesh. Now I give it up for…….". Vinod would burst into tears.
There would be thunderous applause in the Lok Sabha. Secretary Sandeep Sethi, who would be watching the live telecast of the Lok Sabha proceedings on Doordarshan, would immediately call up Vinod Khanna on his cellphone to congratulate him for such a fantastic performance. "Tussi chha gaye, Vinod," ("You've made a great mark,"), he would shout into the phone.
Assuming that the BJP proves its strength in the House, the question of the Ram Janmabhoomi temple in Ayodhya would naturally arise. Like a true hero, Vinod Khanna would once again rise to the occasion and, this time, deliver an impromptu speech. "Sir, I have a suggestion," he would begin. "Let us not waste more time on deliberating whether a Ram temple or mosque should come up at the disputed site. I would suggest that a Shiv temple be built there instead. I would be only too glad to gift the huge Shiv statue erected by my art director, Nitin Desai, for Himalay Putra. It has no value for me now and I'd be happy if it can occupy a pride of place at Ayodhya."
The press would, quite understandably, hound Vinod Khanna after the first day's session. How was his first experience in the Lok Sabha? "Well, it's been a satisfying day," Vinod would reply. "I'm liking my new role, it's so different. As in a film, in the Lok Sabha too, we have heroes (like me) and villains (like the Congress members). Again, as on film sets, there's less work and more waste of time in Parliament too. Film actors entertain the masses, so do politicians. Artistes act in front of the camera, politicians have to act even when there's no camera. 80% of our films are flops, similarly, 80% of the work transacted in the Parliament is flop. There's one difference though — in the film industry, stars are cordial to each other but spit venom against one another in print; in the Lok Sabha, you are allowed to abuse your colleagues to their faces."
Two last questions: What is it that Vinod Khanna would miss the most in Parliament? Vinod would think for a while and then reply, "The Speaker didn't announce 'pack-up' before we called it a day." And what is the greatest similarly between a film set and the Lok Sabha? Without thinking for even a moment, Khanna would answer, "As on film sets, in Parliament too, the most used and abused word is 'silence' — and it is repeated the loudest."
Shhh…. silence now!
– Komal Nahta
But Why?
Most of our stars have no story-sense and yet, all of them insist on having a narration (of the story) before signing a film!
The more saleable a star, the more secure he should feel. But in reality, the more saleable a star, the greater is his feeling of insecurity. Why else do the top stars charge prices so high that it would appear as if there would be no tomorrow?
Ninety per cent of our films have the same ghisi-piti stories and yet, every producer, every director, every actor every time claims that every film of his is different.
Stars have no control over public tastes, choices or preferences but still, they manipulate the releases of their starrers as if the public had secretly whispered into their ears which of their films they would like to see first and which later!
Producers call their distributors their partners but when it comes to showing these partners their films, they make all sorts of excuses.
Most producers proclaim from rooftops release dates of their films which they are cent per cent sure, they will not be able to meet. What kick they get out of fooling the trade, even they mustn't be knowing.
Stars know, if there's one community which can keep them away from reality, it is the community of chamchas. And yet, when their film is released, they turn to these very chamchas to feed them with the 'real' reports.
The producer, the director and the artistes are the last to know that their film has bombed. Nobody knows why?
Writers insist on 5-star hotel rooms for working on scripts, but most scripts are so bad, one would think they were thought of and written in a slum.
Directors are aware that content is what is important in a film but yet, spend lakhs and crores on form while conveniently neglecting substance.
Heroes and heroines normally judge their under-production films by their individual roles but the fact is, a film is a team effort.
Music directors plagiarise tunes uninhibitedly but when it comes to admitting, they never do it. Then, it's a case of uninhibited lies.
Those connected with a film invariably overestimate its worth on the opening day and come closer to reality as the days progress. On the other hand, those not connected with a film invariably begin on a negative note on the day of its release and they also come closer to reality as the days progress.
Directors and artistes are quick to take the credit for a success/hit but even quicker to shift responsibility for a flop.
– Komal Nahta
3-E
Education-Entertainment-Enlightenment
Lull Before Storm
Tomorrow Never Dies is running in four main cinemas of Bombay this week. The English version is showing at Sterling (3rd week) while the dubbed Hindi version is being screened at Jamuna Palace (3rd week), Dreamland (1st week) and Minerva matinee (1st week). It also opened at Satyam (which is as good as a main cinema) this week. This is suggestive of the terrible state in which cinemas not only in Bombay but all over India are, thanks to few releases and the flopping of films. The scene will undergo a sea-change from 27th March when the flood of releases will begin. Cinemas, which are going abegging today, will then find themselves in a commanding position. That is to say, the scales will tilt in their favour then.
'Love'ly Adjustments
Three romantic films — Pyaar Kiya To Darna Kya, Jab Pyaar Kisise Hota Hai and Pyar To Hona Hi Tha. All are due for an early release. But the makers of the three love stories have mutually decided to give enough gaps between the three releases so that they do not eat up into one another's collections. If only all producers thought the same way!
This One Has Length & Strength
Twentieth Century Fox and Paramount's Titanic, the biggest hit of Hollywood, hit the screens in India on 6th March. So immense is the craze for this blockbuster in India that the film is bound to prove a runaway hit, more so because it lives up to the sky-high expectations that've been generated. The opening in Bombay at Regal and Cinemax cinemas was very good, and the film should have a glorious and long run at these cinemas. The highest admission rate at suburban Cinemax is a whopping Rs. 100! Titanic ship's disaster, achieved through computer graphics, looks so real that it leaves the viewer dumb-founded. The love story on board the Titanic is just too cute and, in fact, is like a typical Hindi film story. Little wonder then that the audience at Regal on the first day gave a standing ovation to the film. Director James Cameron and the film's lead pair, Leonardo Di Caprio and Kate Winslet, should soon become household names in the major cities of India, at least. Even the length of the film is like that of a long Hindi film. Its running time is over 3 hours and so, Paramount has decided to have just three shows in every cinema screening it, instead of the usual four shows. Such a sacrifice (of one show daily) is unthinkable on the part of our producers/distributors. We've had four shows of films with a running time of even 3 hours and 14 minutes.
'Ishq' 100 Days: Celebrating With The Audience
Producer Gordhan Tanwani is a showman of a different kind. He is celebrating the 100 days of his Ishq today (7th March) in a unique style. Beginning today, those seeing Ishq in different cities will be given a picture postcard of Tanwani's next, Pyar To Hona Hi Tha, and some lucky ones will even get an audio cassette of PTHHT free of charge! This gift distribution scheme will go on in all major cities for six days till 12th March. Why, Gordhan Tanwani has reserved about 50,000 audio cassettes specially for free distribution among patrons of Ishq in its 15th week.
Election Putra
A lady in Gurdaspur constituency, from where Vinod Khanna contested (and won) the Lok Sabha elections, is such a great fan of the actor that she insisted on casting her vote for him despite being pregnant and due for delivery any moment. Her family had no alternative but to heed her repeated requests. Even as she finished casting her vote, the lady complained of acute labour pains and, believe it or not, delivered her baby right in the voting booth. So thrilled was the fan on giving birth to a baby boy after casting her vote that she instantly named him Vinod. For actor Vinod Khanna, who has also been a producer (Himalay Putra) and Bombay distributor and who has effected film deliveries as well as taken film deliveries, this delivery (of a child) must have been a new experience.