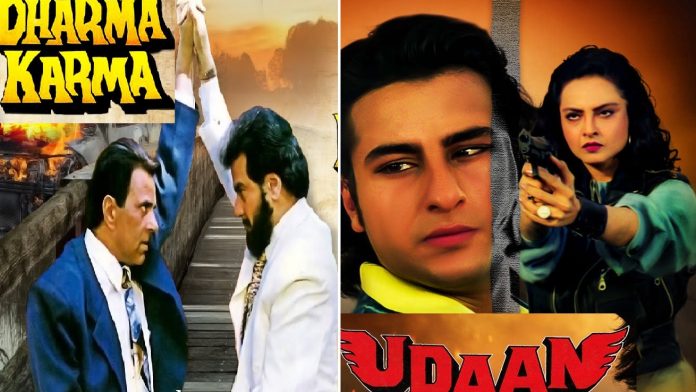 UDAAN
Tridev Arts' Udaan (UA) is the story of a daughter's revenge for her father's murder. The father is murdered by his business partners when he does not succumb to their pressure to add opium and other drugs in a tonic manufactured by their company. The killers try to thwart the daughter's attempt at seeking revenge by declaring her mad and admitting her in a mental asylum. They are helped in this by an evil doctor. But finally, the daughter and five other inmates of the asylum escape from there to wipe out the villains one by one.
The story is ordinary and similar to revenge dramas seen earlier. Screenplay has been written unimaginatively. Save for a few light or exciting scenes, the first three-fourths of the film is quite dull. The last quarter of the drama, after the six people escape from the mental asylum, is somewhat better. Dialogues are ordinary.
Rekha is quite good. She does well in action scenes too. Saif Ali Khan and Madhoo are fair in comparatively less significant roles. Danny Denzongpa, Dalip Tahhil, Prem Chopra and Mohan Joshi are good as a team of villains. Prem Chopra entertains too. Saeed Jaffrey is very good in a brief role. Mohnish Bahl, Annu Kapoor, Asrani, Deven Varma, Makrand Deshpande, Sulbha Arya, Achyut Potdar, Harish Patel and the others lend ordinary support.
Asrani's direction is fair. Music is okay. 'Gayaa re dank maar bichhua' is the better of the songs. Picturisations of the songs are routine. Action is ordinary. Photography is good. The film has taken a long time in the making and it shows.
On the whole, Udaan is devoid of an exciting drama and heroism. It has some chance in 'B' and 'C' class centres only.
Released on 3-10-'97 at Alankar, Ganga Palace (matinee) and 20 other cinemas of Bombay thru ABC Pictures P. Ltd. Publicity: dull. Opening: average. …….Also released all over except in C.P. Berar.
DHARMA-KARMA
Prince Pictures' Dharma-Karma (A) is a dull drama about two persons falsely implicated in crimes they haven't committed. As destiny would have it, one person's younger brother and the other person's son also get implicated in a crime. How the two persons save their wards forms the climax of the film in which the identity of the actual criminal (for which the wards are framed) is also revealed. If the story does not arrest attention of the viewer, the screenplay is confusing and the suspense is hardly interesting. Dialogues are too commonplace to be true.
Dharmendra and Jeetendra are very ordinary and both look old. Rahul Roy does well. Trishna is okay. Rohit Kumar does not impress. Karina Grover has no worthwhile role. Rajesh Shringarpure is too ordinary to be noticed. Mohan Joshi, Punit Issar and Sanjeeva make commonplace villains. Upasna Singh, Dan Dhanoa, Gajendra Chauhan, Sanjay Shah and the others pass muster.
Direction is dull. Music is functional. Action scenes do not create much of an impact. Camerawork and other technical and production values are so-so.
On the whole, Dharma-Karma is a dull fare with only its low price being a plus point.
Released on 3-10-'97 at Dreamland and 4 other cinemas of Bombay thru Jupiter Enterprises. Publicity: dull. Opening: poor. …….Also released all over.
'DHOONDTE REH JAAOGE' ALL-INDIA BUSINESS
Bombay distributor Suresh Vora of MBS Combine will handle the all-India business of Satish Shah's Dhoondte Reh Jaaoge. Parties desirous of acquiring distribution rights of the film for any territory can contact Suresh Vora on the following telephone numbers:- Office: 388-8340, 386-0693; Residence: 640-3091; Cellphone: 98200-64030.
KAMAL MUKUT BEREAVED
Bansidhar Mukut, father of Kamal Mukut and grandfather of Deepak Mukut (DHL Creations), expired on 28th September in Jaipur. Kamal Mukut, who was away in London, rushed back to Jaipur on hearing the news.
SULTAN AHMED RE-ELECTED IMPPA PRESIDENT
Sultan Ahmed was re-elected president of the Indian Motion Picture Producers' Association for the fourth successive term, at the first meeting of the newly elected executive committee held on 28th September at IMPPA House. Sundeep Sethi was elected senior vice president, and Sushama Shiromanee, vice president. S.K. Kapur was elected honorary treasurer.
The following 16 members from the Ordinary class and 5 from the Associate class I were earlier, on 27th September, elected to the executive committee for 1997-98 after the 58th annual general meeting of the IMPPA at ISKCON:
Ordinary class: K.D. Shorey (he polled the highest number of votes — 67 out of a total polling of just 87), Saawan Kumar Tak (61 votes), Pranlal Mehta (61), Sultan Ahmed (58), Vinay Kumar Sinha (58), Mehul Kumar (57), Sushama Shiromanee (56), B. Subhash (55), B.S. Shaad (54), Satish Khanna (54), A. Krishnamurthy (51), Sundeep Sethi (51), Pawan Kumar (51), Surendra Mohan (48), Anil Ganguly (46) and Madan Mohla (46).
Associate class I: There were no elections and all the five candidates in the fray — Anand Girdhar, Dimppy Ramdayal, Ranjeet, S.K. Kapur and Surjit Aujla — were declared elected unopposed.
PAHLAJ NIHALANI RE-ELECTED AMPTPP PRESIDENT
Pahlaj Nihalani was re-elected president of the Association of Motion Picture & TV Programme Producers (AMPTPP) for 1997-98 at the first meeting of its newly constituted governing council held on 29th September at Citizen Hotel, Juhu, Bombay, immediately after the annual general meeting. Shyam Benegal, Amit Khanna, Shabnam Kapoor and Satish Kulkarni were elected vice presidents, and Kamal Kumar Barjatya and Yash Johar, hon. treasurers. Jimmy Nirula was elected hon. secretary.
Earlier, the following members, besides the above, were elected to constitute the governing council: G.P. Sippy, Manmohan Shetty, Gulshan Rai, Bhappi Sonie, Hrishikesh Mukherjee, Subroto Bose, N.D. Kothari, Subhash Ghai, N. Chandra, Harmesh Malhotra, Pramod Chakravorty, Ratan Jain, Ramesh Taurani, Salim Akhtar, Mahesh Kothare and Vashu Bhagnani.
RAM KUMAR BHARDWAJ ELECTED NIMPA CHIEF
Ram Kumar Bhardwaj was unanimously elected president of the Northern India Motion Pictures Association (NIMPA) in Jalandhar at its 48th annual general meeting held on 22nd September. Kanwal Kishore was elected vice president, Yash Paul Mittal, hon. general secretary, and Surinder Sehgal, hon. joint secretary. Romesh Chander Gupta was elected hon. treasurer.
The other members of the executive committee are: Dharam Paul Arora, Madan Lal Kapoor, Inderjit Walia, Tarlok Saggi, Narinder Singh Walia, Anil Kumar Puri, Vijay Kumar Tandon, Joginder Jaggi, Amrik Singh and Ashok Kumar Sharma.
IMPPA TO CELEBRATE DIAMOND JUBILEE
The Indian Motion Picture Producers' Association will celebrate the completion of its 60 years by organising a function, IMPPA 60, in December in Bombay. This announcement was made by IMPPA president Sultan Ahmed at its 58th annual general meeting on 27th September at ISKCON, Juhu, Bombay.
The awards of honour presented to five vetarans at the annual general meeting of the IMPPA every year will this time be presented at the IMPPA 60 celebrations. The veterans to be honoured are Anil Biswas, Babubhai Mistry, Dara Singh, P. Jairaj and Shakti Samanta. An award will also be given to the best commercial successful film of the preceding year viz. Raja Hindustani. In addition to the above awards, a special scroll of honour will be presented to Janki Dass for his role in the freedom struggle.
A souvenir will be brought out on the occasion of the celebrations.
FFI MEETS I & B MINISTER
The Film Federation of India arranged a dinner meeting with the Union Information and Broadcasting minister, Jaipal Reddy, on 27th September at Jade Garden. Many important issues concerning the industry were discussed at the meeting. Earlier, Mr. Reddy visited Hyderabad, Bangalore and Madras to exchange views with the members of the film industry there. The following items were mainly discussed in Bombay: (1) countervailing duty payable on raw stock; (2) repatriation of foreign exchange; (3) disallowance of benefit under section 80 HHC of the Income-Tax Act; (4) reconstitution of the NFDC Board; and (5) telecasting films with UA certificates.
The minister was accompanied by I & B secretary C.R. Kamalanathan, joint secretary (films) Raghu Menon and personal secretary to the minister, A.P. Sahani.
The FFI was represented by the various sectors of the film industry. The members present were: president K.G. Dossani, K.D. Shorey (hon. general secretary), N.N. Sippy (hon. treasurer), G.P. Sippy, B.R. Chopra, Ramanand Sagar, Shakti Samanta, Ravi Gupta, Saawan Kumar, T.C. Dewan, Mahavir Jain, Mahesh Kothare, Satish Kulkarni, A.S. Narang, Indravadan Shah, Somandra Batra, Neena Garkel, Balkrishna Shroff, U.A. Thadani, Kiran V. Shantaram, Vinod Ganatra, Arunaraje, Dineshwar Sinha and Rajendra Singh Hora. Supran Sen, secretary, Film Federation of India, and Anil Pandit, general manager, NFDC, were also present.
KADER KHAN ON SMALL SCREEN
Kader Khan will soon be seen on the small screen too. He is playing a double role in Sameer Productions' serial, Mr. Dhansukh. It will go on air from 8th October and will be telecast every Wednesday at 8.30 p.m. on DD Metro. Producer: Babubhai Thiba.
DARA SINGH ELECTED PFPA PRESIDENT
Dara Singh was unanimously elected president of the Punjabi Film Producers Association for 1997-98 at its annual general meeting held on 28th September at Dara Villa. B.S. Shaad was elected senior vice president, and Priti Sapru, vice president. Iqbal Channa and Thakur Tapssvi were elected hon. general secretary and treasurer respectively. S.R. Kapur and Baljeet Parmar were elected joint secretaries.
The other members elected to the executive committee are: Bhushan Madan, Jarnail Singh, Pammi Veerendra, Ravinder Ravi, Sardool Atwal, Surinder Walia, Vinod Sharma, Tarsem Badhan and Yogesh Chhabra.
BABY BOY
Rajkumar Agrawal, proprietor of Rajkumar Talkies, Pusad (Maharashtra), was blessed with a baby boy on 26th September at Khamgaon.
IDPA MEETS I & B MINISTER
The Indian Documentary Producers' Association (IDPA) met I & B minister Jaipal Reddy on 28th September at the Discovery of India Building, Nehru Centre, Bombay. IDPA president Arunaraje thanked the minister for the initiative taken by his ministry in granting IDPA a regular slot on Doordarshan for showing documentaries.
The IDPA members discussed with Mr. Reddy the problems of documentary makers in the production, distribution and exhibition sectors. A copy of the recommendations on the proposed Broadcast Bill 1997 was also presented to Reddy. This had been the result of a day's workshop organised jointly by IDPA, RAPA, Ad Club and IAA-Indian chapter at the World Trade Centre.
YOU ASKED IT
Of late, films are not being released simultaneously in one or the other circuit. For example, Mohabbat and Hameshaa were released all over but not in West Bengal. What does this indicate?
– That bad times have begun for producers.
Is there any difference in the pattern of behaviour of distributors these days?
– Two years ago, distributors used to rush and fall over one another to buy films on their accouncement itself. Today, they are sometimes not even interested in acquiring star-cast films at the time of their release, unless they are available at reasonable prices. There isn't cut-throat competition now.
What is the difference between film dealings today and earlier?
– Today, there's no sanctity of contract, no morals, no ethics, no respect for the other's feelings. Everybody has become selfish.
HERE & THERE
Delhi Made Permanent Venue For Competitive IFFI
The speculation on the film industry taking over the organisation of the International Film Festival of India (IFFI) is over. Though the industry had shown keenness to take over the reins, the government couldn't be satisfied. Perhaps, some influential filmmakers and bureaucrats have a greater say in the matter.
Last week, a meeting of the advisory committee of the festival was held in New Delhi, and the committee not only took a decision to make Delhi the permanent venue of the IFFI but also to make the festival competitive once again. The meeting was conducted under the chairmanship of I & B secretary C.R. Kamalanathan and was attended by Adoor Gopalakrishnan, D.V.S. Raju, K.D. Shorey, Ravi Gupta, Suresh Chhabria and Malati Sahay. As the quality of the films being screened in the international fetes is going down year by year, the members decided to make the maximum efforts to select only good films for the IFFI and try to bring reputed filmmakers to India to attend the fete and to interact with their Indian counterparts.
As Bombay will also be holding its own international film festival from this year onwards, and Calcutta and Thiruvananthapuram are already holding such festivals, the audience of these mega cities may not feel sorry. Now, Madras, Bangalore and Hyderabad may go the Bombay way.
Nine Cinemas Of Delhi Ordered To Be Closed
The licensing branch of the Delhi Police issued orders of suspension of licences and closure of nine cinemas immediately. The nine cinemas are: Palace, Ritz, Excelsior, Westend, Laxmi Palace, New Amar, Kushal, Jagat and Imperial.
After the Uphaar cinema tragedy in June this year, the authorities have become more strict in following the rules. The above cinemas were running with temporary licences and failed to get the clearance certificates from the health department, fire department, electricity board and the building authorities.
DO YOU KNOW?
* Shringar Films, the Bombay distributors of JAB DIL KISI PE AATA HAI, have decorated a bus shelter at Marine Drive, Bombay, with illuminated designs of the film. In Hyderabad, members of the Nagarjuna Fan Club, wearing logos of the film (starring Nagarjuna) and carrying umbrellas, moved on roller-skates throughout Hyderabad and Secunderabad, as a publicity gimmick on the day of release and the following day. The fan club members were flagged off from Annapurna Studos by Nagarjuna and Tabu. …In Agra, the management of Anjana cinema was forced to hold special shows one night (at 12 midnight and 3 a.m.) due to public demand.
Red Badshah In Pink City
If it's K.C. Bokadia's film, it has to be shot in Rajasthan. This Rajasthani producer-director, or, as he likes to call himself, Merta ka chhora, loves his mitti too much, it seems.
And so, like so many of his almost 30 production ventures, Lal Badshah too is being shot in Rajasthan. In the Pink City — Jaipur — to be more precise. In the City Palace of Jaipur, to be even more precise. That's on the day we visit the set. It has been shot in a private bungalow the previous day.
There are some changes to be made in the climax which is to be shot in the massive and beautiful City Palace belonging to Bhawani Singh. Bokadia doesn't tell us so but that's what we gather. And that's why, shooting is delayed quite a bit as the producer-director is locked in a room with his writers, P.D. Mehra and Anwar Khan, weighing the pros and cons of the various alternatives.
His entire unit is in Jaipur for the climax shooting. There's Amitabh Bachchan who, obviously, is playing the title role; and there are Manisha Koirala, Shilpa Shetty, Amrish Puri, Shakti Kapoor, Raghuvaran, Mukesh Rishi, Vikas Anand and Mohan Joshi. Sunil Shetty, too, would've been there had he and Bokadia not mutually decided that he would not act in the film. No, there was no tension whatsoever between the two. Rather, Sunil could not give K.C. Bokadia the priority dates he wanted, to complete the film and so the latter decided to change the script by doing away completely with Sunil's character and role. We gather that Bokadia is in a hurry to complete shooting because Bachchan Badshah wants it that way. And Amitabh Bachchan wants it to be completed quickly because he has liked the film's rushes and so has his brother, Ajitabh. Obviously then, the Bachchans are keen that Lal Badshah be Amitabh's first release now. ABCL's Major Saab will follow Lal Badshah.
Of course, when we ask Amitabh about the release re-scheduling of the two films, he quips, "Lal Badshah was always scheduled to be released before Major Saab." Never mind, what finally matters is that Bokadia's Badshah will decide whether Bachchan Badshah still has it in him to draw the crowds. From what Bokadia tells us of Amitabh's role, it does seem that, age notwithstanding, Amitabh just might pull it off this time. He speaks in a Bihari accent in the film and it indeed suits him very much, giving his character so much more colour. Now, don't say that the colour lal in the title is enough!
Manisha Koirala also plays an interesting role, that of an LIC agent who finds it very difficult to obtain business for her company. An idea about her character can be had from this interesting scene: Manisha is threatened of being relieved of her job, by her boss if she does not get more customers for her company. Upon this, she begs of her boss not to dismiss her as that would kill her children. The perplexed boss chides her for bluffing him as he knows that she isn't married. Manisha assures him that she is not lying, that if she is sacked by the boss, she wouldn't find a suitable boy for marriage, and if she didn't get married, she wouldn't be able to have children. Which would mean that the boss had 'killed' her children.
Whether the boss would kill Manisha's children or not, Bokadia would surely kill us if we said anything more about Manisha or anybody else's character in the film! But we can safely add here that Amitabh Bachchan plays a double role in the film — of the father and the son. Radhika plays wife of the old Amitabh, and Manisha is paired with son Amitabh. Shilpa Shetty is a silent admirer of Amitabh who, because of this, changes loyalties in the climax and leaves villain Amrish Puri to help Amitabh.
Well, Amitabh himself has helped K.C. Bokadia. Off-screen, that is. He has reduced his price by giving a concession in the contracted price. Amitabh reminds us that he had similarly helped K.C. Bokadia in Aaj Ka Arjun.
Which brings us to the question: does Amitabh find any difference in aaj ka Bokadia's working and the Bokadia of Aaj Ka Arjun? "He is more confident today than he was at that time," is Bachchan's conclusive certificate of merit to Bokadia.
Of course, K.C. Bokadia, even though he blushes lal on being paid the compliment, would rather wait for the final certificate from the janta ki adalat because it's their verdict on Lal Badshah which would be more important.
And as Bokadia, action director Veeru Devgan and their unit get ready to take the first shot of the day on Amitabh (a couple of shots have been taken on the other artistes), it's time for us to bid them 'bye and leave for the airport. As the Lal Badshah would have said in his Bihari accent, "Ka karaee, ee susri plane konoi ke liye rukti naahin!" Time and flight wait for no man, right?
– Komal Nahta
3-E
Education-Entertainment-Enlightenment
Action Hero To Say, "Lights, Camera, Action"
Is the top action hero turning a director? Seems so. The hero's own production venture, which was being shot abroad recently, ran into rough weather when his director did not live up to his expectations. A new director was called in but reportedly, the hero-producer was looking for something else. Not satisfied, he cut short the start-to-finish shooting schedule, returned to India and has almost decided to call the shots himself. The unit will return to the foreign land next year now, and it will be the hero and producer donning the mantle of director as well.
Puja Premium
Mr. & Mrs. Khiladi has fetched the highest ever price fetched by a solo Akshay Kumar starrer in West Bengal. Kanu and Neru Anchalia have paid 75 for the West Bengal distribution rights of the film. Besides the fancy for the film, what prompted them to pay the phenomenal price is the Puja release. Collections are bumper in West Bengal during the Puja holidays. Since the Puja holidays will get over on 11th October, the Anchalias plan to release Mr. & Mrs. Khiladi on 8th October — two days before its all-India release. Incidentally, the film has been sold for some other circuits too at truly fancy prices.
The 25-Lakh Factor
There was hectic activity in the Time group earlier this week to ensure that only one of the two scheduled releases of Dassera comes. Two films, Deewana Mastana and Mr. & Mrs. Khiladi, both directed by David Dhawan, are due for release on 10th October. Since both are big films sold at fancy prices, Pravin Shah of Time was keen on a week's gap between the two releases. The biggest charm of coming on 10th October is for the Bengal distributors of the two films because of the Puja holidays advantage there. So Pravin Shah, the presenter of Mr. & Mrs. Khiladi, made an offer to Bharat Shah, the presenter of Deewana Mastana. According to the offer, any one of the two films would be released on Dassera and the one whose film would come, would pay the other producer Rs. 25 lakh for giving as compensation to the Bengal distributor of that other producer. That is to say, if Deewana Mastana would be released on 10th October, Bharat Shah would have to pay Rs. 25 lakh to Pravin Shah who, in turn, would compensate his Bengal distributor. But Bharat Shah politely refused Pravin Shah's offer. And so, both, Deewana Mastana and Mr. & Mrs. Khiladi, will hit the screens together.
Double Confidence
The rest of the industry may be nervous about two David Dhavan directed films hitting the screens simultaneously next week, but David is far from nervous or anxious. Excited, yes! He says, his excitement springs from his confidence in both his films, Deewana Mastana and Mr. & Mrs. Khiladi. David does not think, a solid story is important in a film for its success. According to him, what is more important is a tight and interesting screenplay which can entertain the audience. Who would disagree?
Why Just One Film?
What is the logic of IMPPA honouring the producers of Raja Hindustani at its diamond jubilee celebrations in December this year? While it is a fact that Raja Hindustani is one of the biggest blockbusters of Indian cinema, the question that arises is: why only Raja Hindustani? Raja Hindustani was released in 1996 and IMPPA is completing 60 years in 1997. If Raja Hindustani deserves the honour, so do DDLJ, HAHK..!, Sholay, Mother India and Mughal-E-Azam, to name a few. Or, if the IMPPA wants to honour just one biggest hit of the year, it has to be the biggest hit of the diamond jubilee year. So far, Border deserves that honour but one has to wait for the year to get over to decide the film which qualifies to be the biggest blockbuster of the diamond jubilee year of IMPPA. In fact, the press release of IMPPA says: 'One additional award would be given to the best commercial successful film of mainstream during the preceding year i.e. Raja Hindustani.' Actually, since it is the 60 years that IMPPA is celebrating and not an annual event, it would be in the fitness of things to honour not just the makers of Raja Hindustani but the achievers of the last 60 years. And the list is far from complete without the names of such major hits as Mughal-E-Azam, Mother India, Sholay, HAHK..! and DDLJ. The producers of these films, so to say, changed the course of the industry. IMPPA must acknowledge this fact by honouring them.