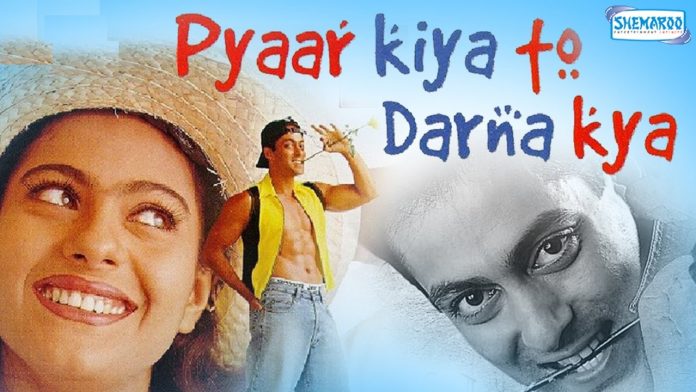 LATEST POSITION
The success of PYAAR KIYA TO DARNA KYA has brought some life in the industry.
Pyaar Kiya To Darna Kya has done very well despite examination period. Is poised to become class A in Bombay. Is a commission-earner in East Punjab, Bengal and Rajasthan and overflow in the other circuits. It is also doing very well in Overseas. 1st week Bombay 48,07,493 (92.88%) from 13 cinemas (7 on F.H.); Ahmedabad 12,06,439 from 5 cinemas, Rajkot 2,16,780 from 2 cinemas (1 in matinee); Kolhapur 2,22,634 (98%), Solapur 3,09,999 from 2 cinemas (1 in 14 shows), Nasik 1,64,934 (100%); Belgaum 1,16,508; Delhi 49,71,705 (91.31%) from 11 cinemas; Lucknow 4,13,599 (100%), Agra 2,70,938 (94.52%), Allahabad 1,61,000, Varanasi 2,41,279, Meerut 2,32,373 (98.28%), Bareilly 1,96,079 (87.11%), Dehradun 2,07,764 (100%), Saharanpur 1,76,454 (83.26%), Moradabad 1,71,836, Gorakhpur 1,73,235, Aligarh 1,85,568; Calcutta 26,21,229 (91.32%) from 16 cinemas; Nagpur 6,71,138 from 4 cinemas, Jabalpur 2,00,382, Akola 1,57,151, Raipur 2,00,580 (82.82%), Bhilai 1,47,674, Durg 1,35,530, Chandrapur 1,93,004, Bilaspur 90,177; Indore 2,98,560 (4 on F.H.), Bhopal 5,43,684 from 3 cinemas; Jaipur 10,77,188 from 5 cinemas, Bikaner 2,76,828; Hyderabad 40,72,338 from 15 cinemas, share 23,19,117; Visakhapatnam 2,06,131, Kurnool 1,85,857.
Yugpurush is dull everywhere but slightly better in Maharashtra. 1st week Bombay 20,57,508 (52.12%) from 10 cinemas (6 on F.H.); Ahmedabad 3,59,606 from 4 cinemas, Rajkot 91,000; Solapur 1,53,919 from 2 cinemas; Hubli 1,48,267, Belgaum 1,87,349; Delhi 11,25,119 (37.34%) from 6 cinemas (1 unrecd.); Allahabad 1,02,000, Bareilly 44,858 (20.08%), Dehradun 77,305; Calcutta 7,17,427 from 6 cinemas; Nagpur 3,63,589 from 4 cinemas, Jabalpur (6 days) 89,166, Akola 81,035, Raipur 67,853 (31.24%), Bhilai 83,778 from 2 cinemas, Jalgaon (6 days) 66,290, Bilaspur 68,852; Indore 99,000 (2 unrecd.), Bhopal 1,18,231 from 2 cinemas; Jaipur 2,48,177 from 2 cinemas, Bikaner 67,371; Hyderabad 9,05,976 from 10 cinemas.
…………
_______
Titanic (English) 4th week Bombay 16,46,148 (100%) from 2 cinemas; 3rd week Delhi 25,71,324 from 4 cinemas; Calcutta 3,50,210; 3 weeks' total Vijayawada 10,49,951 (100%), Visakhapatnam 10,71,537 (100%).
IMPPA WELCOMES VINOD KHANNA
Many film producers personally received Vinod Khanna at Bombay's Santacruz airport on 3rd April. He came to Bombay on 3rd for the first time after his election to the Lok Sabha and was garlanded by many of those who were present to receive him.
Among those who greeted the star-MP at the airport were IMPPA president Sultan Ahmed, IMPPA vice president Sundeep Sethi, Shakti Samanta, Saawan Kumar Tak, Mehul Kumar, Surendra Mohan, Surinder Kapoor (FMC chairman), Anil Ganguly, Jimmy Nirula, Satish Khanna, Anand Girdhar, S.K. Kapur, Surjit Aujla, K.K. Talwar, Vinay Kumar Sinha, Johny Bakshi, Kant Kumar, Madan Mohla, Vinod Chhabra, Firoz Nadiadwala and Dinkar Chowdhary (IMPPA secretary). Vinod Khanna said, he was touched by the love and affection of the industry. He promised that as a Parliamentarian, he would try to do something to solve the industry's problems.
'PARDES' TAX-FREE IN U.P.
Subhash Ghai's Pardes has been granted tax-exemption in the state of Uttar Pradesh for a period of 1 month from 9th April.
FIRST MALAYALAM FILM IN DTS
Thirakalkappuram, starring Suresh Gopi and Manju Warrier, is the first Malayalam film in DTS. It is produced by Guru Pavana Films (P.) Ltd. and is due for release all over Kerala on 9th April. This maiden film of Guru Pavana Films is a sequel to the President's award-winning film of 1964, Chemmeen. It is directed by debut-maker Anil Adityan. Music is scored by Johnson.
BUBBY KENT, BOBBY ANAND BEREAVED
Devika Kent, wife of producer Bubby Kent, sister of Overseas and Rajasthan distributor and producer Bobby Anand, and daughter of producer-director Suraj Prakash, expired on 2nd April in Bombay at Kothari Hospital due to a heart attack. She was only 30 years old. She is survived by her husband and a daughter.
Chautha will be held today (4th April) from 5 p.m. to 6 p.m. at Panchtantra building, Yaari Road, Versova, Andheri.
BARJATYAS BEREAVED
Manakchand Barjatya, father of Padam Barjatya of P.B. Pictures, Jaipur, and Jaikumar Barjatya of Rajshri Pictures (P.) Ltd., Patna, and uncle of producers Kamal Kumar, Rajkumar and Ajit Kumar Barjatya, passed away on 21st March in Jaipur. Shanti Vidhan pooja was held on 2nd April in Jaipur.
SHAH RUKH INJURED
Shah Rukh Khan fractured his leg on the sets of Mani Ratnam's Dil Se a few days back in Madras.
AGAJANI KASHMIRI DEAD
Noted writer of yesteryears, Agajani Kashmiri, who wrote several hits like Anmol Ghadi, Taqdeer, Love In Simla and Junglee, died in Toronto on 27th March. He was 89 and is survived by two sons and grandchildren.
'BORDER', 'DTPH', 'JUDAAI' FOR NATIONAL AWARDS
J.P. Dutta's Border, Yash Chopra's Dil To Pagal Hai and Boney Kapoor's Judaai have been nominated for the National Awards of 1997, by the Film Federation of India.
The regional language films nominated are: Sarkarnama (Marathi), Sedin Chaitra Maas and Vidroho (both Bengali), Suryavamsam (Tamil), Annamayya (Telugu), Aniyathi Pravu (Malayalam) and Ulta Palta (Kannada).
WEDDING BELLS FOR SOHAIL KHAN
Director Sohail Khan got married to Seema on 29th March at a hurriedly called ceremony in Bombay.
ARJUN RAMPAL WEDS
Leading model and hero of Shantanu Sheorey's Jadh, Arjun Rampal, got married to well-known model Mehr Jesia in Bombay earlier this week.
FFI, SIFCC BOYCOTT DOORDARSHAN
The Prasar Bharti Corporation's recent decision to discontinue telecast of regional language films on Doordarshan's national network has made the Film Federation of India take a decision to boycott Prasar Bharti till the decision is reversed. The South Indian Film Chamber of Commerce has accused Prasar Bharti CEO, S.S. Gill, of taking a unilateral decision and has threatened that unless the telecast of South Indian films was restored immediately, it would stop supplying film-based programmes to Doordarshan.
RAMESH DEO RELEASES WIFE'S AUTOBIOGRAPHY, LAUNCHES FILM
Seema Deo and Ramesh Deo celebrated triple occasions on 27th March at Rang Sharda — birthday of Seema Deo, the release of her autobiography, Suhasini, and the launching of their film, Waghnakh (Marathi). The film is being produced by Ajinkya Deo (elder son of the couple) under the banner of Ramesh Deo Productions, and directed by younger son Abhinay Deo whose debut-making film this is.
The event was presided over by Maharashtra chief minister Manohar Joshi who announced the muhurt of the film and also released the book. Cultural affairs minister Pramod Navalkar, mayor Vishakha Raut, municipal commissioner Girish Gokhale, director Raj Dutt, Sulochana and many others from the film and stage industries felicitated the couple. Pradeep Bhide was the compere.
There was a display of fireworks, followed by cocktails and dinner.
Waghnakh will roll on April 20 and it will be completed in two months in Kolhapur. Starring Ramesh Deo, Seema Deo and Ajinkya Deo as the leading man, its leading lady and other cast and credits will be finalised soon.
YOU ASKED IT
What is the business of Titanic expected to be in India?
– Sky is the limit for the film and it is almost impossible to predict a logical estimate. In the USA, people are repeating the film 10 and even 15 times and one can expect such things to happen in India too.
Can the levy of abnormally high entertainment tax be challenged in court?
– It can, and it should be challenged. Expenditure of some lakhs in fighting out the issue in court could result in savings in crores because there are all chances of the tax being abolished or, at least, drastically reduced.
When should one ideally do a film's casting — when a story-line is finalised or when the complete script is ready?
– When at least a major part of the scripting is complete.
DO YOU KNOW?
* Subhash Ghai is helping Jackie Shroff with his first production venture, GRAHAN. Ghai is reportedly re-editing the film.
* The Advanis of Shri Bableshwar Films, Indore, have completed a hat-trick of successful releases with PYAAR KIYA TO DARNA KYA. The earlier two successes were DEEWANA MASTANA and ISHQ.
* Of the 11 Oscars bagged by TITANIC, two were for the best sound track and the best editing. The sound track was done in DTS, and the editing, on Avid. Both, DTS and Avid, are distributed in India, exclusively by Real Image Pvt. Ltd.
* Rishi Kapoor, the director is no different from Rishi Kapoor, the actor. Proof: as an actor, Rishi does not shoot on Sundays. Now, as director of AA AB LAUT CHALEN too, he does not shoot on Sundays. So what if his artistes and technicians are ready for a Sunday shooting, Rishi says, "no". And so, it's a holiday for the entire team.
* PKTDK has created a theatre record at Novelty, Bombay, by collecting 5,68,801/- (100%) in 1st week.
* PKTDK has created a theatre record by collecting 1,64,934/- (100%) in 1st week at Mamta, Nasik.
* PKTDK has created a new city record in 1st week at Delhi's Vishal cinema by collecting 7,17,617/- (against a capacity of 7,60,714/-) in 1st week. No film in 4 shows daily has collected so much earlier. 
* PKTDK has created theatre records in 1st week at Delhi's Moti (2,49,037/- against 2,72,098/-), Rachna (4,60,195/- against 5,13,335/-), Batra (4,33,505/- against 5,05,422/-) and Chaudhry, Ghaziabad (2,32,284/- against 2,57,056/-).
* PKTDK has created a new record at Novelty, Lucknow, by collecting 4,13,599/- (100%) in 1st week. All 4 shows on the opening day of 2nd week were also full.
* PKTDK has created a theatre record by collecting 2,32,373/- against a capacity of 2,36,439/- in 1st week at Nandan, Meerut.
* PKTDK has created a theatre record by collecting 1,98,058/- in 1st week at Prabha, Bareilly.
* PKTDK has created a theatre record by collecting 2,70,938/- (against 2,86,643/-) in 1st week at Shree, Agra.
* PKTDK has created a theatre record by collecting 1,85,568/- in 1st week at Surjit, Aligarh.
* PKTDK has created a theatre record at Raj, Gorakhpur, by collecting 1,73,235/- in 1st week.
* PKTDK has created a theatre record by collecting 2,41,279/- in 1st week at Natraj, Varanasi.
* PKTDK has created a theatre record by collecting 1,60,482/- in 1st week at Sangeet, Allahahad.
* PKTDK has created a theatre record by collecting 1,71,836/- in 1st week at Kunwar, Moradabad.

* PKTDK has created a city record by collecting 2,07,764/- (all shows full) in 1st week at Prabhat, Dehradun.

* PKTDK has created a theatre record by collecting 1,76,454/- (against a capacity of 2,11,930/-) in 1st week at Kalpana, Saharanpur.
* PYAAR KIYA TO DARNA KYA has created a theatre record by collecting 1,93,004/- in 1st week at Abhay, Chandrapur.

Peep, Don't Sleep
Nana Patekar gave three hits, Tirangaa, Krantiveer and Agni Sakshi, and increased his price by 400%. Now, after an average to below-average Ghulam-E-Musthafa and a disaster, Yugurush, he should reduce his price to 20% of what he is currently charging. That is, if Nana believes in fair play.
Sunil Shetty's Aakrosh is a non-starter all over India. His previous release, Vinashak, too fared badly and entailed losses to most of its distributors. Sunil Shetty should, therefore, reduce his price to 50% of his present price. That is, if he believes in the policy of live-and-let-live.
The list of Akshay Kumar's failures, debacles and disasters is long. To cut matters short, I can only say that instead of counting his flops, he should rather count the huge losses which distributors of his starrers have suffered in the past two years. He will then automatically feel inclined to slash his price by 75%. That is, if Akshay has a heart which beats for his producers and distributors.
Urmila Matondkar should be honest to herself and compare the number of producers who queue up at her house these days with their number in the post-Rangeela days. She will realise that life after Daud is not so rangeeli after all — for her producers, that is. With this realisation, Urmila herself will feel obliged to slash her price by 50%. That is, if she has foresight and is concerned about the future — of herself this time, more than of her producers.
Jackie Shroff should try and recall when his last solo starrer hit the bull's eye. I say, try, because it may not be easy for him to remember the number of months since the release of his last hit, and the name of the film. Maybe, he will then reduce the remuneration he charges by, say, 2 lakh for every month he counts. That is, if he believes that the trade is already making such calculations about his career.
Amrish Puri should do some rethinking on his fabulously high price. Although he is undoubtedly the numero uno villain/character artiste, he should appreciate the fact that films sell on the names of heroes and heroines. Thus convinced, he will find it easier to convince himself that his price needs a revision in the downward direction. That is, if the screen villain is a hero in real life.
Sanjay Dutt should open his eyes to two facts — that he hasn't delivered a hit for a long time and that he hasn't still completed some of his very old starrers. He may then feel like hurrying up — as much to complete the old stock as to price himself more realistically. That is, if Sanjay can change.
Nana, Sunil, Akshay, Urmila, Jackie, Amrish, Sanjay — all just need to peep into their own conscience. The rest will follow.
– Komal Nahta
3-E
Education-Entertainment-Enlightenment
Twentieth Century Craze
Imagine, the producer or distributor of a film not being entitled to the tickets of his own film. Well, that's exactly the position of Twentieth Century Fox which has released blockbuster Titanic in Bombay — at Regal and Cinemax. So much is the demand for seats that some irate members of the public complained to the police that they weren't getting tickets at Regal due to block bookings at the cinema. As a result, the police has asked Twentieth Century Fox to refrain from doing block bookings for friends/trade people and others. Resultantly, even Twentieth Century Fox has to obtain police permission for reserving too many seats together at Regal! That's the twentieth century craze for the Twentieth Century-Paramount co-production!
Maximum Planning, Minimum Wastage
Viveck Vaswani's Sar Ankhon Par is in its last lap of production, and before the month comes to a close, the film will be complete. A major part of the film has been shot in much the same way as Hollywood films are shot, in the sense that detailed call-sheets are handed out to every unit member even before a shooting schedule actually begins. The call-sheets give the exact time when each artiste is required, for which scene/shot he/she is needed, the props and articles required, the scene number, shot number etc. etc. That way, there's little room for confusion and minimum wastage of time and money. This style of functioning is courtesy executive producer and writer Sunjiv Puri who has used his vast experience of English productions (he has been involved in the production of several English films shot in India) in Sar Ankhon Par. That's also the reason why the bound script of the film is ready unlike in the case of most films! Incidentally, SAP will be complete before the month-end.
All Set
There's a new kind of set designing in Bollywood. Suren Gurbaxani is basically a wedding decorator who erects wedding mandaps, reception stages and does the other decoration too for weddings. He has branched out into set designing for films. The advantage of getting sets erected by Suren's team is that once they have to be dismantled, there's no worry for the producer to pay the wooden planks supplier, property supplier and other set materials suppliers. That's because Suren takes back all the set materials after the set is dismantled. That way, the charges for his services and goods are reasonable too. Why, even some art directors prefer sub-contracting work to Suren who has constructed sets for some films like Dil To Pagal Hai (not all the sets).
BJP Sore
The scene in Pyaar Kiya To Darna Kya, involving duplicates of film stars Shatrughan Sinha, Rajesh Khanna, Rajinikanth, Anil Kapoor and Sanjay Dutt, has not found the approval of the BJP's film wing. In the scene in the film, the star look-alikes are shown fighting among themselves and even calling each other names. This hasn't gone down well with the political party's film wing which has asked the makers to delete the said scene from all the prints running.
WARNING NOTICE
The public in general and the film trade in particular are hereby informed that our M/s. MUKTA ARTS PVT. LTD., Mumbai-50 had given a break to M/s. RITU CHAUDHARY alias MAHIMA CHAUDHARY in their latest film PARDES. The said Mahima Chaudhary had entered into an Agreement with our said clients dated 19-2-1996 whereby she has agreed to work for our clients in their 3 further films.
The said Mahima Chaudhary is thus bound with our clients for a period of 5 years from the release of their film PARDES i.e. till 9-8-2002. The said Mahima Chaudhary has irrevocably agreed with our clients that she shall not render her services as a model for any advertising company or product or any stage show or TV show in India or abroad without the written consent of our clients. The said rights are assigned to our clients who alone are authorised to deal directly with any such party who opts to have the services of Mahima Chaudhary. Mahima Chaudhary has further irrevocably appointed, nominated and constituted Shri Subhash Ghai or his nominee as the authorised person to act, represent, select and negotiate any outside assignments of feature films shooting and/or advertisement films, TV programmes or stage shows etc. on behalf of Mahima Chaudhary and to decide the terms and conditions thereof during the period of the said Agreement. Mahima Chaudhary does not have any right to negotiate any terms and conditions with any party directly.
The said Mahima Chaudhary is also bound to work in our clients' 3 further films and allot to them preferential shooting dates.
In view of the above, any party or person desirous of dealing with Mahima Chaudhary shall have to deal through our clients only. In case any party or person directly deals with Mahima Chaudhary, they shall so do entirely at their risk, and our clients shall proceed to take suitable legal action against the said errant party.
(R.K. MIDHA)
ADVOCATE SUPREME COURT
for M/s. MUKTA ARTS PVT. LTD.
Tel.: 640 6410
Bombay,
3-4-1998