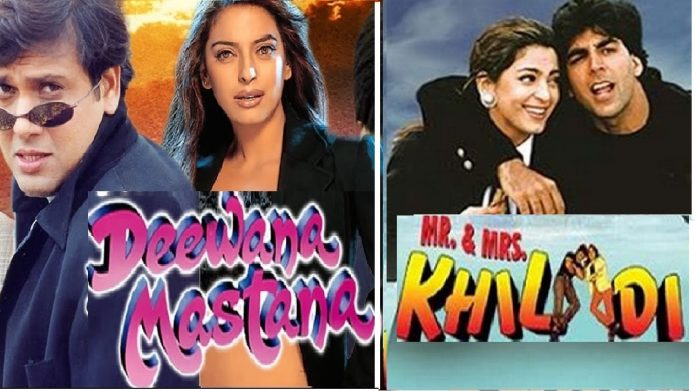 DEEWANA MASTANA
M.K.D. Films Combine's Deewana Mastana is a laugh-riot about two guys who love the same girl. While one tries to woo the girl (who is a psychiatrist) by holding himself out to be a multi-millionaire, the other feigns mental imbalance so that he can come close to her by becoming her patient. No sooner do the two realise that the other is his competitor, the game of one-upmanship between them begins. This leads to hilarious situations and funny incidents. The ending is totally unexpected and even though it would have not, in normal circumstances, gone down well with the audience, it is so unexpected that not only will the audience accept it but even enjoy the unconventional ending.
There are a few weak points too in the film. For one, there is hardly any movement in the drama and, after a point of time, the story becomes stagnant. The film begins with a guy trying to woo a girl and this wooing by him and the other guy goes on till the very end. It is as if an episode of a drama has been stretched too far. Secondly, and because of the above, there is a lot of repetition in the proceedings. Nevertheless, the feeling with which one leaves the cinema hall is one of joy.
Anil Kapoor does well but since there are two heroes, comparisons are bound to be made. And in comparison to Anil, it is Govinda who is the real scene stealer. Govinda has an extraordinary sense of timing and complements this with an absolutely effortless performance which will be adored by the audience. Of the two roles too, it is Govinda who has a meatier one. Juhi Chawla looks pretty and acts pretty well. Johny Lever is remarkable as Anil's sidekick. Satish Kaushik is also truly funny in a comparatively brief special appearance but his language is of the kind which may not win him fans outside Bombay. Anupam Kher is alright; he gets limited scope. Shakti Kapoor has been hopelessly wasted. Saeed Jaffrey, Reema, Avtar Gill and Guddi Maruti lend able support. Shiva is okay. Upasna Singh and Himani Shivpuri deserved better roles. Pratibha Sinha impresses in a solitary dance sequence and a couple of scenes. Kader Khan is fair. Salman Khan gets a mind-blowing response from the audience on his sheer entry because of the drama that leads to his entry in the picture. Raveena Tandon, too, gets loud applause for the same reason.
Director David Dhawan is in great form while picturising the one-upmanship scenes. Even otherwise, he does a praiseworthy job. In particular, the latter part of the second half is extremely enjoyable when both the heroes try to prevent the other's marriage with the heroine. But David and writer Anees Bazmee should have avoided stretching the drama so much that it stops moving for a while. Dialogues are witty and enjoyable. But background music needed to be better in a comedy film like this.
Music is quite a letdown, considering that there's not a single hit number. 'O mummy mummy' is fairly good. Another drawback is that most of the songs are dream sequences and, therefore, lose their impact.
On the whole, Deewana Mastana has the merits to keep its distributors smiling, although it will have to contend with a bad period ahead. Business in cities will be better. It can prove to be class A in Bombay.
Released on 9-10-'97 at Metro, on 10-10-'97 at 20 other cinemas of Bombay and on 11-10-'97 (today) at Plaza, Bombay, thru V.I.P. Enterprises. Publicity: very good. Opening: good. …….Also released all over. Opening was not quite satisfactory in East Punjab, C.P.C.I. and Nizam.
MR. & MRS. KHILADI
D.M.S. Films' Mr. & Mrs. Khiladi is a comedy film. It is the story of a good-for-nothing guy who has blind faith in the predictions of an astrologer. A rich girl falls in love with the guy and forces her father to get her married to him. Although the father relents, he will not let the marriage be consummated till his son-in-law earns a lakh of rupees and gives the same to him. The eager son-in-law does all the wrong things to collect Rs. 1 lakh but ultimately learns a lesson in life — that there's nothing wrong in working hard.
The story is silly and some of the anecdotes in the film are sillier. For instance, the father-in-law keeps slapping his son-in-law, something which the Hindi film-going audience would find it hard to digest even if it is a comedy film. For, comedy too must be within some parameters and not above all norms. What's worse is that the son-in-law being so slapped is Akshay Kumar who may be playing a comic role in the film but whom the public views as a rough-and-tough hero and will, therefore, not like him being beaten so often. The heroine's romance is not established and the post-marriage scenes between the couple and the father/father-in-law even border on vulgarity at times and stupidity at other times.
Of course, the film has its good moments too. Some incidents are hilarious and evoke thunderous laughter. In this category are the goat scene, the heroine's rash driving scene, the insult-in-good-humour of the heroine's father by the heroine's uncle, and some others. The climax fight with the Sumo wrestler falls short of the expectations its publicity has generated.
The casting of Akshay Kumar in a comedy film is quite a tragedy. For, in many scenes, Akshay is like fish out of water. In the early part of the film, he seems to be under the mistaken impression that the audience will laugh if he cries. In short, Akshay does not impress, although, it must be said, he looks very fresh and handsome. Juhi Chawla is cute, looks good and acts ably. Kader Khan gives a spirited performance but is not at his best. Paresh Rawal entertains with his one-liners aimed at Kader Khan. Satish Kaushik's comedy is good at times and falls flat on its face at other times. His kissing Akshay doesn't raise laughter after a while. Gulshan Grover is okay. Johny Lever is very good in a special appearance. Himani Shivpuri and Prachi hardly have any substantive scenes. Rakesh Bedi, Anil Dhawan, Baban Yadav and the rest lend the desired support.
David Dhawan's narration bears the stamp of his racy style but the film looks like a job hurriedly done and, what's more, David's choice of the subject leaves a lot to be desired. Writer Rumi Jafri seems to have taken the audience too much for granted. Even his dialogues aren't as good as they should have been in a film of this kind.
Anu Malik's music has the quality of mass appeal but there's not a single song that's a chartbuster. The title song, 'Aaloo', 'Jumma' and 'Bangla' songs are the better ones. Song picturisations are all so similar that they dilute the impact. Moreover, most of the songs have no proper situations and/or are dream sequences. Action scenes have been ably composed. K.S. Prakash Rao's camerawork is of a very good standard. Production values are nice.
On the whole, Mr. & Mrs. Khiladi does have anecdotes to make the audience laugh but only at a few places. Further, even the hilarious scenes pale into insignificance when considered in totality. Considering the high price, the dull period ahead, the lukewarm opening and the weak merits, this comedy may prove to be a tear-jerker for its distributors.
Released on 10-10-'97 at Novelty and 24 other cinemas of Bombay thru Dilsa Distributors Combine. Publicity: excellent. Opening: average. …….Also released all over. Opening was dull everywhere.
LATEST POSITION
Save in some centres of some circuits, the two big releases of this week have not opened to impressive houses. …Collections of all the films are very poor due to Navratri festival.
Udaan is extremely dull. 1st week Bombay 17,61,824 (50.13%) from 12 cinemas (10 on F.H.); Ahmedabad 3,02,241 from 4 cinemas; Pune 3,87,492 from 6 cinemas (1 in matinee); Delhi 8,08,363 (35.01%) from 6 cinemas (1 unrecd.); Kanpur 1,01,261, Lucknow 1,00,125, Allahabad 58,200, Varanasi 1,37,269, Bareilly 73,015 (36.73%), Gorakhpur 1,00,200; Amritsar 52,300; Bhopal 1,00,568 from 2 cinemas; Jaipur 2,18,376 from 3 cinemas; Hyderabad 10,32,090 from 10 cinemas.
Dharma-Karma proves a disaster. 1st week Bombay 2,28,750 (32.33%) from 2 cinemas (3 on F.H); Delhi 5,34,607 (36.74%) from 5 cinemas (2 on F.H.); Kanpur 90,225 from 2 cinemas, Lucknow 52,588, Varanasi 35,892, Bareilly 32,000 (16.78%), Gorakhpur 35,000; Amritsar 61,270; Calcutta 1,05,106; Nagpur 78,306 from 2 cinemas, Raipur 51,046 (21.66%); Jaipur 95,141, Jodhpur 90,000; Hyderabad 76,732 from 3 cinemas (2 in noon).
……….
Pardes 9th week Bombay (TF) 17,70,016 (67%) from 7 cinemas (5 on F.H.); Ahmedabad 1,98,669 from 2 cinemas (1 unrecd.); Pune (TF) 3,18,069 from 2 cinemas, Kolhapur (TF) 93,000, Solapur (TF) 1,37,685; Delhi 10,58,644 from 5 cinemas; Kanpur (6 days) 56,111, Lucknow 1,54,995, Allahabad 39,035, Varanasi 65,670, Bareilly (6 days) 37,743, Gorakhpur 24,000; 8th week Jabalpur (6 days) 33,324, 9th week Amravati (TF, 6 days) 60,655, Akola (TF) 74,700 (8th 1,06,155), Raipur (6 days) 37,619, 8th week Jalgaon (TF) 78,000; 9th Bhopal 56,288; Jaipur 1,38,062; Hyderabad 4,54,269 from 2 cinemas 1 (in noon).
TRAGEDY OF MYSORE: BOTH COMEDIES NOT RELEASED
Both, Deewana Mastana and Mr. & Mrs. Khiladi, did not open in Mysore yesterday (10th October). Sudhir (Vasupradha Enterprises, Bangalore) is the common distributor of the two films.
Sudhir had reportedly decided to release Deewana Mastana a week later, on October 17. But although he had booked cinemas for Mr. & Mrs. Khiladi, he failed to turn up for its delivery, presumably due to shortage of funds. The cinemas, which had been so booked, had to undergo a lot of inconvenience due to the cancellation of release.
KEY MAN IN GULSHAN KUMAR CASE ARRESTED
The Bombay police on 9th October nabbed a key conspirator allegedly involved in the killing of Gulshan Kumar. The accused, Zafar Sharif alias Nawaz Mohammed Inayatuallh Sheikh (45), was remanded to police custody till October 22.
PLAZA, BOMBAY REOPENS
Plaza cinema of Bombay, which was closed since March 1993 when it was one of the targets of the serial bomb blasts, reopened on 10th October. A day earlier, a puja was held in the cinema.
Smita Thackeray was the chief guest, and Jeetendra, the guest of honour, at the formal reopening on 10th. Anil Deshmukh, Maharashtra's minister of state for cultural affairs, and Prabhakar More, Maharashtra's minister of state for home, also attended the reopening.
The cinema has been restarted by Madhura Pandit Jasraj, Vinayak P. Mayekar and the executors of the will of late Dr. V. Shantaram. It is being controlled by V.I.P. Exhibitors.
BIPIN WARTY PASSES AWAY
Well-known Marathi film producer-director Bipin Warty died of a heart attack on 7th October at his residence in Bombay. He had produced and directed Sage Soyare, Changu Mangu and Khara Warasdar and had directed Ek Gaadi Baki Anadi, Fasvafasvi and others. He had also produced Maay Baap which was directed by Sachin. Bipin was the associate director with Sachin for the TV serial, Tu Tu Main Main.
He was 40 years old and is survived by his father, mother, wife and a son.
SAMAR CHATTERJI NO MORE
Producer-director Samar Chatterji passed away on 7th October at his residence in Bombay. He had produced and directed Pyar Deewana in 1972 and had also acted in films like Teesri Kasam, Milan and Mashaal.
SHRINGAR FILMS ENTER EXHIBITION SCENE
Leading Bombay distributors, Shringar Films, have jumped full-fledged into exhibition. Shringar Cinemas, a division of Shringar Films, have acquired two new cinemas on long leases.
Cinemax is the name of the first cinema, which is coming up at Goregaon, Bombay, where once stood Samrat cinema. A 650-seater, this will be the first cinema in Bombay to be equipped with a video wall. It will have Dolby digital and DTS sound, Christie projectors and xenon lamps. Cinemax is expected to open on 21st November with Kamal Haasan's Chachi 420. Patrons would be offered the facilities of booking tickets on telephone, home delivery of tickets and acceptance of credit cards.
The other cinema — Cinestar — will open on 5th December at Kandivli (West), Bombay, where once stood Sona, Kandivli. It will have 281 seats and will also be equipped with Dolby digital and DTS sound systems.
Both the cinemas will be air-conditioned and are being built by Kanakias. Every seat in both the cinemas will have popcom holders.
Shravan, son of Shyam Shroff, will be incharge of Shringar Cinemas which plan to have an entire chain of cinemas. All the new cinemas will start with the world 'Cine' where service of high quality to patrons will be the catchword.
'PARDES' TAX-FREE IN DELHI TOO
Subhash Ghai's Pardes has been exempted from payment of entertainment tax in Delhi. It is already tax-free in Maharashtra.
'DDLJ' 100 WEEKS
Aditya Chopra's Dilwale Dulhania Le Jayenge enterted 100th week of its combined run at Maratha Mandir, Bombay, on 10th October. Starring Shah Rukh Khan, Kajol, Anupam Kher, Farida Jalal, Parmeet Sethi and Amrish Puri, it is produced by Yash Chopra and has music by Jatin Lalit.
VIKAS BHALLA WEDS PREM CHOPRA'S DAUGHTER
Actor Vikas Bhalla got married to Puneeta, daughter of Prem Chopra, on 10th October at Prem Chopra's residence at Bandra, Bombay.
'GUPT' 100 DAYS
Rajiv Rai's Gupt is celebrating 100 days of its run today (11th October). Produced by Gulshan Rai, it stars Bobby Deol, Manisha Koirala, Kajol, Raj Babbar, Sadashiv Amarapurkar and Ashok Saraf. Music: Viju Shah.

YOU ASKED IT
Why did both the releases of this week not take bumper opening?
– Firstly, the period is not too conducive for a new release. Besides this: DEEWANA MASTANA does not have hit music, while MR. & MRS. KHILADI stars Akshay Kumar who is far from 'hot' among the audience today.
What should producers look for in a distributor, and what should a distributor look for in a producer?
– A producer should look for the genuineness of a distributor and the latter's ability to honour his commitments. If a distributor meets these requirements, there is no harm in selling a film to him at a slightly lower price also. A distributor should gauge the capacity of a producer to complete his film and deliver it at the contracted price.
Can the industry expect a happy Diwali this year?
– It depends on your definition of happiness. When would you call it happy — if all the releases of Diwali click, or a couple of them succeed? I'd say, even if one becomes a major hit, Diwali would be happy.

MIX MASALA
'D' GROUP
This week's release, Mr. & Mrs. Khiladi, has several 'D' connections. Its director is David Dhawan (double 'D'), its Bombay distributor is Dilip Dhanwani (double 'D'), its Bombay distribution concern is Dilsa Distributors Combine (double 'D'), it has released on Dassera festival and its banner is D.M.S. Films.
FILMWALI RAVEENA, BAHARWALI MANISHA
For a 2-minute special appearance in Deewana Mastana, producer Ketan Desai and director David Dhawan were considering several heroines, one of whom was Manisha Koirala. But Manisha couldn't cancel her shooting in Madras to reach Hyderabad where the shot with her was to be picturised. As both, Ketan and David, were keen on completing the film (that was the last shot of the film and also the last shot to be picturised), they opted for Raveena Tandon who was in Hyderabad, shooting with David for Gharwali Baharwali, rather than postponing the shooting to accommodate Manisha Koirala. And when Manisha saw Deewana Mastana in a trial show, she regretted, she couldn't do the special appearance, and even requested Ketan to reshoot the scene with her. But Ketan politely refused to do so. After all, Raveena had very graciously accepted to do the brief special appearance role without thinking twice.
BROTHER AFTER 'MOTHER'
When Rakesh Roshan learnt that Sooraj Barjatya's new film is the story about three brothers, he joked to somebody, "Please tell Sooraj, I've started acting again. I can play one of the three brothers." Hearing this, a wag remarked. "Acting in Mother is one thing and playing a brother is quite another!
DO YOU KNOW?
* The last shooting day of Yash Johar's DUPLICATE will be 20th October and his son, Karan, will begin the shooting of his maiden directorial venture, KUCH KUCH HOTA HAI, on 21st October. That's synchronisation, Johar style!
* So realistic was the robotic model of a crocodile used in a recent crocodile fight scene picturised at National Park, Borivli, Bombay, for Jyotin Goel's SAFARI that a group of Israeli tourists, who were watching the shooting, thought that a real crocodile had attacked Sanjay Dutt and Juhi Chawla!
Drama, Tension….. Exciting Climax
How 'Mr. & Mrs. Khiladi' Almost Did Not Release In West Bengal
History repeated itself in West Bengal this week. And the repetition was pretty fast, considering that a similar thing had happened twice in the recent past — once in the case of Hameshaa and the other time in the case of Mohabbat. This time over, it was in the case of Mr. & Mrs. Khiladi. The interesting part is that the party in two of the above three cases is the same — Kanu Anchalia and Neru Anchalia of Shree Ramdevji Art International. As in Hameshaa, the Anchalia brothers pleaded inability to take delivery of Mr. & Mrs. Khiladi at the contracted price.
The Anchalias struck the deal for Mr. & Mrs. Khiladi for West Bengal a couple of weeks back. They paid the signing amount agreed upon, but, according to the producers, they refused to pay up the balance amount at the time of delivery. Perhaps, their intention was to put indirect pressure on the producers at the eleventh hour so that they would agree to a price reduction which the Anchalias were looking for.
On the other hand, Neru Anchalia claims that Time people were playing dirty with him by going back on their word and demanding a higher price than that agreed upon.
According to Hasmukh Shah of Time Audio Video, which presents the film, the Anchalias were not serious about releasing the film but rather interested in reducing their price. Neru Anchalia came to Bombay on Wednesday and, according to Hasmukh Shah, conveyed to the Time people that he hadn't been able to collect enough monies from exhibitors to take delivery at the contracted price. That started the tension.
The Time people, having no time on hand, approached their Association, the AMPTPP, which forthwith faxed a letter to the EIMPA, the Association of West Bengal distributors, explaining the default of Shree Ramdevji Art International. The Time people also conveyed to EIMPA their desire to sell the film to Anjana Movies P. Ltd.
Hasmukh Shah alleges that the EIMPA did not act fast enough even though its member was in the wrong and despite Time depositing Rs. 6 lakh received from Ramdevji with the EIMPA.
Reportedly, the Anchalia brothers were being harassed by exhibitors in Calcutta who had paid advances/MGs etc. for the film when they learnt that Ramdevji would not be in the picture soon.
Confusion was compounded as Ramdevji moved out of the picture but Anjana did not get the green signal from the EIMPA. Nor was Anjana able to arrange the funds for taking delivery. In Calcutta, the EIMPA leaders were working overtime to arrive at some solution, and in Bombay, it was AMPTPP president Pahlaj Nihalani trying to ensure that the film was released in West Bengal. The efforts of Wednesday and Thursday bore no fruits till Friday morning.
It almost appeared that the film would not be released in West Bengal. But to Time's good luck, the matter was settled only insofar as the film was released by Anjana in some cinemas of Calcutta in the 6 p.m. show on Friday. The monies from Anjana have yet to come to Time, it is learnt.
As said above, this is not the first time, the Anchalias have behaved this way. And definitely, not the first time in the last few weeks. Why do the Anchalias buy films when they are not sure that they'd be able to take deliveries? Or rather, why do they buy films when they are sure that they'll not be able to take deliveries?
Neru Anchalia's version of the Mr. & Mrs. Khiladi episode is that the Time people wronged him by asking for Rs. 10 lakh more than the agreed price, at the time of delivery. He claims to have paid a substantial part of the signing amount in cash, on Time's request. This is being denied by the Time people.
Whatever the outcome of this entire drama, the tension it caused to the producers cannot be described. It is to be seen what happens to the claim of Ramdevji, alleged to have been paid by them in cash to Time. It also remains to be seen how the shares from the film are adjusted. What will be the stands of the EIMPA and of the AMPTPP?
If Time are blaming Ramdevji for backing out of the agreement, they must also own responsibility for committing a blunder. For the lure of a few lakhs more, Time did not verify the antecedents of the distributor to whom they were selling their film. In the process, they did not even recover what they would have, had they sold the film cheaper to a more reliable distributor.
This is a malady afflicting many producers and distributors. Producers often tend to overprice their films for a circuit or two, simply because an eager and excited buyer comes their way, without thinking of the possibility of that distributor not being able to take delivery. And distributors often agree to any fancy price in the hope that they will be able to pressurise the producers into reducing the price at the time of delivery.
The whole thing boils down to this: Producer's bhookh and distributor's badmaashi.
Hats Off!
My hearty congratulations to Akshay Kumar for not commanding even a decent initial, what to talk of a bumper opening, and yet demanding a sky-high price. Keep it up, Akshay.
My felicitations to Anil Kapoor and Govinda, who should have together ensured a 200% opening but are satisfied with a 60% opening to their Deewana Mastana. I say 'satisfied' because only a contented person lets the status quo prevail. Had they not been satisfied with the dull opening, they would have taken corrective measures like reducing their price. But no, they will not do anything of the sort. Bravo, boys. You deserve pats on your thick-skinned backs.
And Chandrachur Singh, you are bound to go places. You know how to behave like a true star, so what if you have no star pull whatsoever. Remember your Betaabi and how it caused unbelievable losses to all its distributors? Like a true star, you will continue to stick to your unrealistic price even as your distributors bear the brunt of the losses.
Oh, Shah Rukh. You are the darling of the public. But have you bothered to verify what happens to most of your films in circuits like Bihar or in 'B' and 'C' class centres? Don't ever venture to do that. You will get a shock of your life. And stars should not be subjected to shocks. It is in the destiny of producers and distributors to suffer shocks. So you keep holding on to your price line even as your distributors continue to get shocked by the figure of your remuneration on the one hand and the box-office figures of your films, on the other.
Sunil Shetty, the industry must felicitate you. You've shown producers, distributors and exhibitors that a star doesn't require hits to survive. Flops can leave you unscathed so long as six 'fools' are ready to invest in your starrers. And finding six fools is not a difficult job, so you continue to demand six — sorry — eight-figure remuneration. How lovely!
Bobby Deol, you are brilliant. You've followed in your successful brother's footsteps without even giving a tenth of what he has given. You've actually done a great deed to the distributors of your …Aur Pyar Ho Gaya by giving them a chance to adjust their huge profits. What did smart Alec say? That where are the profits? No Bobby, no, don't get involved in business figures. Instead, check up other star-prices and ask bhaiyaa Sunny if you, too, can further hike your price.
Hey, Aishwarya and Sushmita. You are the beauty queens and isn't it said that beauty and brains don't go hand-in-hand? So why should anybody blame you for your brainless prices? Go ahead, hike your prices after every flop you give.
Sanjay Dutt, you must've forgotten what success means. Distributors of your starrers have indeed forgotten what it means. But they can't forget that your price contributes to their pathetic condition. Hats off!
Arshad, Sharad Kapoor, Mukul Dev — try starring solo and then try finding buyers for the film. And you will know your true worth. Wonderful — you are the industry's tomorrow!
Yes, Amitabh Bachchan. If the youngsters can charge so much, why not a veteran like you? You must charge five times what they charge. And see, if people say, you look old, just tell them, 'Old is gold'. And oh, what am I giving you a lecture on pricing of a brand name? You run a company like ABCL, so you know much better than I do.
But listen, all you stars — those abovenamed as well as all others. Distributors are crying tears of blood, exhibitors of your films are panicking.
Can you let them die? If yes, go ahead and don't give your price a second thought. If not, give this piece a second reading. It might help.
– Komal Nahta
3-E
Education-Entertainment-Enlightenment
The Religious Touch
Nana Patekar did the dubbing of the portion in Ghulam-E-Musthafa in which he offers namaz to Allah, on a Friday, 3rd October, that too, between 1 p.m. and 2 p.m. It is common knowledge that Muslims consider Fridays as the most auspicious day and offer namaz on Fridays between 1 p.m. and 2 p.m.
And while on Musthafa, rumours are rife that the film has been postponed and will now be released after Diwali. But this is far from true. With the film already having been censored (for adults), its release on 31st October is now a certainty.
The Voice Connection
Sudesh Bhosle, who can imitate Amitabh Bachchan's voice and has rendered several songs for Bachchan, has very appropriately asked him to do the inauguration honours for his recording room — Shruti Recording Studio — tomorrow (12th October) at Goregaon, Bombay. After all, what better person to inaugurate a recording theatre than the one whose voice you've imitated so often in so many other recording theatres.